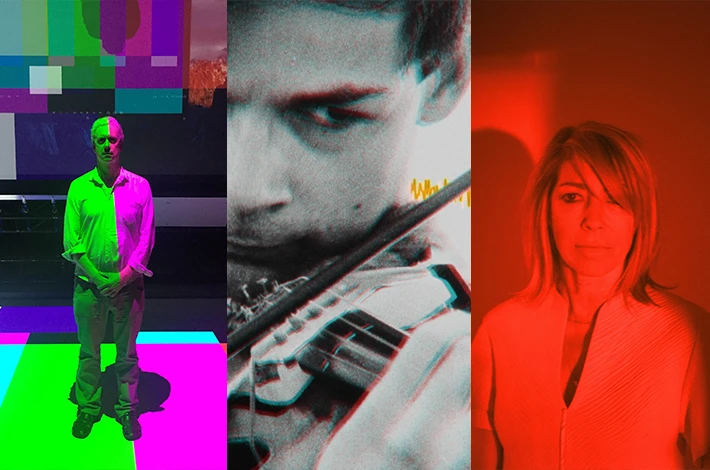 Talk
The Un-Private Collection | Tony Conrad: Completely in the Present with Henry Rollins, Tony Oursler, Tyler Hubby, + Kim Gordon
The Broad is pleased to present the West Coast premiere of Tyler Hubby's documentary film, Tony Conrad: Completely in the Present. The film examines the pioneering life and work of artist, musician, and educator, Tony Conrad, and this special iteration of The Un-Private Collection series highlights both his extraordinary career and his influence on the work of Broad collection artists including Mike Kelley, Robert Longo, and Tony Oursler. Since the early 1960s, Conrad's vast, inter-disciplinary repertoire has created and influenced major film and compositional movements. He performed in and recorded the soundtrack to Jack Smith's legendary film Flaming Creatures; he defied conventions of cinema with The Flicker, an experimental structuralist film composed of a precise pattern of alternating black and white frames; he developed and practiced Just Intonation and Minimalism with Karlheinz Stockhausen and La Monte Young; and he was instrumental in the formation of The Velvet Underground. 
A post-screening conversation with Tyler Hubby and Tony Oursler will be moderated by Henry Rollins. Iconic artist and musician, Kim Gordon, who has collaborated with Tony Conrad, will perform to close out the night. Works by Tony Oursler in the Broad collection are currently on view in the collection installation, Creature, through March 19.
Bring your ticket for this program to The Broad and skip the line for general admission entry without advance reservation between March 14 - 19.
---
Conversation
About Henry Rollins
Henry Rollins has toured the world as a spoken-word artist, the frontman for both Rollins Band and Black Flag, and a solitary traveler favoring road-less-traveled locales in places such as Nepal, Sri Lanka, Siberia, North Korea, South Sudan and Iran. He currently hosts a weekly radio show on KCRW and writes weekly columns for LA Weekly and Rolling Stone Australia. In 2013, after previously anchoring shows for IFC and National Geographic, Rollins joined the History Channel's H2 network as host of the TV series 10 Things You Don't Know About. In 2014, Rollins received the prestigious Ray Bradbury Creativity Award in recognition for his lifelong contribution to the arts, his passion for social activism, and his intense passion for the importance of maintaining books and libraries.
About Tony Oursler
Studying at California Institute of the Arts in the late 1970s, Tony Oursler worked with artists including John Baldessari, and embraced the notion of starting with an idea and then moving to a formal expression of the idea. His concern with the consequences of television and the moving image on psychology and personal relationships was his starting point. This demanded an expanded vision of what art making could be and what could be presented in a gallery setting. After working through painting, single-channel video, and various installation strategies, Oursler succeeded in creating a hybrid of multiple media for the utmost critical and psychological impact. Oursler has a dynamic video practice that combines and expands the confrontational installations of Nam June Paik and Bruce Nauman, the countercultural analysis of Mike Kelley and Jim Shaw, and the impact of mass media on the individual. Oursler's most famous works feature videos projected onto three-dimensional objects, like stuffed heads. These works are metaphors for both alienated, isolated modern individuals in a technology-driven culture and real encounters intended to trigger feelings of empathy and understanding in viewers. Tony Oursler's work has been shown extensively internationally, most recently at Museum of Modern Art, New York. Tony Oursler lives and works in New York. The Broad collection includes six of his works.
About Tyler Hubby
Tyler Hubby has edited over 30 documentaries including The Devil and Daniel Johnston, a picaresque biography of mentally ill artist/musician Daniel Johnston; Participant Media's The Great Invisible, which won the Grand Jury Prize at SXSW 2014; Drafthouse Films' The Final Member, about the Icelandic Phallological Museum's quest for a human specimen; the HBO documentary A Small Act; the Peabody Award winning television special about Latinos in the US military For My Country?; and Double Take, Belgian artist Johan Grimonprez's metaphysical essay on the murder of Alfred Hitchcock by his own double. He edited and co-produced Lost Angels about the denizens of Los Angeles' Skid Row and the punk rock documentary Bad Brains: Band in DC. He served as an additional editor on the Oscar nominated The Garden and HBO's Roman Polanski: Wanted and Desired. He is a graduate of the San Francisco Art Institute where he studied film and photography. His subversive and irreverent short films detailing fetishism, co­dependency, and bodily mutations have screened internationally and are featured in the book Cinema Contra Cinema by British author Jack Sargeant.
Special Performance
About Kim Gordon
Kim Gordon has been writing and performing experimental rock music for more than three decades, in addition to her work as a visual artist, writer, and designer. In 1981, she co-founded the band Sonic Youth, for which she sang and played guitar and bass. Kim's book of essays, Is It My Body?: Selected Texts, was published in 2014 on Sternberg Press. Her memoir, Girl In A Band, was published in 2015 to international acclaim and her visual art continues to be exhibited worldwide. Kim continues to perform solo improvisational shows as well as with 'Body/Head', a guitar duo with Bill Nace.
Co-presented by The Theatre at Ace Hotel
---
About The Un-Private Collection
The Un-Private Collection is an ongoing series of public programs The Broad began in September 2013. The series introduces audiences to the museum's 2,000-work contemporary art collection by showcasing stories behind the collection, the collectors and the artists. Since launching the program, The Broad has brought together a variety of artists whose works are in the Broad collection in conversation with cultural leaders, including Mark Bradford with Katy Siegel, Shirin Neshat with Christy MacLear, Jeff Koons with John Waters, Takashi Murakami with Pico Iyer, Eric Fischl with Steve Martin, John Currin with James Cuno, Kara Walker with Ava DuVernay and architect Elizabeth Diller with Eli Broad, Joanne Heyler and Paul Goldberger. Talks have been held at venues throughout Los Angeles, making the programming available to audiences across the city. Conversations are live-streamed and full videos of past talks are available online. The Un-Private Collection series is part of the Broad collection's 30-year mission to make contemporary art accessible to the widest possible audience.
Read More