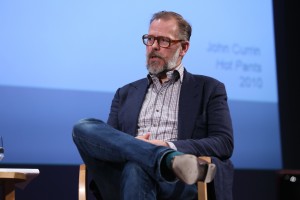 John Currin
---
Artist Bio
Drawing from sources as diverse as Northern Renaissance painting and pinup magazines, John Currin is known for his distortions of the human figure and critiques of societal ideals of beauty. In the 1990s, Currin was among a wave of artists, including Cecily Brown, Jenny Saville, John Sonsini, and others, with a renewed interest in portraiture.
 
Currin's early works stylized high school yearbook photographs, showing young and old women alike in awkward poses against nondescript backgrounds of leaden, matte colors. The most famous works in this series are Bea Arthur Naked, 1991, and Nadine Gordimer, 1992, both stark portrayals mixing conventional portraiture with caricature. Later Currin transitioned to depicting aging socialites and mismatched couples in moments of superficial, domestic levity.
 
Often returning to his early styles and themes, Currin, however, has been critically regarded for his contemporary renditions of old master poses and formats, apparent in his works of the late 1990s. Often rife with art historical references and suggestions, Currin's paintings frequently conflate opposing sensibilities—vaulted taste with vulgarity, sentimentality with irony, conventional beauty with banality. Critic and scholar Robert Rosenblum reflected on Currin's work, "How strange, to the point of being hideous, the American ideal of female beauty can be."
 
Patch and Pearl, 2006, is both disarming and grotesque. Two women, rendered excessively cheeky by their ruddy faces and by the title of the painting, become bulbous and distorted through their growing midsections. The jarring effect of this vulgar bodily interjection is magnified by crisscrossing lines of wall in the fore and rear of the painting. The result is two women caught in between—literally between two walls, physically in two bodies. 
---