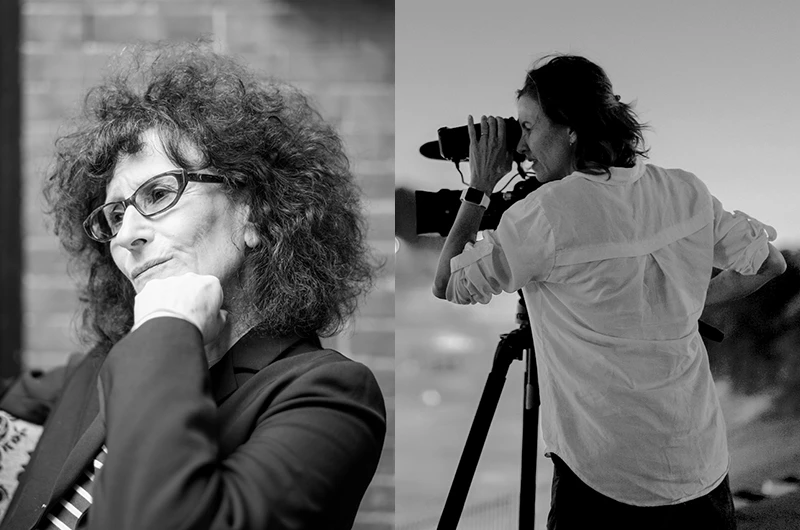 Talk
The Un-Private Collection: Lynne Tillman + Kerry Tribe on Joseph Beuys
Organized by The Broad and X-TRA, this special three-part iteration of The Un-Private Collection addresses the legacy of German Fluxus artist Joseph Beuys in relation to contemporary art practice. Each program highlights a theme central to Beuys and invites contemporary artists to discuss their work and ideas through that lens.
New York writer Lynne Tillman and Los Angeles visual artist Kerry Tribe will speak on lies and myth. Joseph Beuys is a controversial figure in art history, in large part because of his constructed biography: Beuys often recanted his dramatic origin story, a swirl of truth and lies, contributing to his mythic stature. In their work, Tillman and Tribe both investigate the construction of narrative and knowledge. This conversation will explore the ways that Beuys, Tillman and Tribe each raise questions about how identity shapes public reception and perception. Moderated by Shana Lutker, a Los Angeles artist and co-organizer of this series for X-TRA.
ABOUT LYNNE TILLMAN
Lynne Tillman is a fiction writer and essayist. She has written more than a dozen books over the past 30 years spanning almost every possible genre. Her 2014 collection of essays, What would Lynne Tillman Do?, was a finalist for the National Book Critics Circle Award. In describing Tillman's writing, Colm Toibin says, "Her style has both tone and undertone; it attempts to register the impossibility of saying very much, but it insists on the right to say a little. So what is essential is the voice itself, its ways of knowing and unknowing." Tillman authored the essay on Cindy Sherman for The Broad Collection catalogue.
Tillman's new novel, Men and Apparitions, will be published by Soft Skull Press in March.
ABOUT KERRY TRIBE
Kerry Tribe's work has been the subject of solo exhibitions at SFMOMA in San Francisco, 1301 PE and 356 Mission in Los Angeles; the Institute for Modern Art in Brisbane, The Power Plant in Toronto; Modern Art, Oxford and Camden Arts Centre in London among others. She has received a Creative Capital Grant, a USA Artists Award, and was the 2017 recipient of the Herb Alpert Award in the Arts for Film/Video. Her films have been screened at the International Film Festival Rotterdam; the New York Film Festival and the BFI London Film Festival, among others, and her works are held in collections including The Museum of Modern Art, the Whitney Museum of American Art, the Hammer Museum, the Orange County Museum of Art and the Generali Foundation. A fellow at the American Academy in Berlin in 2005-2006, Tribe received her MFA from the University of California, Los Angeles in 2002, and was a Whitney Independent Study Program Fellow in 1997-98. Tribe is represented by 1301PE in Los Angeles, where she currently lives and works.
ABOUT X-TRA
X-TRA is Los Angeles's longest running contemporary art quarterly journal, celebrating 20 years in print. Collectively edited by a group of artists and writers, X-TRA's mission is to promote and provoke critical dialogue about contemporary art, with a focus on long-form exhibition reviews and features, artist's writing and dynamic public programs.
---
About The Un-Private Collection
The Un-Private Collection is an ongoing series of public programs The Broad began in September 2013. The series introduces audiences to the museum's 2,000-work contemporary art collection by showcasing stories behind the collection, the collectors and the artists. Since launching the program, The Broad has brought together a variety of artists whose works are in the Broad collection in conversation with cultural leaders, including Mark Bradford with Katy Siegel, Shirin Neshat with Christy MacLear, Jeff Koons with John Waters, Takashi Murakami with Pico Iyer, Eric Fischl with Steve Martin, John Currin with James Cuno, Kara Walker with Ava DuVernay and architect Elizabeth Diller with Eli Broad, Joanne Heyler and Paul Goldberger. Talks have been held at venues throughout Los Angeles, making the programming available to audiences across the city. Conversations are live-streamed and full videos of past talks are available online. The Un-Private Collection series is part of the Broad collection's 30-year mission to make contemporary art accessible to the widest possible audience.
Read More