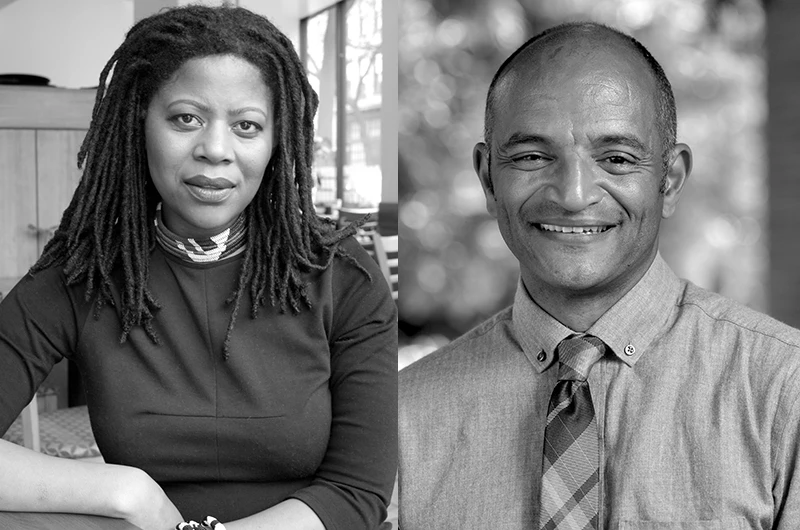 Talk
POSTPONED | The Un-Private Collection: Simone Leigh + Steven Nelson
Please note that due to unforeseen circumstances, this talk will no longer take place at its scheduled date and time. We'll update this page if updates become available.
Organized by The Broad and X-TRA, this special three-part iteration of The Un-Private Collection addresses the legacy of German Fluxus artist Joseph Beuys in relation to contemporary art practice. Each program highlights a theme central to Beuys and invites contemporary artists to discuss their work and ideas through that lens.
In the first talk in this series, Hugo Boss Prize 2018 nominee Simone Leigh and art historian Steven Nelson, director of UCLA's African Studies Center and professor of African and African-American art history, will question the themes of spiritualism and mysticism associated with Beuys' work. Beuys was often characterized as a shaman. His objects were created from a precise set of materials, such as fat and felt, and were the result of ritualistic "actions" (or performances) and imbued with symbolic meaning and his private mythology. Leigh's work also may also appear to have mystical allusions: her research-driven practice draws from folklore and traditional religious practices spanning the Caribbean, Africa, and the American South. Shana Lutker, a Los Angeles artist and co-organizer of this series for X-TRA, and Diana Nawi, independent curator, will provide introductions.
ABOUT SIMONE LEIGH
Simone Leigh's practice incorporates sculpture, video and installation, all informed by her ongoing exploration of black female subjectivity and ethnography. Her objects often employ materials and forms traditionally associated with African art; her performance-influenced installations create spaces where historical precedent and self-determination commingle. Through her investigations of visual overlaps between cultures, time periods and geographies, she confronts and examines ideas of the female body, race, beauty and community.

In 2016, Leigh received a John Simon Guggenheim Fellowship, the Herb Alpert Award for Visual Art, and A Blade of Grass Fellowship for Socially Engaged Art. She has also been the recipient of the 2013 Louis Comfort Tiffany Foundation Biennial Award, a 2012 Creative Capital Grant, the 2012 LMCC Michael Richards Award and the 2011 Joan Mitchell Foundation Grant for Sculpture. Recent projects and exhibitions include Trigger: Gender as a Tool and as a Weapon (2017) at the New Museum of Contemporary Art, New York; Psychic Friends Network (2016) at Tate Exchange, Tate Modern, London; The Waiting Room (2016) at the New Museum of Contemporary Art, New York; The Free People's Medical Clinic (2014), a project commissioned by Creative Time; inHarlem, a public installation presented by The Studio Museum in Harlem at Marcus Garvey Park, New York; and a solo exhibition at the Hammer Museum, Los Angeles. Leigh is a Hugo Boss Prize 2018 nominee. The prize is juried by an international panel of distinguished museum directors, curators and critics, and it is administered by the Solomon R. Guggenheim Foundation. She was also recently awarded a 2018 visual arts grant by the Foundation for Contemporary Arts.
ABOUT STEVEN NELSON
Steven Nelson is director of the African Studies Center and professor of African and African-American art history at the University of California, Los Angeles. In addition to his award-winning book From Cameroon to Paris: Mousgoum Architecture In and Out of Africa (2007), he has published widely on the arts, architecture and urbanism of Africa and its diasporas, African-American art history and queer studies. He is currently completing two books: On the Underground Railroad and Structural Adjustment: Mapping, Geography, and the Visual Cultures of Blackness.
ABOUT X-TRA
X-TRA is Los Angeles's longest running contemporary art quarterly journal, celebrating 20 years in print. Collectively edited by a group of artists and writers, X-TRA's mission is to promote and provoke critical dialogue about contemporary art, with a focus on long-form exhibition reviews and features, artist's writing and dynamic public programs.
---
About The Un-Private Collection
The Un-Private Collection is an ongoing series of public programs The Broad began in September 2013. The series introduces audiences to the museum's 2,000-work contemporary art collection by showcasing stories behind the collection, the collectors and the artists. Since launching the program, The Broad has brought together a variety of artists whose works are in the Broad collection in conversation with cultural leaders, including Mark Bradford with Katy Siegel, Shirin Neshat with Christy MacLear, Jeff Koons with John Waters, Takashi Murakami with Pico Iyer, Eric Fischl with Steve Martin, John Currin with James Cuno, Kara Walker with Ava DuVernay and architect Elizabeth Diller with Eli Broad, Joanne Heyler and Paul Goldberger. Talks have been held at venues throughout Los Angeles, making the programming available to audiences across the city. Conversations are live-streamed and full videos of past talks are available online. The Un-Private Collection series is part of the Broad collection's 30-year mission to make contemporary art accessible to the widest possible audience.
Read More