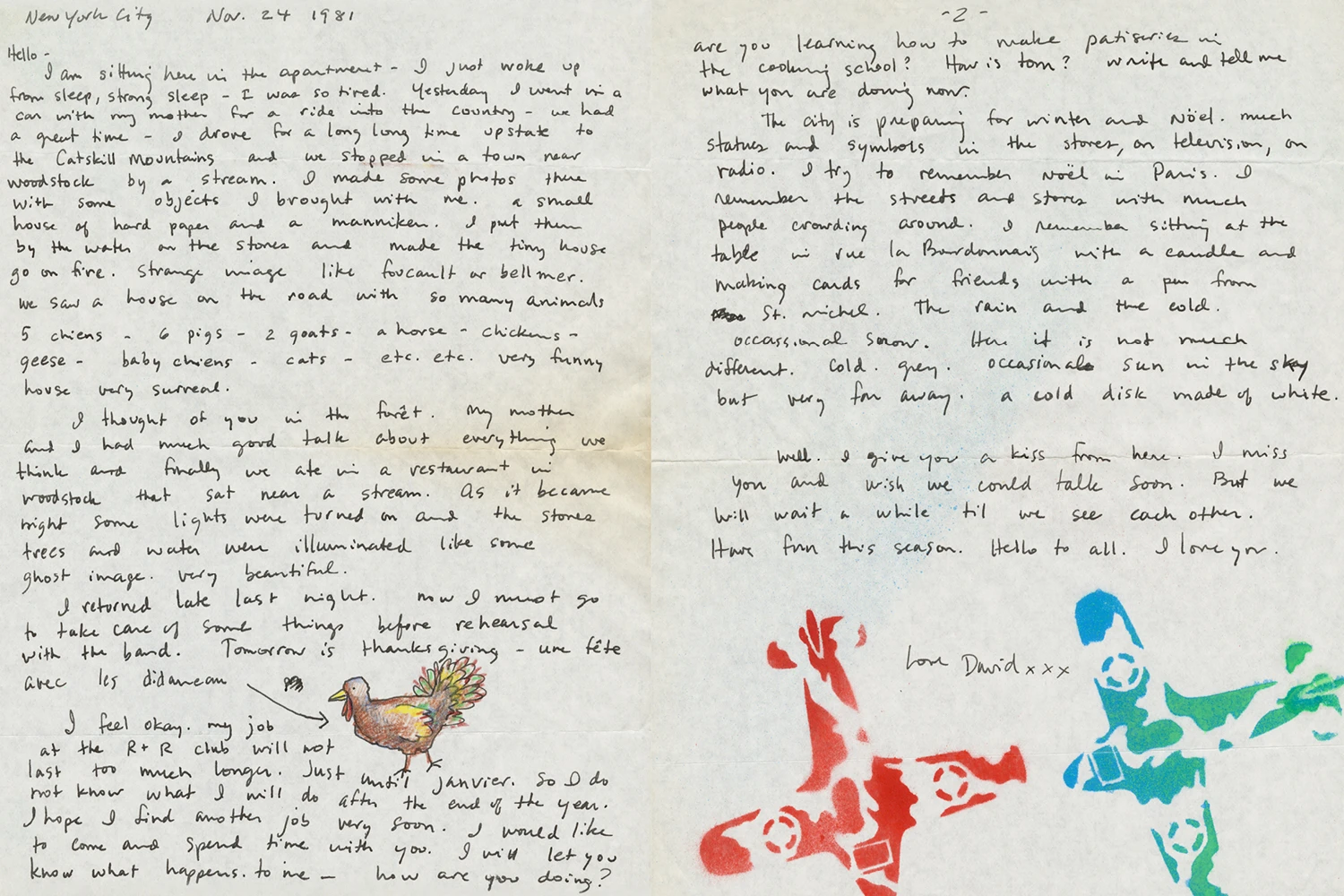 Talk
World AIDS Day: Zackary Drucker + Ann Magnuson + Ben Neill + Amy Scholder on David Wojnarowicz
Tickets free with reservations
A decade before Broad collection artist David Wojnarowicz was diagnosed with AIDS, spurring him to create some of the most impactful artwork of his generation in response to societal scorn and government inaction around the devastating virus, he fell in love with a young man named Jean Pierre Delage in Paris. Returning to the US, Wojnarowicz spent the next four years writing letters to Delage—handwritten or typed or collaged missives and postcards and love letters—highlighting his day-to-day experiences in a New York City that now seems a universe away. The letters, through which we witness the emergence of a young artist seemingly with his whole future ahead of him, were included in an exhibition alongside artworks by Wojnarowicz at P·P·O·W Gallery in New York in 2022 and are reproduced in the 600-page book, Dear Jean Pierre (Primary Information, 2023).
The Broad's World AIDS Day 2023 commemoration looks back on a time before one iconic artist's fatal illness, bringing to light tender insights and personal aspirations. Simultaneously, it acknowledges what was already ominously in motion: a pandemic that would have a rippling effect through generations on art, culture, and the world as it was previously known.
Zackary Drucker will read from Dear Jean Pierre, speak about her discovery of David Wojnarowicz's work and how it inspired her artistic career, then show her film At Least You Know You Exist; Ann Magnuson will read from the book, speak about how her life overlapped with Wojnarowicz's at Club 57 and across the Lower East Side of Manhattan in the early '80s, then perform her song about the AIDS pandemic, "The Living End"; Ben Neill, musical collaborator with Wojnarowicz on the 1989 multimedia performance, ITSOFOMO (In the Shadow of Forward Motion), will perform an original composition on his invention, Mutantrumpet, inspired by and incorporating the letters*; Amy Scholder, who knew Wojnarowicz intimately and published his work both while he was alive and posthumously, will introduce the evening.

The Shop at The Broad will be on hand to sell copies of Dear Jean Pierre and In The Shadow Of The American Dream: The Diaries Of David Wojnarowicz.
David's letters to Jean Pierre and his works in the Broad collection will be projected onscreen during the program which is presented with kind permission from the Estate of David Wojnarowicz, Primary Information, and P·P·O·W, New York
Two works by David Wojnarowicz are currently installed in the third-floor galleries at The Broad and can be viewed during regular museum hours. General Admission tickets to The Broad are always free. We encourage you to book advance, timed-entry tickets.
image credit: Image © Estate of David Wojnarowicz. Courtesy of the Estate of David Wojnarowicz, Primary Information, and P·P·O·W, New York
---
know before you go
Please note that this event takes place after The Broad closes at 5 pm, so the museum galleries and The Shop at The Broad will not open during this event. Your free ticket to this event does not guarantee seating, which is on a first come, first served basis.
For information on our current health and safety policies, visit Know Before You Go & FAQ . Visitor policies are subject to change.
Get Tickets
---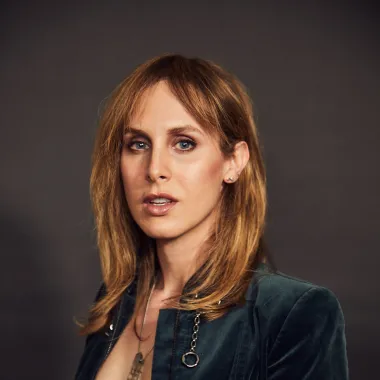 Zackary Drucker
Zackary Drucker is an independent artist, cultural producer, and trans woman who breaks down the way we think about gender, sexuality, and seeing. She has performed and exhibited her work internationally in museums, galleries, and film festivals including the Whitney Biennial 2014, MoMA PS1, Hammer Museum, Art Gallery of Ontario, MCA San Diego, and SF MoMA, among others. Drucker is an Emmy-nominated Producer for the docu-series This Is Me, as well as a Producer on Golden Globe and Emmy-winning Transparent. With Kristen Lovell, Drucker directed the critically acclaimed 2023 documentary film, The Stroll. The film documents trans history in New York City, from the perspective of Black and Latina trans women who had been sex workers in the Meatpacking District during the 1980s and 1990s, in an area known as The Stroll. Zackary Drucker discovered the work of David Wojnarowicz through the books Close to the Knives and In the Shadow of the American Dream when she was 18, and the legacy of his artwork and activism are embedded in the many works she has created since.
Photo: Danielle Levitt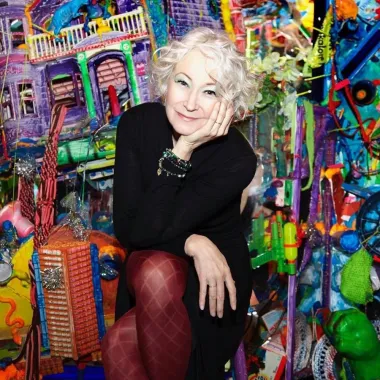 Ann Magnuson
In the 1980s NYC East Village art scene, Ann Magnuson showed her artwork in exhibitions curated by Keith Haring, managed the infamous neo-Dada cabaret Club 57, and performed at CBGB, Danceteria, Mudd Club, Pyramid Club, AREA, The Kitchen, and Joe's Pub. She has since released three solo albums and multiple EPs; her bands include Pulsallama, Bleaker Street Incident, Vulcan Death Grip, and Bongwater, which released five albums and has toured internationally. She currently performs and records with Alejandro Cohen from the Los Angeles based music collective dublab. Magnuson has acted in numerous movies and television shows, has performed in many Off-Broadway productions, and has presented her performance pieces at Lincoln Center, BAM, LACMA, REDCAT, Hammer Museum, Walker Art Center, and the Andy Warhol Museum as well as internationally in Canada, Italy, Japan, and Sweden. She has contributed articles to Art Forum, Vogue, Harpers Bazaar, Bust, Time Out New York, and Conde Nast Traveler, and has written forewords and essays for a variety of books, as well as a monthly column for Paper from 2000-2008. Ann Magnuson is married to architect John Bertram and they reside in Los Angeles, California with their feline daughter Lucy. annmagnuson.com
Photo: Steven Love Menendez.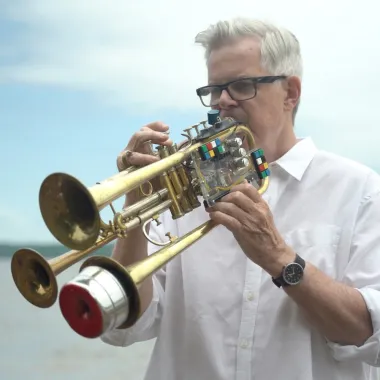 Ben Neill
Ben Neill collaborated on the multimedia performance ITSOFOMO (In the Shadow of Forward Motion) with David Wojnarowicz in 1989. Integrating music, text, and video in a multi-dimensional format, the work embodies the act of acceleration and its sensory manifestations. It is through this frame that Wojnarowicz addressed the accelerating AIDS crisis and the politics of AIDS in the United States at that moment. Neill is the inventor of the Mutantrumpet, a hybrid electro-acoustic instrument, and is widely recognized as a musical innovator through his recordings, performances, and installations. Neill's music blends influences from electronic, jazz, and minimalist music, blurring the lines between digital media and acoustic instrument performance. Neill has recorded 14 albums of his own music. His performances include BAM Next Wave Festival, Big Ears Festival, Lincoln Center, Whitney Museum of American Art, Bing Concert Hall at Stanford, Getty Museum, Cite de la Musique Paris, Moogfest, Spoleto Festival, Umbria Jazz, Bang On A Can Festival, ICA London, Istanbul Jazz Festival, Vienna Jazz Festival, and the Edinburgh Festival, among many others. Neill has worked closely with many musical innovators including La Monte Young, John Cage, John Cale, Pauline Oliveros, Rhys Chatham, DJ Spooky, David Berhman, Mimi Goese, King Britt, and Nicolas Collins.
*Ben Neill will perform new compositions based on letters from Dear Jean Pierre on his self-designed, electro-acoustic Mutantrumpet. The new pieces use a variety of software applications in both their creation and performance, echoing the technological aspects of ITSOFOMO, Wojnarowicz and Neill's 1989 multimedia collaboration. In the new works, AI is used to generate spoken and sung texts using voice models taken from the earlier project The pitch material is derived directly from the words in Wojnarowicz' letters using text-to-music translation software, and then used to play back live samples of Neill's Mutantrumpet. The result is a multi-dimensional synthesis of Wojnarowicz' texts and Neill's music that reflects the emotional, poetic qualities of Dear Jean Pierre.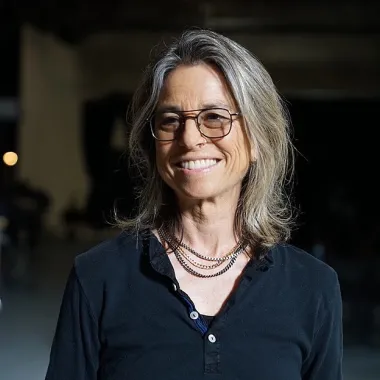 Amy Scholder
Amy Scholder has produced the highly acclaimed feature films My Name Is Andrea, a hybrid documentary about feminist iconoclast Andrea Dworkin directed by Pratibha Parmar, and Disclosure, a documentary about the history of transgender representation in film and television directed by Sam Feder. She has also had a career in independent book publishing. She met David Wojnarowicz in 1986, when she was editing one of the first collections of writings and responses to the AIDS epidemic at City Lights Books. She published several works by David, including Memories That Smell Like Gasoline (Artspace Books, 1992), The Waterfront Journals (Grove Press, 1996), In The Shadow Of The American Dream: The Diaries Of David Wojnarowicz (Grove Press, 1999), and Fever, an exhibition catalog for The New Museum in 1999.
Photo: Texas Isaiah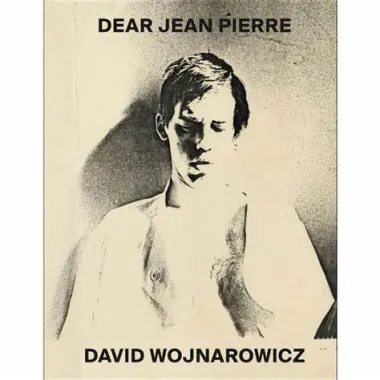 David Wojnarowicz
David Wojnarowicz (1954-1992) was born in Red Bank, New Jersey. Wojnarowicz channeled a vast accumulation of raw images, sounds, memories and lived experiences into a powerful voice that was an undeniable presence in the New York City art scene of the 1970s, '80s and early '90s. Through his several volumes of fiction, poetry, memoirs, painting, photography, installation, sculpture, film and performance, Wojnarowicz left a legacy, affirming art's vivifying power in a society he viewed as alienating and corrosive. His use of blunt semiotics and graphic illustrations exposed what he felt the mainstream repressed: poverty, abuse of power, blind nationalism, greed, homophobia and the devastation of the AIDS epidemic. Wojnarowicz died of AIDS-related complications on July 22, 1992 at the age of 37.
Image: book cover, Dear Jean Pierre (Primary Information, 2023)
World AIDS Day, designated on December 1 every year since 1988, is an international day dedicated to raising awareness of the AIDS pandemic caused by the spread of HIV infection, and mourning those who have died of the disease. Government and health officials, non-governmental organizations, and individuals around the world observe the day, often with education on AIDS prevention and control.
World AIDS Day is one of the eight official global public health campaigns marked by the World Health Organization (WHO), along with World Health Day, World Blood Donor Day, World Immunization Week, World Tuberculosis Day, World No Tobacco Day, World Malaria Day, and World Hepatitis Day.
Since opening its doors in 2015, The Broad has presented annual programming for World AIDS Day to commemorate the many who have lost their lives to the pandemic, to recognize the many still living with HIV/AIDS, and to acknowledge that, globally speaking, the AIDS crisis is not over. At the height of the AIDS crisis in the 1980s, artists became activists and activism grew into an art form. Prime examples of this include Broad collection artists Keith Haring and David Wojnarowicz (both of whom died of AIDS-related complications), Ross Bleckner, who started his practice dealing with the AIDS epidemic in 1980s, and Mark Bradford, Glenn Ligon, and Jenny Holzer, who continue to use their artistic voices to highlight the need for public awareness around HIV/AIDS.
Read More