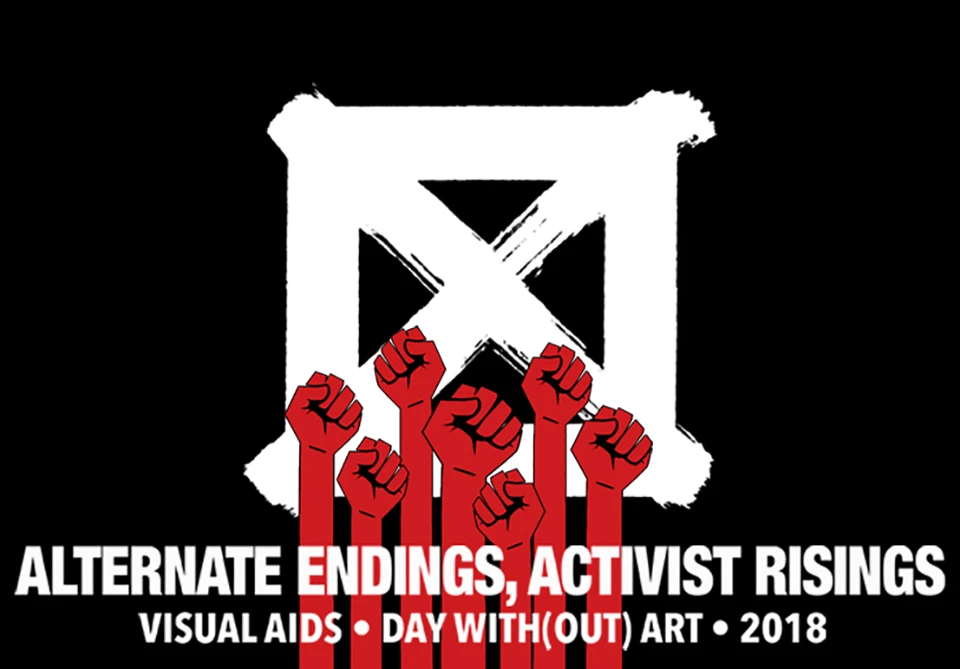 Screening
World AIDS Day | Day With(out) Art: ALTERNATE ENDINGS, ACTIVIST RISINGS
Tickets Free | Advance Reservations Recommended
ALTERNATE ENDINGS, ACTIVIST RISINGS is the 29th iteration of Visual AIDS' longstanding Day With(out) Art project. Highlighting the impact of art in contemporary AIDS activism and advocacy, the program features new short videos from six inspiring community organizations and collectives—ACT UP NY, Positive Women's Network, Sero Project, The SPOT, Tacoma Action Collective, and VOCAL NY.
ALTERNATE ENDINGS, ACTIVIST RISINGS seeks to reflect the persisting urgencies of today's HIV/AIDS epidemic, including HIV criminalization, Big Pharma, homelessness, and the disproportionate effects of HIV on marginalized communities. At a moment of growing interest in the histories of AIDS activism, ALTERNATE ENDINGS, ACTIVIST RISINGS foregrounds contemporary engagements between activists, artists, and cultural workers on the front lines. The screening will be followed by a discussion with Grissel Granados (Positive Women's Network – USA), Ayako Ochoa (Southern California HIV/AIDS Policy Research Center), Naomi Wilding (Elizabeth Taylor AIDS Foundation), and Phill Wilson (Black AIDS Institute), moderated by Visual AIDS Day With(out) Art Project Manager Kyle Croft.
Please note that tickets to this event include general admission access to The Broad during regular museum hours on Saturday, December 8, 2018. Tickets do not guarantee entrance to the event; seating for this event is limited and will be granted on a first-come, first-served basis. 
About the Community Organizations and Collectives:
ACT UP NY – Since 1987, ACT UP NY has held weekly Monday meetings. In 2018, an arm of the collective organized #HIVPreventionDay in conjunction with Prep4All, calling on Gilead Sciences to release their patent for Truvada, a drug that has the ability to reduce HIV transmission by 99%. In this video, the ACT UP Graphics and Visual Tactics Working Group pairs audio from planning meetings with seven sites of queer history in New York while explicating the values and strategies the collective uses to build power.

Positive Women's Network – USA (PWN) is a national membership body of women living with HIV and allies that exists to strengthen the strategic power of all women living with HIV in the United States. In this video, women reflect on how collective creative projects have helped them create comfortable, intimate spaces where they can build community and provide support for each other while also working to advocate for changes that improve lives and uphold rights.

The Sero Project is a U.S.-based network of people living with HIV (PLHIV) and allies fighting for freedom from stigma and injustice. Sero is particularly focused on ending the inappropriate use of one's HIV status in criminal prosecutions of PLHIV, including for non-disclosure, potential or perceived HIV exposure or HIV transmission. The 2018 conference, co-produced with Positive Women's Network-USA, included a showcase of visual art and poetry made by advocates working against HIV criminalization.

The SPOT (Safe Place Over Time) is dedicated to providing services and opportunities for wellness, empowerment, and leadership to young men in Jackson, Mississippi. 40 percent of gay and bisexual men in Jackson, the majority of them black, are living with HIV—the nation's highest rate. Housed in the Jackson Medical Mall among healthcare and service providers, The SPOT offers a place for young men to openly discuss issues and challenges, work to improve their quality of life, and to promote the concept of self-worth in a variety of ways, including dance and creative expression.

Tacoma Action Collective is a partnership of Black community organizers working in grassroots action and education. This video chronicles how the collective organized in response to the whitewashing of the exhibition Art, AIDS, America at the Tacoma Art Museum. The collective also reflects on their work at the 2016 International AIDS Conference in South Africa, responding to interconnected structural violences with the demand #StopErasingBlackPeople.

VOCAL (Voices Of Community Activists & Leaders) is a New York-based grassroots membership organization that builds power among low-income people in order to create healthy and just communities. VOCAL is intentional in drawing connections between homelessness and the HIV and AIDS epidemic, understanding that access to housing impacts access to medication and the ability to maintain a regimen. In this video, VOCAL explains how it uses political theater and direct action as creative tactics to address housing policies as part of their work to end the HIV and AIDS epidemic.
About Visual AIDS and Day With(out) Art:
In 1989 in response to the worsening AIDS crisis and coinciding with the World Health Organization's second annual World AIDS Day on December 1, Visual AIDS organized the first Day Without Art. A Visual AIDS committee of art workers (curators, writers, and art professionals) sent out a call for "mourning and action in response to the AIDS crisis" that would celebrate the lives and achievements of lost colleagues and friends; encourage caring for all people with AIDS; educating diverse publics about HIV infection; and finding a cure. More than 800 arts organizations, museums and galleries throughout the U.S. participated by shrouding artworks and replacing them with information about HIV and safer sex, locking their doors or dimming their lights, and producing exhibitions, programs, readings, memorials, rituals, and performances. Visual AIDS coordinated this network mega-event by producing a poster and handling promotion and press relations.
During the early nineties, as artists became more intimately involved with the group, Visual AIDS initiated numerous projects that included: A Night Without Light (the dimming of the New York skylight); the Electric Blanket (a nationwide outdoor slide projection with text and images); Positive Actions (an exhibition-competition for a television PSA held simultaneously in three NYC venues); the Broadside Project (distribution of copyright-free text and images by well-known artists targeted to specific audiences); and ambitious media collaborations, including AIDS Timeline by Group Material and national televised events.  Artists created many of the most moving actions, including Robert Farber's Every Ten Minutes.  By the mid-90's, Day Without Art attracted more than 8,000 participants throughout the world.
In 1998, for its tenth anniversary, Day Without Art became Day With(out) Art. Visual AIDS added the parentheses to highlight the ongoing inclusion of art projects focused on the AIDS pandemic, and to encourage programming of artists living with HIV.
Since 2010, Visual AIDS has worked with artists and filmmakers to internationally distribute videos to museums, art institutions, schools and AIDS organizations.  To mark the 25th anniversary of Day With(out) Art in 2014, Visual AIDS distributed Alternate Endings, a program of commissioned videos by seven artists and collectives that was screened internationally and is available online to share widely.
---
World AIDS Day, designated on December 1 every year since 1988, is an international day dedicated to raising awareness of the AIDS pandemic caused by the spread of HIV infection, and mourning those who have died of the disease. Government and health officials, non-governmental organizations, and individuals around the world observe the day, often with education on AIDS prevention and control.
World AIDS Day is one of the eight official global public health campaigns marked by the World Health Organization (WHO), along with World Health Day, World Blood Donor Day, World Immunization Week, World Tuberculosis Day, World No Tobacco Day, World Malaria Day, and World Hepatitis Day.
Since opening its doors in 2015, The Broad has presented annual programming for World AIDS Day to commemorate the many who have lost their lives to the pandemic, to recognize the many still living with HIV/AIDS, and to acknowledge that, globally speaking, the AIDS crisis is not over. At the height of the AIDS crisis in the 1980s, artists became activists and activism grew into an art form. Prime examples of this include Broad collection artists Keith Haring and David Wojnarowicz (both of whom died of AIDS-related complications), Ross Bleckner, who started his practice dealing with the AIDS epidemic in 1980s, and Mark Bradford, Glenn Ligon, and Jenny Holzer, who continue to use their artistic voices to highlight the need for public awareness around HIV/AIDS.
Read More