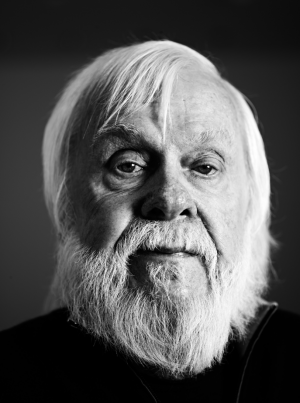 Photography by Hedi Slimane
John Baldessari
---
Artist Bio
One of the founders and innovators of conceptual art, John Baldessari has continued his exploration of the structure of artistic practice and visual thinking for close to sixty years. Photographs, text, and spots of color are the frequent starting points for his work, and these simple devices uncover the visual and ideological mechanics of how an artwork directs a viewer's eye and thoughts. However, the outcome is never dry: Baldessari always brings large dose of wit and humor providing often much needed levity and self-reflection to art in general.
 
The Spectator is Compelled..., 1967–68, was completed in National City, California, before Baldessari moved to Los Angeles. For the work, Baldessari posed for a photograph that was exposed directly to the canvas. The artist stands in the center of the scene, staring down a city street. The sides of the street mimic the sight lines of traditional painting perspective. In a gesture both comic and revolutionary, Baldessari quotes a composition textbook, telling the viewer what the photograph expects their eyes to do, "to look directly down the road and into the middle of the picture." Balsessari, separating the rules or hidden tricks of an image from the image itself, opened up a world of idea-based art.  
 
In Seashells/Tridents/Frames, 1988, Baldessari assembled a grouping of five black-and-white photographs, cropped or partially covered, that have no obvious relationship to each other. In the rightmost image a cropped man "fishes" with a trident poised over still waters; to the left, a suited man presents ornate picture frames; and central left, a collection of seashells are on display in a cabinet. All serve as metaphors for the contemporary artist's search for choice images, as well as for the presentation, framing, and display of those images, and for the artist's self or identity. Seashells/Tridents/Frames is a contemplation of issues about art making that have fascinated Baldessari and propelled his work for years.
 
In the more recent work Noses & Ears, Etc. (Part Two): (Green) Face with Nose, (Yellow and Violet) Hands, (Red) Arm and Pistol (with Tie), 2006, Baldessari continues his interest in often dark themes balanced with visual tricks and humor. A man, maybe a criminal or a hostage, is having his pistol taken away. The use of color and whimsy dissolves the potential threat of the weapon into a complex visual situation.
---