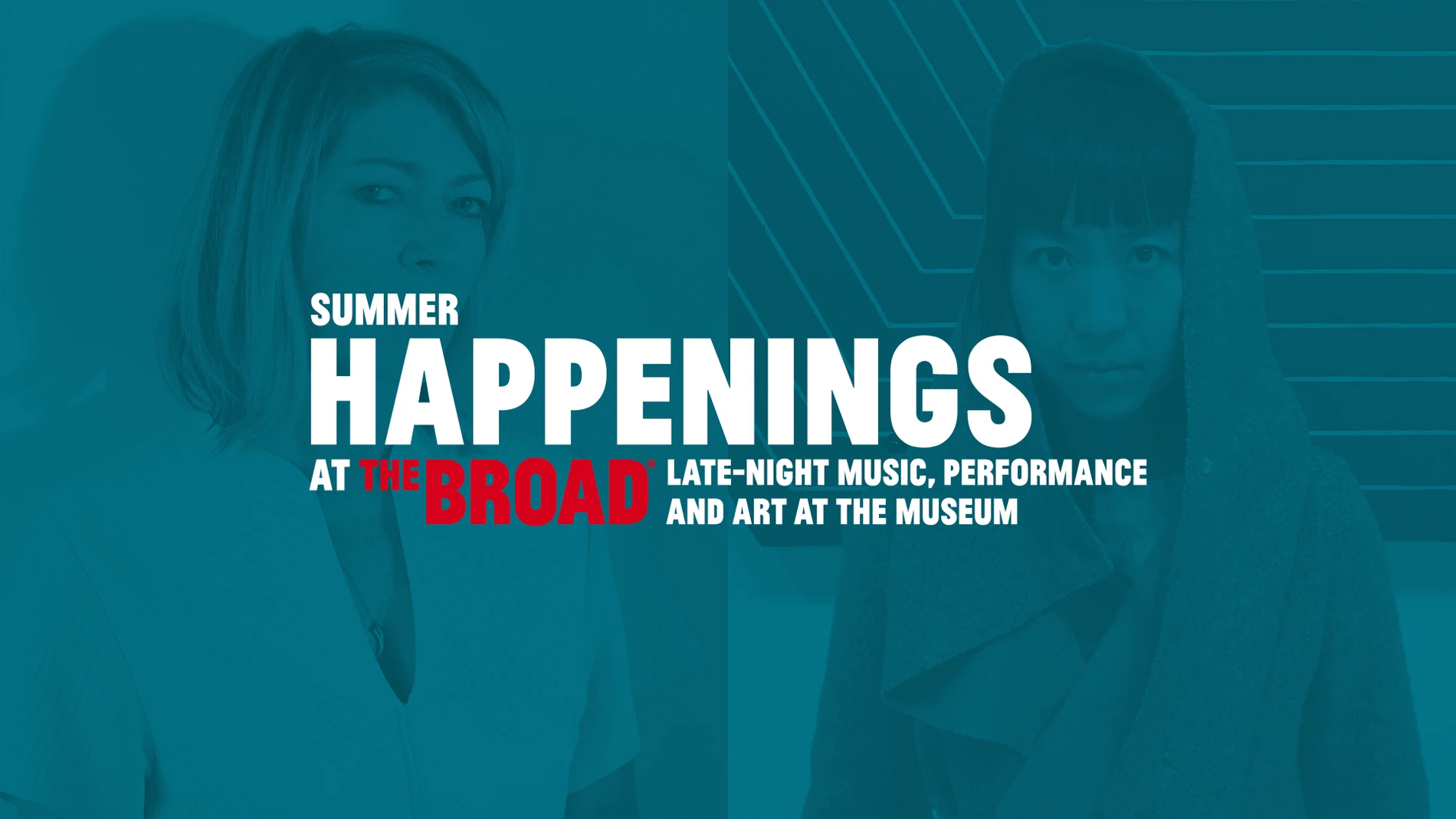 Music
Summer Happenings: A Journey That Wasn't, Part 2
The Broad's final Summer Happenings event will explore how artists manipulate time through memory, appropriation and repetition. Experimental icons Kim Gordon and YoshimiO create work in real time, collaborating on an instrumental improvisational set. The Banjee Ball creates a Vogue Opera inspired by A Journey That Wasn't, featuring a curated group of legendary performers of the Los Angeles ballroom dance community, in which Philadelphia ballroom dance icon Ranika (formerly Kevin) JZ Prodigy makes her Los Angeles debut. Michael "5000" Watts collapses time with a chopped and screwed DJ set. Arto Lindsay presents a new site-specific piece. Laraaji and Arji OceAnanda perform a drone sound bath. Dedekind Cut offers extracted industrial New Age music. Josiah Steinbrick explores percussive tones to create imagined worlds. Happenings are 21+.
Sponsored by Leading Partner
Accommodations sponsored by
---
know before you go
Happenings are 21+. Tickets include same-night access to the museum. Yayoi Kusama's Infinity Mirrored Room—The Souls of Millions of Light Years Away will not be open during the event.
Capacity for the various performances are limited and available on a first-come, first-served basis throughout the museum. A Happenings ticket does not guarantee access to all performances. 
Ticketing Options
Individual Tickets: $30
Get Tickets
---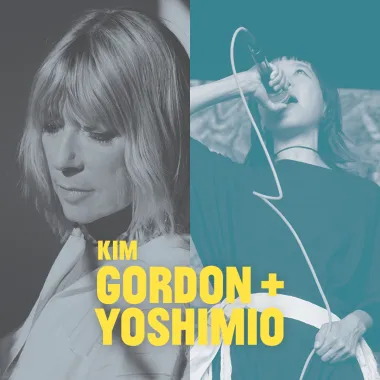 Kim Gordon has been writing and performing experimental rock music for more than three decades, in addition to her work as a visual artist, writer and designer. In 1981, she co-founded the band Sonic Youth, for which she sang and played guitar and bass. Gordon's book of essays, Is It My Body? Selected Texts, was published in 2014. Her memoir, Girl in a Band, was published in 2015 to international acclaim, and her visual art continues to be exhibited worldwide. She continues to perform solo improvisational shows as well as with Body/Head, a guitar duo with Bill Nace.
YoshimiO is a drummer and member of the revolutionary group Boredoms who also plays guitar, keyboard and trumpet. She is the leader of the experimental band OOIOO, a member of Free Kitten with Kim Gordon and most recently the vocalist in SAICOBAB — a quartet that blends ancient Indian musical traditions and instruments with electronics and modern sounds. Known for her ability to improvise in a variety of contexts, YoshimiO has performed and recorded improvisational music with Mats Gustafsson, Jim O'Rourke, Robert Aiki Aubrey Lowe and Susie Ibarra.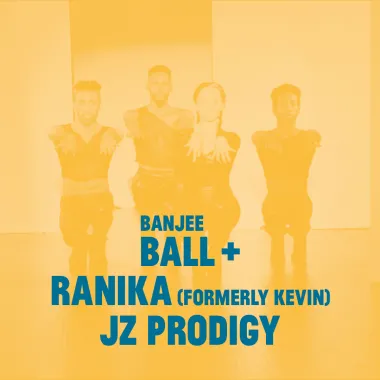 The Opera Ball is a performance piece about ballroom culture and vogue dance curated by Banjee Ball founders Purple Crush. In collaboration with prominent leaders from the community, the Opera Ball expands on Purple Crush's short film Vogue Opera (2016), which tells the history of ballroom culture in Los Angeles. Following the performance will be a demonstration ball served by the Los Angeles community that will explore the themes of A Journey That Wasn't. The Opera Ball will feature Philadelphia's legendary Ranika (formerly Kevin) JZ Prodigy, the most recognized voice in ballroom (known as the Commentator) and an originator of recorded vogue music.
Ballroom culture itself was born from New York drag pageants in the mid-1900s, providing black and Latino LGBTQ kids a place to hone their skills in dance, music, fashion and performance. "Houses" were formed like sports teams in a competition; they provide a safe family structure to an often-unstable existence. Following the release of the film Paris Is Burning, ballroom culture made its way into cities across the country, forming a unique network of creative communities.
Purple Crush is the husband/wife music duo of Isla Cheadle and Jared Selter, originally from New York, with a long history in the underground dance and drag club scenes. Their entrance into ballroom started with the formation of Banjee Ball, a mini ball event in Los Angeles, which has over the last five years become a hub for the LA ballroom community.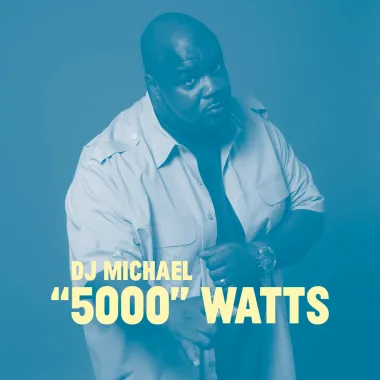 Houston native Michael "5000" Watts is known for pioneering the chopped and screwed genre, for his Swishahouse remixes and for building a successful record label empire. Watts was the first DJ to have a chopped and screwed CD on a major label when he remixed Eightball & MJG's Space Age 4 Eva in 2001. He was nationally recognized in 2005 with the platinum-selling releases of Houston hip-hop rookies Mike Jones and Paul Wall. In 2012, Swishahouse was the first label of any music genre to have its materials archived by Rice University's Center for Engaged Research and Collaborative Learning (CERCL), part of the Kinder Institute for Urban Research. In 2015 Watts began co-hosting an annual SXSW event, "Texas Is Lit," which showcases signed and unsigned Texas artists. Currently, he can be heard playing his live chopped and screwed mixes every Sunday on Houston radio station 97.9 FM.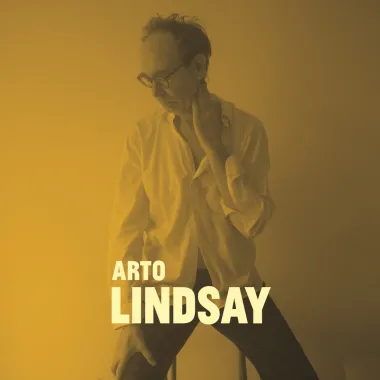 Arto Lindsay (b. 1953) has stood at the intersection of music and art for more than four decades. As a member of DNA, he contributed to the foundation of No Wave. As bandleader for the Ambitious Lovers, he developed an intensely subversive pop music, a hybrid of American and Brazilian styles. Throughout his career, Lindsay has collaborated with both visual and musical artists, including Vito Acconci, Laurie Anderson, Animal Collective, Matthew Barney, Caetano Veloso and Rirkrit Tiravanija. Having been involved with carnaval in Brazil for many years, in 2004 he began making parades. Cuidado Madame, his first album in 13 years, was released in 2017.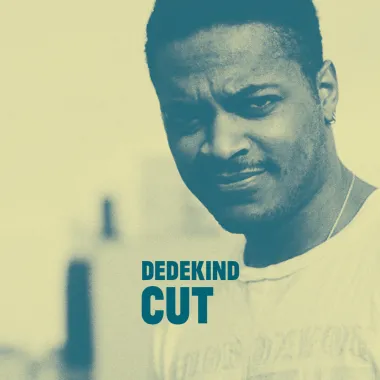 Dedekind Cut, pronounced "Dead-da-ken Cut," is a music project fronted by experimental composer and producer Fred Welton Warmsley III. One of various monikers used in a larger heterogeneous anthology of Warmsley's music and art projects, the "DED" extracts the calm of industrial music in modern approach to noise, new age and ambient music. His most recent collection, Tahoe, was released earlier this year on the Kranky label.
Sacramento native Lee Bannon made a name for himself as a producer for East Coast rappers Big Shug, Inspectah Deck and Joey Bada$$ and the Pro Era Crew; along the way the artist also known as Fred Warmsley III began to drift into abstraction and returned to the West Coast. The music Warmsley/Bannon has made as Dedekind Cut has led him far afield from his hip-hop roots into the realm of experimental ambient electronic music.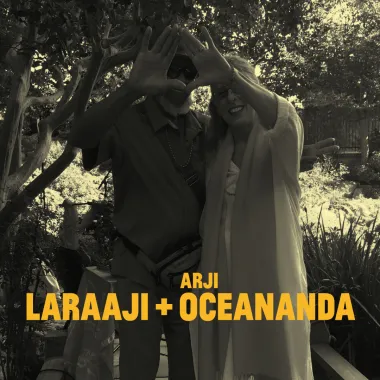 Recognized as a new-age visionary, sound artist Laraaji performs new music with modified electric zither/harp, voice, kalimba and electronics. The music tends toward the celestial, trance inducing and uplifting. Laraaji's longtime collaborator and healing sound musician Arji OceAnanda shares her heart space through a variety of gentle percussion and electronic instruments. Laraaji's classic new age album Day of Radiance, produced by Brian Eno in 1979, put him and his uniquely uplifting electric open-tuned zither on the global music stage. He tours annually, performing at festivals, conferences, yoga centers and collaborative events. Arji OceAnanda has been collaborating in performances and laughter meditation workshops with Laraaji for many years. She moves healing energy through intuitive percussion and gentle synthesizer.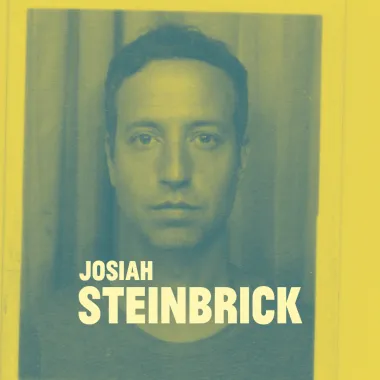 Josiah Steinbrick is a multi-instrumentalist, composer and producer based in Los Angeles. Aside from his own solo works and performances with his BANANA ensemble, he has produced albums by Cate Le Bon and Devendra Banhart and has recorded with artists such as Danger Mouse, Charlotte Gainsbourg, Gruff Rhys, Rodrigo Amarante and White Fence. His first collection of solo works, Meeting of Waters, is out on Leaving Records. The album shares some of the BANANA ensemble's concerns, notably its interest in pattern-based music, but here the emphasis is placed on subtle explorations of percussive tones and creating interior or imagined worlds.

The works on Meeting of Waters stem from Steinbrick's childhood fascination with anthropology and travel tales. Each piece has a palette of one to five elements that work in harmony together — with synthesizers, marimbaphones, tuned wood, idiophones, bells and gongs providing resonant tones that slowly accrete in detail.
About 2018 Summer Happenings at The Broad
"The Broad's series of Summer Happenings is a wildly eclectic mix of music and art."—Los Angeles Times
Now in its third year, the 2018 Summer Happenings at The Broad features an extraordinary lineup including: Gang Gang Dance, faUSt, Re-TROS, Kim Gordon + YoshimiO, Terry Riley, EYE, DJ Stretch Armstrong, Matmos, MIIIA, Banjee Ball + Ranika (formerly Kevin) JZ Prodigy, Asian Dope Boys + Aïsha Devi, Michael "5000" Watts, Total Freedom and Arto Lindsay. Happenings are 21+.
Summer Happenings at The Broad is a series of late-night events featuring music, performance and art by an array of artistic talent that are held on the last Saturday night of each month from June through September. Summer Happenings is inspired by art in the Broad collection and occupies various spaces throughout the museum and outdoor Plaza. The events fluctuate between happenings, salons and scenes, and animate the important influences of the leading artists of our time. Made possible in part by the generous support of Leading Partner East West Bank.
Read More