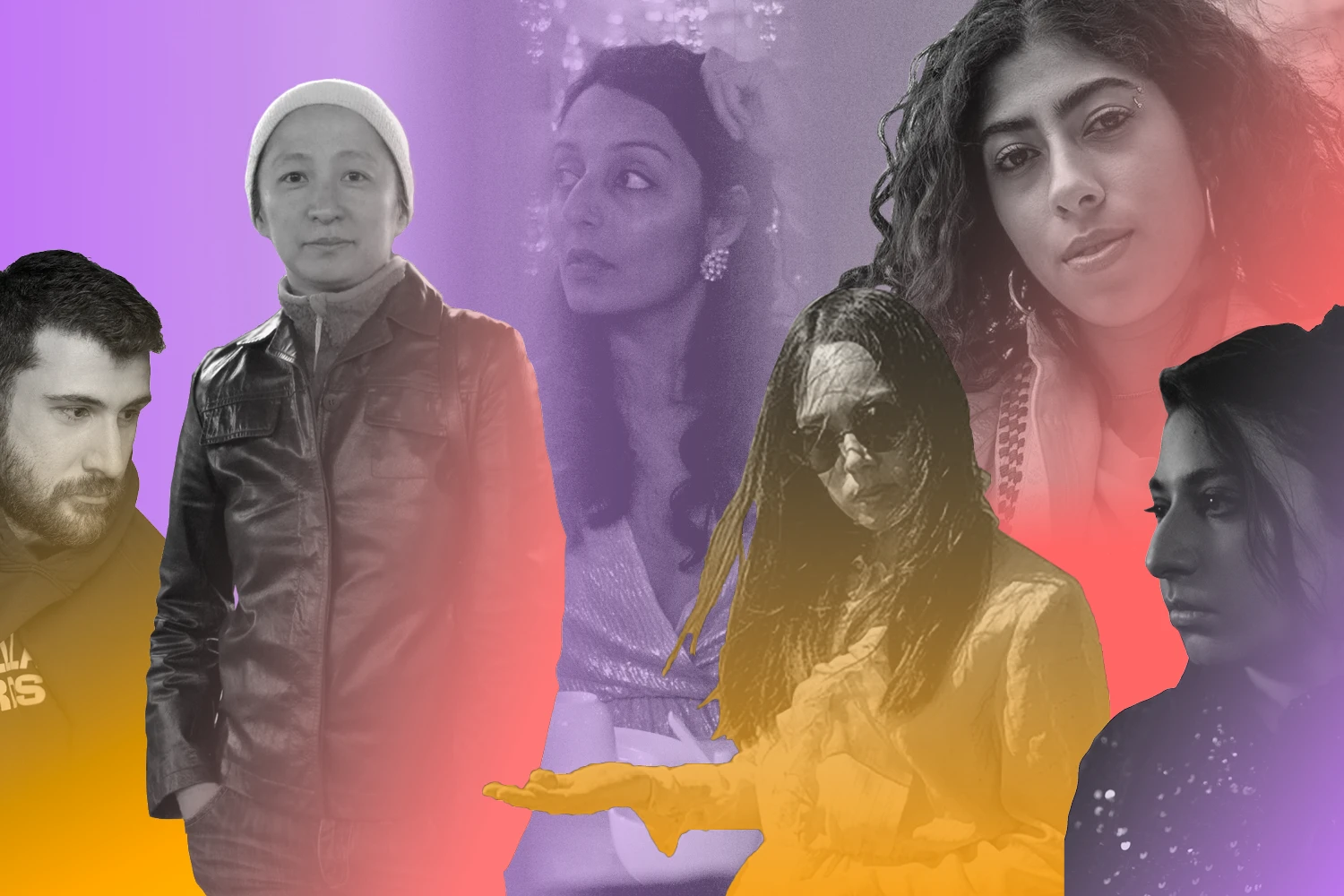 Music
Now We're Here: Arooj Aftab + Felukah + Haig Papazian's Space Time Tuning Machine + Arshia Fatima Haq + Miho Hatori's Salon Mondialité + Yoko Inoue
The Broad concludes our 2022 summer performances with artists reflecting on and responding to the special exhibition This Is Not America's Flag, which examines and questions the complex meanings and symbolism of the United States flag. By blending cultural motifs of their native cultures with contemporary American artforms, these artists illuminate the richness and intricacies of the United States both here and abroad.
The final iteration of Now We're Here spans neo-Sufi jazz minimalism with Grammy-winning Arooj Aftab, empowering multicultural rap with Felukah, experimental electronic performance with Haig Papazian of groundbreaking Lebanese indie band Mashrou' Leila, a "musical talk show" with Miho Hatori and special guests, and a guided meditation / audiovisual work by Arshia Fatima Haq.
Now We're Here lays the groundwork for artists to celebrate their own roles and identities in today's artistic and sociopolitical landscape, the joys and struggles of self-defining "place," citizenship and national identity, and the profoundly individual ways in which they arrived at this moment in their journeys.
---
know before you go
This event is 21+ with valid I.D. The cash bar on the East West Bank Plaza at The Broad and the museum doors open at 8 p.m. A limited number of tickets will be available at the door.
This event is standing room only. Capacity for the various performances are limited and available on a first-come, first-served basis throughout the museum. A  ticket does not guarantee access to all performances.
Tickets include access during the event to The Broad's galleries, including the special exhibitions This Is Not America's Flag and Takashi Murakami: Stepping on the Tail of a Rainbow. Yayoi Kusama's Infinity Mirrored Room—The Souls of Millions of Light Years Away (2013) will not be open during the event.
For information on our current health and safety policies, visit Know Before You Go & FAQ. Visitor policies are subject to change.
GET TICKETS
---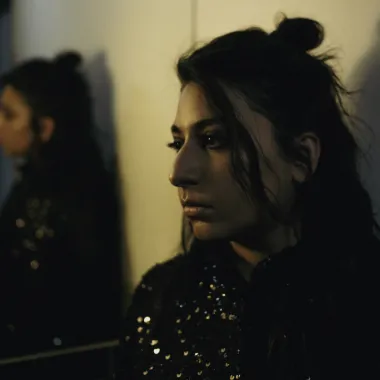 Arooj Aftab
The first-ever Grammy Award-winning Pakistani artist, Arooj Aftab (born March 11, 1985) is a Brooklyn-based vocalist, music composer, and producer. She works in various musical styles and idioms including jazz, minimalism, and neo-Sufi. Aftab won the News & Documentary Award at the 2018 Emmy Awards and has released three critically acclaimed albums: Bird Under Water, Siren Islands, and Vulture Prince.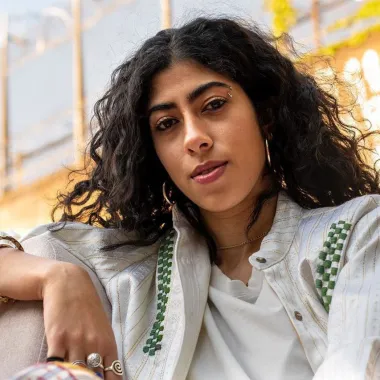 Felukah
Raising the heat from Cairo to New York City, Felukah entered the music scene in 2018 with her EP Yansoon. Frequently code-switching between English and Arabic, she topically explores multiculturalism, multiplicity, and self-empowerment. In 2019, Felukah released her debut album Citadel—a comment on the infrastructure of personhood and being, of creating a citadel for the self through rap music. She is dubbed by Scene Noise as "the neo-soul artist bringing the Nile to New York," and by Azeema Magazine as "the rapper inspiring a new wave of Egyptian women." Felukah's album Dream 23 was released in 2020.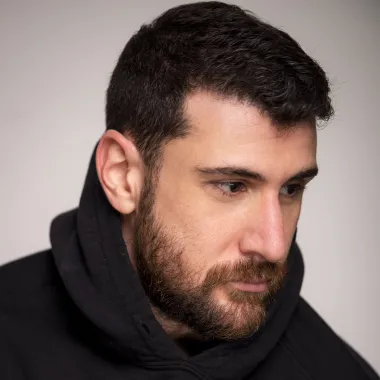 Haig Papazian's Space Time Tuning Machine
Haig Papazian's Space Time Tuning Machine (STTM) is a cross-disciplinary musical narrative exploring the multifaceted meanings of home. The first phase of SSTM premiered in 2021 as part of his artist residency at Joes Pub, NYC. Haig Papazian is a Lebanese-Armenian multidisciplinary artist, composer, and architect born in Beirut and currently based out of New York. He is a founding member and violinist of Mashrou' Leila, the Lebanese band whose electro-pop anthems about political freedom, race, gender, and modern Arabic identity have challenged the status quo of the Middle-Eastern music industry. "In Armenian we have a common saying that roughly translates to 'Let me carry the weight of your pain.' A community that has endured so many atrocities over the past century shares the pain and trauma."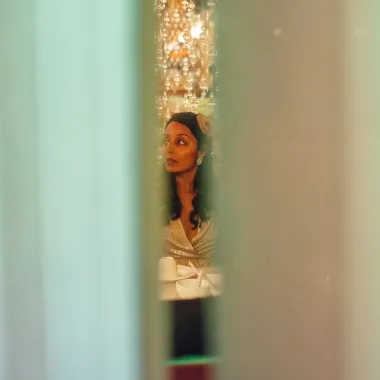 Arshia Fatima Haq
Arshia Fatima Haq (born in Hyderabad, India) works across film, visual art, performance, and sound. She works through counterachives and speculative narratives, and is currently exploring themes of embodiment, mysticism, indigenous and localized knowledge within the context of Sufism. She is the founder of Discostan, a collaborative decolonial project and record label working with cultural production from South and West Asia and North Africa. She hosts and produces monthly radio shows on NTS. Her work has been presented nationally and internationally at museums, galleries, nightclubs, and in the streets, and has been featured at MoMA (New York), the Hammer Museum, the Museum of Contemporary Art Tucson, the Station Museum of Contemporary Art, The Broad museum, LACE, Toronto International Film Festival, Centre Georges Pompidou, NPR, and the Pacific Film Archive amongst others. She received her MFA in Film and Video from California Institute of the Arts and is currently based in Los Angeles.
Meditation For Other Dreams
Film by Arshia Fatima Haq
2020, 9min 30sec, color, sound
Animation by Janelle Miau
Recording and Mixing by Cristy Michel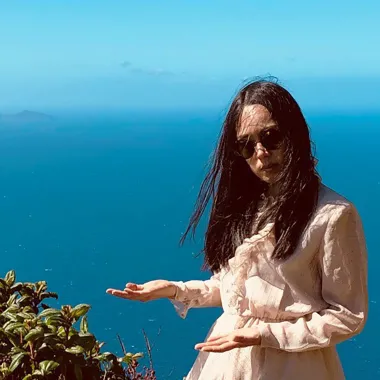 Miho Hatori's Salon Mondialité
Miho Hatori's Salon Mondialité is an experimental performance based on the TV talk show format which replaces the talking with music, including special musical guests Patrick Higgins, Shani Strand, and Gemma Castro. Inspired by the work of French Caribbean poet/philosopher Edouard Glissant, the performance consists of both composed and improvised music with video installation. Hatori says, "The concept is resilience in identity, finding the new OS between Glissant's ideascape from colonization and the subconscious of a Japanese post-war mindset, connecting with the landscape and identity in an opaque reality." NYC-based Miho Hatori is an artist/musician/music producer, primarily known for her work as the vocalist of Cibo Matto. Miho has been influenced and learned from all of her career experiences (e.g. electronic, hip hop, dub, dance, ambient, Brazilian, Caribbean music). Her latest solo album, Between Isekai and Slice of Life, was released during COVID lockdown.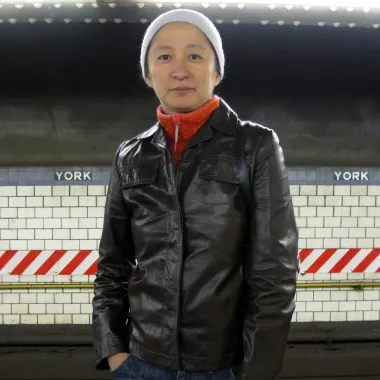 Yoko Inoue
"In the context of this performance, I am thinking about the intimacy of our bodies with different continents of the world and their colonial histories through food, garments and objects and their relationship to politics of land ownership. I live in the capitalist system that shoves me to embrace the placelessness of things that I consume and feel comfortable, but I no longer feel the air or taste the soils of the place which smells like my culture."
Originally from Kyoto, Japan, Yoko Inoue explores cultural commoditization, assimilation, and identity issues through installations, collaborative socially engaged projects, and public intervention performance art. Often using traditional ceramic methods, her object-making examines the economic factors, cultural values, and socio-political implications behind products in the context of globalization. Currently she is focusing on how craft knowledge and practice can be more effectively integrated into educational curriculum and used as a vital tool for sustaining resilient communities or building new social relationships. Her work also engages with agricultural free-trade debates, food justice, and the relationship of local food with cultural heritage and human geography. Inoue's work has been shown broadly in the U.S. and international venues. She is a recipient of the Guggenheim Fellowship, The Joan Mitchell Grant, NYFA Fellowship (Craft, Sculpture and Interdisciplinary Performative Work), Lambent Fellowship, Franklin Furnace Performance Fund, Anonymous Was A Woman Award, and others. Inoue is currently a faculty member of Visual Arts and Center for Advancement of Public Action (CAPA) at Bennington College in Vermont and a member of the research group Humanity Across the Borders at IIAS (International Institute of Asian Studies) at Leiden University, The Netherlands. She lives and works in Brooklyn, New York.
About 2022 Summer Happenings
Join us for 2022 summer happenings at The Broad! 
Celebrate Takashi Murakami: Stepping on the Tail of a Rainbow with performances by self-described Japanophile and two-time Grammy-winning musician Thundercat and Ginger Root, who combines influences of Japanese City Pop and the days of Stax and Philly Soul on July 21, 2022.
Now We're Here lays the groundwork for artists to celebrate their own roles and identities in today's artistic and sociopolitical landscape, the joys and struggles of self-defining "place," citizenship and national identity, and the profoundly individual ways in which they arrived at this moment in their journeys.
Now We're Here Lineup:
June 18, 2022 - DJ Cocteautwinks + Niña Dioz + féi hernandez + Xandra Ibarra + Mariachi Arcoiris de Los Angeles + Rubby
August 27, 2022 - Fantastic Negrito + HPRIZM + Kelly Caballero + Jessa Calderon + Lu Coy + Renée Petropoulos + Yvonne Rainer's Trio A With Flags + Davia Spain
September 24, 2022 - Arooj Aftab + Felukah + Haig Papazian's Space Time Tuning Machine + Arshia Fatima Haq + Miho Hatori's Salon Mondialité + Yoko Inoue 
Read More