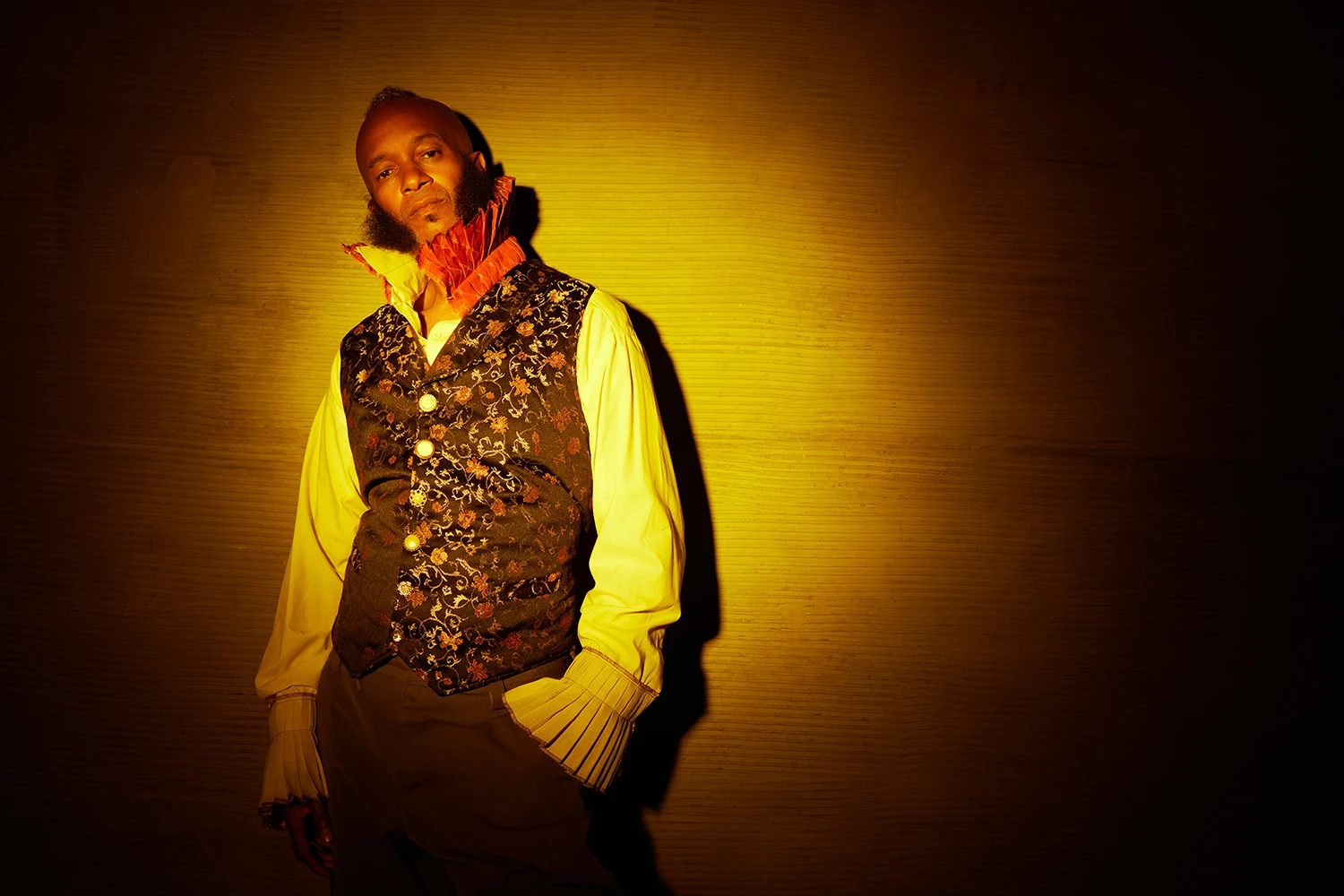 Music
Now We're Here: Fantastic Negrito + HPRIZM + Kelly Caballero + Jessa Calderon + Lu Coy + Renée Petropoulos + Yvonne Rainer's Trio A With Flags + Davia Spain
FANTASTIC NEGRITO HEADLINES
WITH FULL BAND AND VIDEO PROJECTIONS
The Broad continues our 2022 summer performances with artists reflecting on the special exhibition This Is Not America's Flag, which examines and questions the complex meanings and symbolism of the U.S. flag. The evening centers diverse American voices and a range of artists and musical expressions to shine a light on the complex narrative of the United States asking, "What Do We Stand For?"
The offerings in this iteration of Now We're Here span contemporary blues from three-time Grammy-winning artist Fantastic Negrito, spoken word from Kelly Cabellero of the Tongva Nation, rap and hip hop from Jessa Calderon of the Chumash and Tongva Nations, experimental electronic music traversing architectures of ancestral, transcestral, and personal memory from Lu Coy, Afrofuturist hip hop and electronic music from Hprizm/High Priest of Antipop Consortium, a performance including recorded voices describing, singing, and remembering pasts and histories that call forth the specificity of place by Renée Petropoulos, Yvonne Rainer's Trio A with Flags dance piece performed by Mike Tyus and Luca Renzi, and a vocal and electronic exploration of art as a mode for personal and communal healing from Davia Spain.
Now We're Here lays the groundwork for artists to celebrate their own roles and identities in today's artistic and sociopolitical landscape, the joys and struggles of self-defining "place," citizenship and national identity, and the profoundly individual ways in which they arrived at this moment in their journeys.
---
know before you go
This event is 21+ with valid I.D. The cash bar on the East West Bank Plaza at The Broad and the museum doors open at 8 p.m. 
This event is standing room only. Capacity for the various performances are limited and available on a first-come, first-served basis throughout the museum. A  ticket does not guarantee access to all performances.
Tickets include access during the event to The Broad's special exhibitions This Is Not America's Flag and Takashi Murakami: Stepping on the Tail of a Rainbow. Yayoi Kusama's Infinity Mirrored Room—The Souls of Millions of Light Years Away (2013) will not be open during the event.
For information on our current health and safety policies, visit Know Before You Go & FAQ. Visitor policies are subject to change.
GET TICKETS
---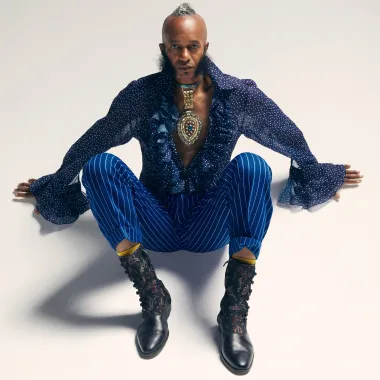 Fantastic Negrito
Part love story, part historical excavation, Fantastic Negrito's extraordinary new album, White Jesus Black Problems, is an exhilarating ode to the power of family and the enduring resilience of our shared humanity. Inspired by the illegal, interracial romance of his seventh-generation grandparents—a white indentured servant and an enslaved Black man—in 1750s Virginia, the collection is bold and thought provoking, grappling with racism, capitalism, and the very meaning of freedom itself, all without ever losing sight of the desire and determination at the heart of the tale. While each track here could stand easily on its own, as could the companion film Negrito shot to accompany the music, stepping back to absorb the collection in its full audio and visual context yields a far more transcendent and immersive sensory experience, one that challenges our notions of who we are, where we come from, and, perhaps most importantly, where we're headed.
Born Xavier Amin Dphrepaulezz, by now much has been made of Negrito's own unique story—his early years growing up in an orthodox Muslim household, the doomed major label deal that turned him off of the music industry altogether, the near-fatal car crash that permanently damaged his guitar playing hand—as well as the remarkable redemption arc that began in 2015, when he won the first ever NPR Tiny Desk Contest. In the years that followed, Negrito would go on to take home three consecutive GRAMMY Awards for Best Contemporary Blues Album, tour with everyone from Sturgill Simpson to Chris Cornell, collaborate in the studio with the likes of Sting and E-40, launch his own Storefront Records label, perform at Lollapalooza, Glastonbury, Newport Folk, Bryon Bay Blues, and nearly every other major festival on the map, and found the Revolution Plantation, an urban farm aimed at youth education and empowerment. But the events on White Jesus Black Problems pre-date all of that by more than two centuries, and the story here isn't so much Negrito's as it is America's.
"At the end of the day, this is a record about love," says Negrito. "There's a feeling out there right now that we can't get anything done because we're so polarized, so entrenched in our ideologies and unmoved by facts or logic, but I wanted to share this story because I think it smashes that narrative to pieces. Despite the horrific challenges these two faced, they found a way to be together, and the ripple effects of that act of love have been reverberating for hundreds of years."
Ultimately, that's what White Jesus Black Problems is all about.
"I stand on the shoulders of my ancestors, both black and white, who showed me that anything is possible," says Negrito. "There was a lot of ugliness in their story, but there was a lot of beauty, too, because in the end, they won. Love won."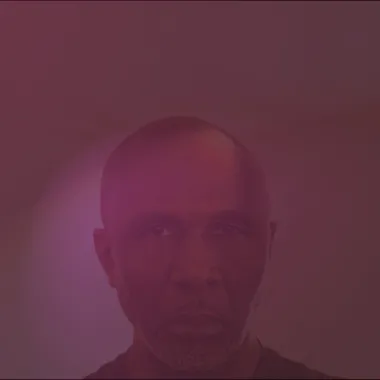 HPRIZM aka HIGH PRIEST
Kyle Austin, known as HPrizm, is an American avant-garde artist, composer, new media artist and performer whose work spans performance art, pop music, and multimedia projects. Formally trained as a visual artist, Prizm, later developed from the axis of poetry, hip hop, and the experimental arts community of the Lower East Side in the Early Nineties. Noted for evoking images of "Sun Ra and Africa Bambatta at once…" (Jesse Sewer, XL8R Magazine), Austin is the founding member of the critically acclaimed hip hop collective, the Antipop Consortium, and cited figure in the Afrofuturist canon. With a career that spans the last 20 years, Prizm has shared the stages with a wide array of artists ranging from The Roots, Radiohead, and MF Doom to Matthew Shipp, Vijay Iyer, and Steve Lehman. As a composer, his pieces have been presented in the Whitney Museum of American Art, The Guggenheim, MoMA PS1, the Walker Art Center, the New Museum, and the California Institute of the Arts. As the creative director of PRIZMLABS, his recent client base includes Kehinde Wiley, Simone Leigh, Moor Mother, Ursula Rucker, the Barnes Foundation in Philadelphia, Bahamadia, and the Banff Centre, Meredith Monk, the So Percussion ensemble, Loris Gréaud, and Snorks (feat. David Lynch and Charlotte Rampling) amongst others.
Kelly Caballero
Kelly Caballero is a Gabrielino Tongva, Yaqui, Xicana singer-songwriter, performer, poet, and jeweler. Her body of work focuses primarily on highlighting the multifaceted and complex lives of Indigenous peoples born and raised in urban settings. She has performed her poetry in collaboration with iconic cellist Yo-Yo Ma and her work has been featured in partnership with The Ford Theater, Hollywood Climate Summit, The Hundreds Streetwear Brand, We Rise LA, and much more. She continues to share her personal experience and stories of life, love, and Indigenous resilience through her work as a Tongva woman.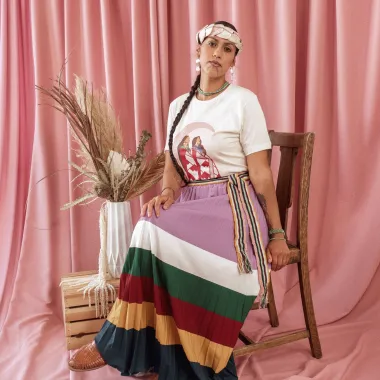 Jessa Calderon
Jessa Calderon is a singer-songwriter, rapper, poet, and published author of the Chumash and Tongva Nations of Southern California who also identifies with her Yoeme and Mexican roots. She aims to share her culture and truth to also bring listeners enlightenment and healing. In addition to writing and music, Calderon is also passionate about massage therapy, energy work, past life regressions, hypnotherapy and intuitive practices. Calderon is the coordinator of Indigenous Oceans and Waters Protector Program for Sacred Places Institute and encourages our community and youth to find their healing mentally, physically, and spiritually.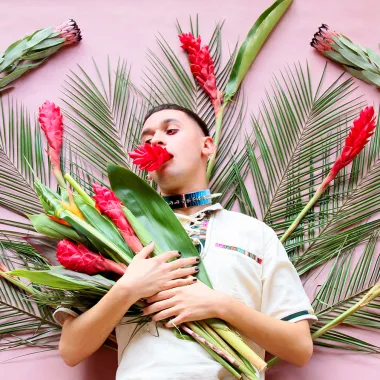 Lu Coy
Lu Coy's work stems from an interest in forging a tangible identity as a multi-ethnic, queer person of color and their work is presented as ritual/performance art, video installation, drone music, folk music, and song. They are ethnically Tejano (mixture of Indigenous and European groups existing in Texas prior to Texas revolution) and Ukranian Jewish.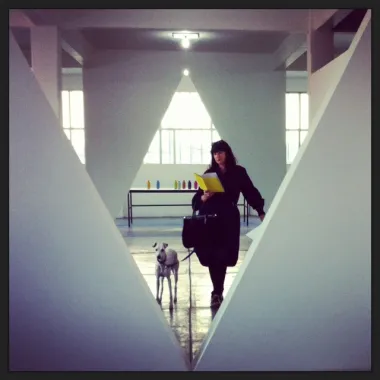 Renée Petropoulos
Renée Petropoulos will stage a performance that considers national anthems—a form of music that heralds the exhibition of strength and power, creating a willingness to go to the limit for one's "love." As is true in love songs, this affection can ricochet between filial and amorous love. Petropoulos has recorded voices describing, singing, and remembering pasts and histories that call forth the specificity of place. Through sound, the cacophony of feeling intertwined with faith can reveal the constructs of our societies and nations.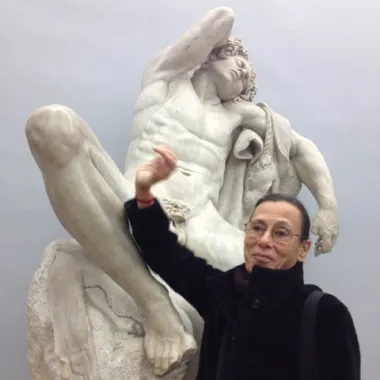 Yvonne Rainer
Choreographer and filmmaker Yvonne Rainer trained with Martha Graham and Merce Cunningham as a dancer and was a co-founding member of the Judson Dance Theater in 1962. She sought to blur the lines between performers and non-performers, and incorporated gestures and pedestrian movements, as well as classical dance steps and theatricality into her choreography. Her body of work has spanned multiple disciplines and movements including dance, film, minimalism, conceptual art, and postmodernism. In 1972, Rainer transitioned to filmmaking following a fifteen-year career as a choreographer and dancer from 1960 to 1975. After making seven experimental feature-length films, she returned to dance in 2000 via a commission from the Baryshnikov Dance Foundation ("After Many a Summer Dies the Swan"). Her dances and films have been seen throughout the U.S., Europe, and Asia in concert halls and museum retrospectives. Her publications include Feelings Are Facts: a Life, Work: 1961-73, The Films of Yvonne Rainer, A Woman Who…: Essays, Interviews, Scripts, Moving and Being Moved, and Poetry.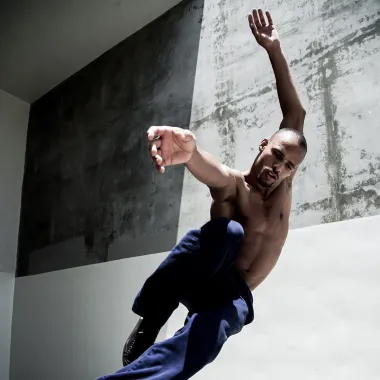 Mike Tyus
Mike Tyus was Born in Seattle, Washington and raised in Los Angeles, California where he first started training in dance, gymnastics, and wrestling at several academies throughout the city. Each teacher invoked a different movement style and provided a unique drumbeat for Tyus. This would inform him for years to come has he redefines dance in a modern world. Tyus has been performing and creating dance for the stage, print, and screen for over 15 years. He has worked with Cirque Du Soleil, Pilobolus Dance Theater, Whim Whim Contemporary Dance, Apple, Veuve Clicquot, Facebook, FKA Twigs, Sia, MTV, Danny Elfman, Sidi Larbi Cherkoui, WMagazine, The Broad's L.A. Intersections: Music, Language, Movement series, and Jacob Jonas The Company. His pursuit for truth and human connection through the performing arts continues to lead him on quite an adventure, 20 countries and four continents. Traveling has given him a broader perspective on how to relate to the world through story and given him a thirst for diverse interactions. Through his experience as a performer, he's gained insight on how to lead artists to finding their individual voice and crafting visually exciting moments that evoke emotion on stage. Community and Creation are at the core of Tyus' mission and continue to drive his efforts in crafting work that feeds the human spirit and reflects the times in which we live in.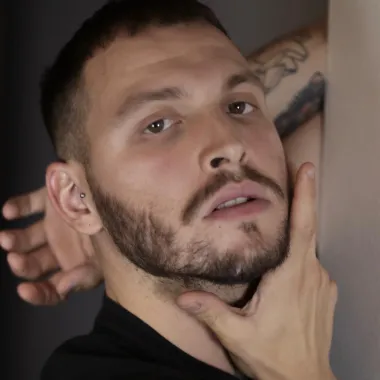 Luca Renzi
Luca Renzi is a choreographer, movement /creative director and video artist. He was born in Bern, Switzerland and is based in Los Angeles, CA. He trained at the University of Zurich under Jochen Heckmann (Germany) and Andrea von Gunten. He is a graduate of NYU Tisch School of the Arts with his Masters of Fine Arts in Dance with a concentration in Choreography & Dance/Technology under the direction of Sean Curran. Renzi was a member of the Vivo Ballet Contemporary dance company in New York. Luca was on tour with recording artist INNA from Rumania, danced in music videos for Jackson Wang and directed music videos for Soaky Siren. Recently he is assisting Mike Tyus & Co. in videography and choreography.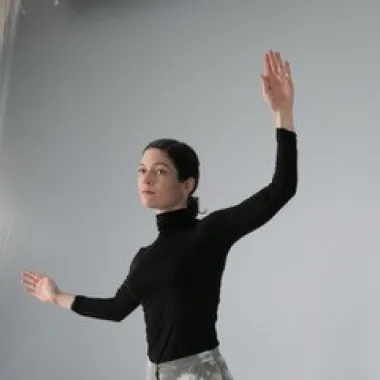 Brittany Bailey
Brittany Bailey has trained with Merce Cunningham as well as whirled with the dervishes of the Mevlevi Order. Bailey has performed at MoMA with Yvonne Rainer in the exhibition, Judson Dance Theater: The Work Is Never Done (2018) and in Marina Abramović's retrospective, The Artist is Present (2010). In 2011, Bailey was a member of the Michael Clark Company for performances at the Tate Modern. Bailey currently studies at Columbia University and has worked with Yvonne Rainer since 2016.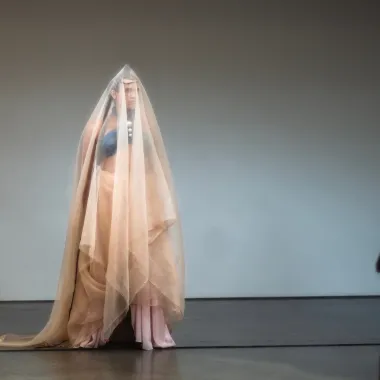 Davia Spain
Davia Spain is a musician, filmmaker, and performance artist creating work that explores art as a mode for personal and communal healing. She connects her foundation in chamber music with her fascination for all types of electronic music, making a beautiful concoction that is both old and new, hard and soft, sweet and bitter. The ideological currents of her work are rooted in Afro-futurist theories of time and space, prompting her to reimagine the past, make predictions of the future, and pull possible outcomes into the present.
Artist Exchange with The Wende Museum
Renée Petropoulos's Analog Among Nations/ WB: Sewing Circle (2022) and Yvonne Rainer's Trio A with Flags will also be performed at The Wende Museum on a date and time to be announced. In conjunction with their respective exhibitions exploring the meanings and inferences of national flags, The Broad and The Wende have come together to present two performances that engage issues of identity, national symbolism, and globalization. Renée Petropoulos was invited by The Wende to create a performance in tandem with its exhibition The Medium is the Message: Flags and Banners which combines a selection of flags from the Soviet Union and the former Eastern Bloc countries, Cuba, China, and Cold War Vietnam with contemporary artwork reflecting, upon, subverting and appropriating the traditional meaning of flags. Yvonne Rainer granted permission for her Trio A with Flags to be taught by Brittany Bailey to Mike Tyus and Luca Renzi. Trio A with Flags was originally performed at Judson Memorial Church in New York on the occasion of the People's Flag Show in 1970 and Gianfranco Gorgoni's silver gelatin print Yvonne Rainer Nude, which depicts the choreographer and filmmaker preparing for that performance, is included in The Broad's special exhibition This Is Not America's Flag.
---
About 2022 Summer Happenings
Join us for 2022 summer happenings at The Broad! 
Celebrate Takashi Murakami: Stepping on the Tail of a Rainbow with performances by self-described Japanophile and two-time Grammy-winning musician Thundercat and Ginger Root, who combines influences of Japanese City Pop and the days of Stax and Philly Soul on July 21, 2022.
Now We're Here lays the groundwork for artists to celebrate their own roles and identities in today's artistic and sociopolitical landscape, the joys and struggles of self-defining "place," citizenship and national identity, and the profoundly individual ways in which they arrived at this moment in their journeys.
Now We're Here Lineup:
June 18, 2022 - DJ Cocteautwinks + Niña Dioz + féi hernandez + Xandra Ibarra + Mariachi Arcoiris de Los Angeles + Rubby
August 27, 2022 - Fantastic Negrito + HPRIZM + Kelly Caballero + Jessa Calderon + Lu Coy + Renée Petropoulos + Yvonne Rainer's Trio A With Flags + Davia Spain
September 24, 2022 - Arooj Aftab + Felukah + Haig Papazian's Space Time Tuning Machine + Arshia Fatima Haq + Miho Hatori's Salon Mondialité + Yoko Inoue 
Read More