School Visits
Youth Summer Program
Join us for The Broad's inaugural Youth Summer Program! Our before-hours creative writing programs, Art+Story and Art+Rhyme, made possible by Leading Partner East West Bank with support from Land Rover, provide young people in Los Angeles the opportunity to discover The Broad's art collection while developing critical and visual thinking skills. Art+Story prompts children between the ages of 8-14 to write stories based on the artwork, while Art+Rhyme encourages ages 15-18 to write poetry.
Youth groups will also have access to Soul of a Nation: Art in the Age of Black Power 1963-1983, a powerful art exhibition celebrating the work of more than 60 Black artists, and features paintings, sculptures, photography, murals and more.
The summer program will take place every Tuesday and Wednesday morning starting June 18 to August 14, 2019.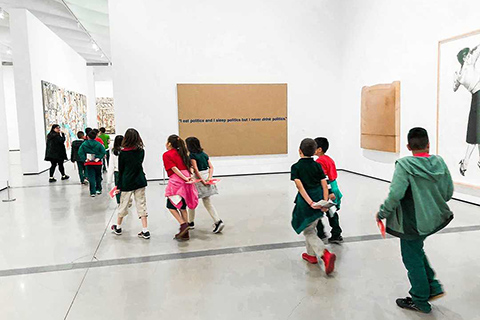 Art+Story
(Ages 8–14)
"What I like about the artwork is that whoever made it did it because it's what they love. My favorite part was talking about the art. In the future, I want to work at a museum." –Sophia
Led by a VSA, Art+Story programs engage students, teachers, and chaperones in lively discussion around two works on view which students later respond to through creative story writing.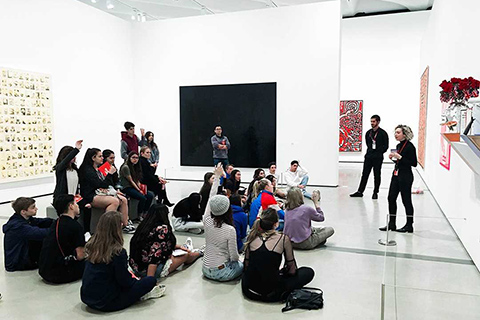 Art+Rhyme
(Ages 15-18)
"A program that takes L.A. students into the Broad Museum is inspiring poetry."
–Los Angeles Times
Art + Rhyme asks students to find new ways to creatively explore art through writing, expression, and poetry. Led by a VSA, these hour-long discussions focus on two artworks.
Self-Guided School Visits
Self-guided school visits are available for grades 3 through 12 during regular museum hours. Self-guided school groups will receive an introduction by a Visitor Services Associate (VSA) and expedited entry into the museum. Groups are invited to visit The Broad's skylit third floor galleries, to take an audio tour and to pick up a family brochure with insights and activities designed for students, children, and families.