School Visits
Self-Guided School Visits
Self-guided school visits are available for grades 3 through 12 during regular museum hours. Self-guided school groups will receive an introduction by a Visitor Services Associate (VSA) and expedited entry into the museum. Groups are invited to visit The Broad's skylit third floor galleries, to take an audio tour and to pick up a family brochure with insights and activities designed for students, children and families.
Guided School Visits
The Broad offers one-hour guided school visits for grades 3 through 12 that take place in the hours before the museum opens to the public. The programs, Art+Story and Art+Rhyme, are available in English and Spanish, offer students and their teachers the opportunity to discover the Broad collection while developing critical and visual thinking skills. Art+Story and Art+Rhyme were developed in partnership with 826LA.
Teachers accepted into these programs are required to complete mandatory information sessions. Dates and instructions for signing up for these sessions will be distributed with notifications of acceptances. Bus scholarships are available for a limited number of Title I schools.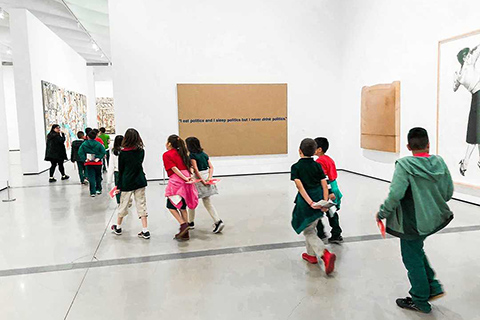 Art+Story
(Grades 3–8)
"What I like about the artwork is that whoever made it did it because it's what they love. My favorite part was talking about the art. In the future, I want to work at a museum." –Sophia
Led by a VSA, Art+Story programs engage students, teachers and chaperones in lively discussion around two works on view which students later respond to through creative story writing.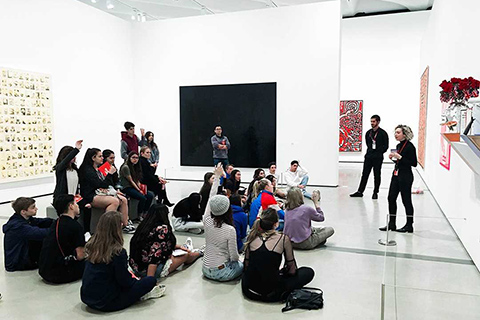 Art+Rhyme
(Grades 9–12)
"A program that takes L.A. students into the Broad Museum is inspiring poetry."
–Los Angeles Times
Art + Rhyme asks students to find new ways to creatively explore art through writing, expression and poetry. Led by a VSA, these hour-long discussions focus on two artworks.