Virtual School Programs
Overview
Co-developed by 826LA, The Broad's free creative writing programs, Art+Story and Art+Rhyme, provide grade-school classes the opportunity to engage with the Broad collection while developing critical and visual thinking skills.
Art+Story prompts children in grades 3–8 to write stories based on the artwork, while Art+Rhyme encourages students in grades 9–12 to write poetry.
For spring 2022, Art+Story and Art+Rhyme will be virtual. Led by a program facilitator, classes will view an artwork through a guided virtual experience live from the museum's galleries and participate in discussions on the artwork's themes.
Is registration full? Join our waitlist.
Cost: Free
Dates: January 19–May 27, 2022 (Wednesday, Thursday, and Friday)
Times: 9 a.m. and 10:15 a.m. PT
Location: Virtual via Zoom
Maximum Class Size: 30
Languages: English, Spanish
Accessibility: Requests can be made in the application. For questions, contact schoolvisits@thebroad.org.
What is Art+Story?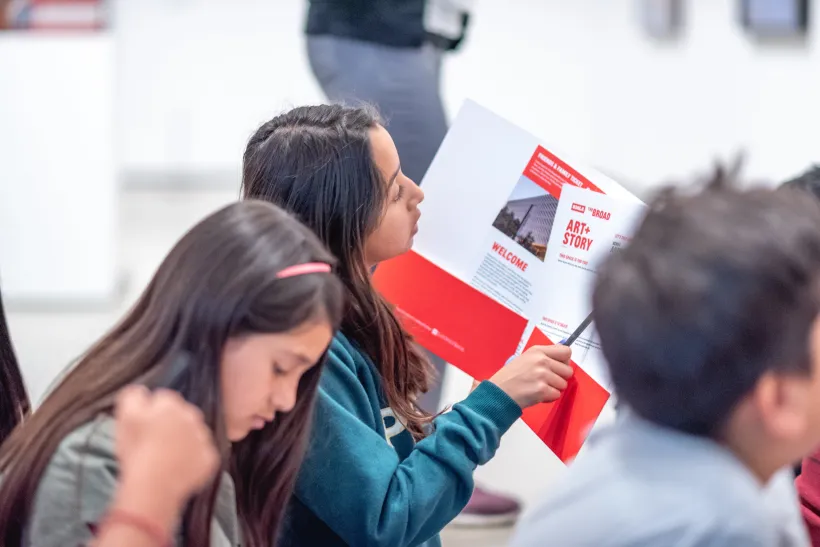 Art+Story engages students and teachers and students in grades 3–8 in a lively discussion around one artwork on view, which students respond to through creative story writing.
For the spring 2022 sessions, a program facilitator will lead a virtual live in-gallery experience where students write a story together.
Is registration full? Join our waitlist.
What is Art+Rhyme?
Art+Rhyme asks students in grades 9–12 to find new ways to creatively explore art through writing poetry. Led by a program facilitator, these 45-minute discussions focus on one artwork. Classes will receive a live virtual in-gallery experience.
The Broad hosts a poetry night at the end of the program where students can enjoy a poetry reading by a special guest poet and read the poems they created during the program. Watch the 2021 live, virtual poetry night, featuring special guest Yosimar Reyes.
As a culmination of the program, each student is invited to submit their poems for The Broad's annual Art+Rhyme poetry book. Read A Collection of Poems Vol. 3, the 2021 poetry book that includes Reyes's original poem "Tío Gallo." Poetry books are printed and provided for free.
Is registration full? Join our waitlist.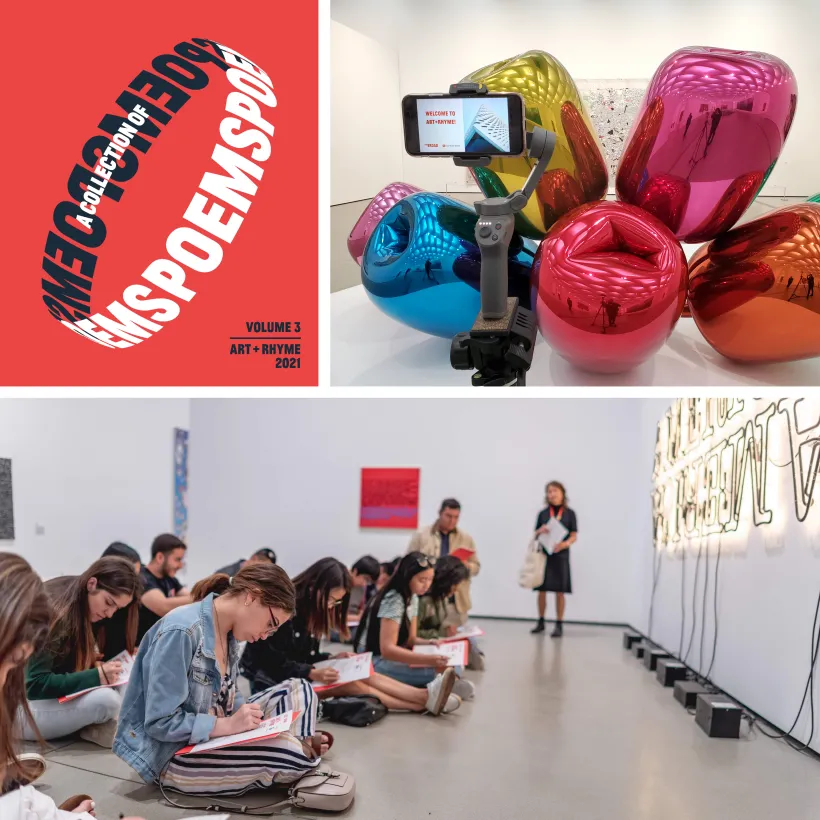 SELF-GUIDED SCHOOL VISITS

During self-guided visits, school groups (grades 3–12) receive expedited entry into the museum and an introduction by a Visitor Experience Team Member.
To enhance each student's visit, educational resources created for children and families are available through our mobile museum guide. The mobile museum guide is accessible through any smartphone (headphones are not provided).
Self-guided school visits are free of cost. Each group is limited to a maximum of 30 students and must follow all visitor policies, including showing proof of COVID-19 vaccination (ages 12 and up) and photo ID (ages 18 and up).
Submit an inquiry by contacting schoolvisits@thebroad.org.
ACTIVITIES FOR EDUCATORS

Let's Make Art! Video Series
Download PDFs of the art cards used in our art kits. Art cards are available in English and Spanish.