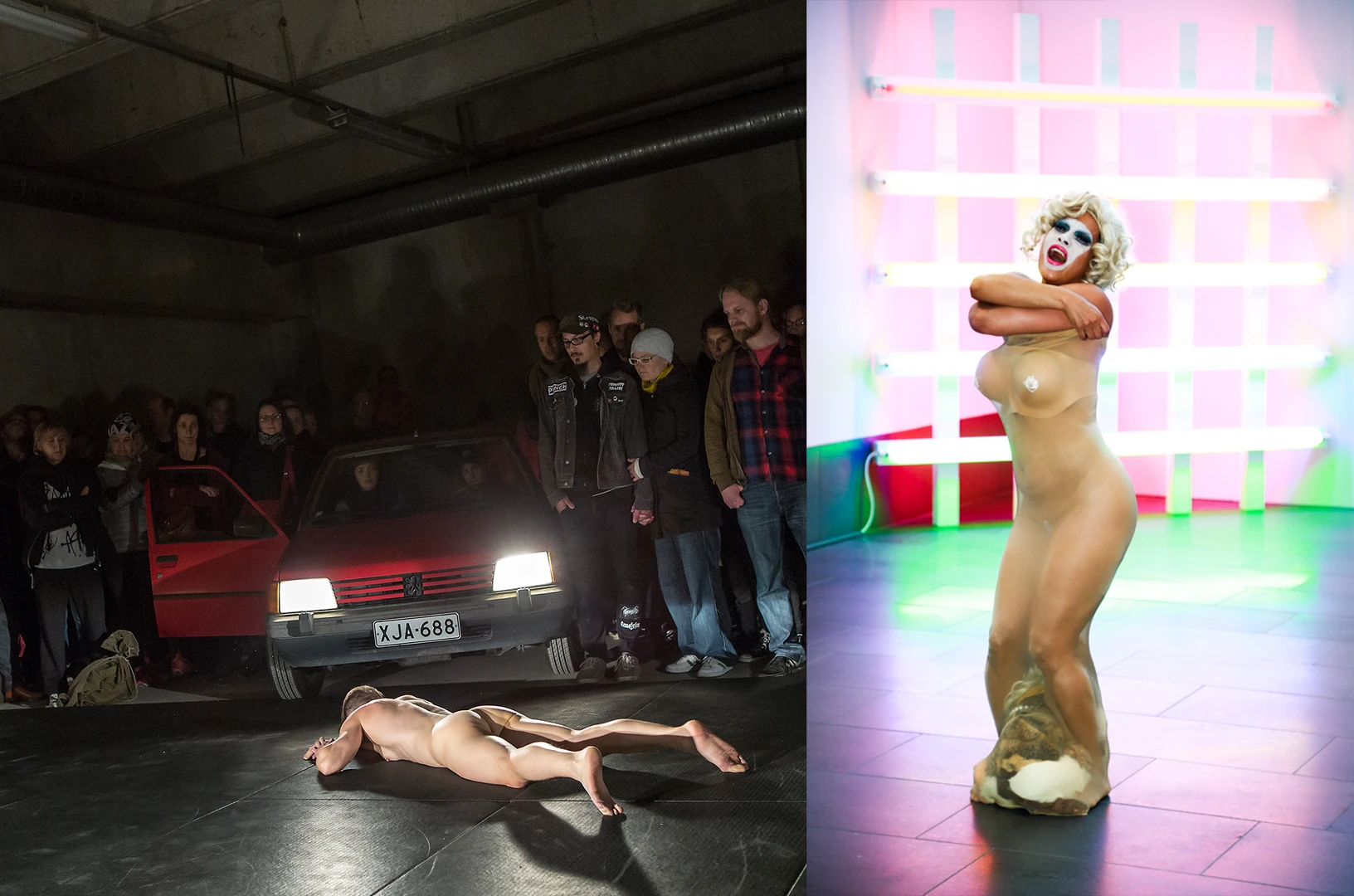 Performance
Tip of Her Tongue: Xandra Ibarra "Nude Laughing," Cassils "The Powers That Be," Shirin Neshat "Possessed"
This program took place in various locations around The Broad and featured a looped screening of a work from the Broad collection, Shirin Neshat's 13-minute video, Possessed, 2001, and two live performances—Xandra Ibarra's Nude Laughing and Cassils' The Powers That Be. Each of the three works centers on a figure isolated in a crowd; each functions as an intervention, but how one experiences that intervention is left open to the viewer. This marks Ibarra's first performance in Los Angeles, and the national premiere of Cassils' The Powers That Be.
Performance: Xandra Ibarra, Nude Laughing, 2014
Drawing from John Currin's painting Laughing Nude, 1998, this performance by Oakland-based Xandra Ibarra engages the skin and skein of race. Nude and encased in a nylon skin cocoon, Ibarra examines the vexed relationships racialized subjects have to not only one's own skin, but also one's own entanglements and knots (skeins) with whiteness and white womanhood. From Frantz Fanon's Black Skin, White Masks, Hortense Spillers' theories of flesh, and W.E.B. Dubois' double consciousness, racialized subjects have continually dealt with the contradictions of skin, interiority, and being. By filling this nude cocoon with "white lady accoutrements" (blonde hair, ballet shoes, furs, pearls, and fake breasts), Ibarra visualizes and embodies the skein of race, negotiating the simultaneous joys and pains of subjection, abjection, and personhood.
Xandra Ibarra is an Oakland-based performance artist from the El Paso/Juarez border who performs and works under the alias of La Chica Boom. She uses hyperbolized modes of racialization and sexualization to test the boundaries between her own body and colonialism, compulsory whiteness, and Mexicanidad. Ibarra's practice integrates video, photography, and objects into performance, sex acts, and burlesque.  Throughout all of her performances, there is a primary concern with problematizing the borders between proper and improper ethnic, gender, and queer subject, teetering between degeneracy/abjection and the spectacular/joy.
Performance: Cassils, The Powers That Be, 2015
In this powerful piece, Cassils, who the Huffington Post called "one of ten transgender artists who are changing the landscape of contemporary art," collaborates with fight choreographer Mark Steger to stage a brutal two person fight. Lit by car headlights and performed in the depths of The Broad's parking garage, Cassils is the sole figure, left to spar with an invisible force. Amplified by surrounding car stereos is a score designed by Kadet Kuhne comprised of static noise and samples found on the radio. Broadcasting issues reflective of today's sociopolitical climate, both proximate and distant, The Powers That Be explores the radical unrepresentability of certain forms of trauma and violence. This piece is designed to be viewed and recorded by the audience using mobile phones. Cassils addresses mediated images of violence by calling into question the roles of the witness and the aggressor.
Cassils has achieved international recognition for a rigorous engagement with the body as a form of social sculpture. Featuring a series of bodies transformed by strict physical training regimes, Cassils' artworks offer shared experiences for contemplating histories of violence, representation, struggle, and survival, often juxtaposing the immediacy, urgency, and ephemerality of live performance against constructed acts for camera in order to challenge the "documentarian truth factor" of images. Cassils performs transgender, not as a crossing from one sex to another, but rather as a continual process of becoming, a form of embodiment, and forges a series of powerfully trained bodies for different performative purposes.
The Powers That Be is supported by:
"Foundation for Contemporary Arts Emergency Grant"
Canada Council on the Arts
 
Screening: Shirin Neshat, Possessed, 2001
Iranian visual artist Shirin Neshat's film Possessed, 2001, starring Shohreh Aghdashloo and with a soundtrack by Sussan Deyhim, presents a woman without chador, the traditional Islamic veil, madly roaming the streets of an Iranian city. She is completely ignored until she takes a platform, where her private suffering becomes public and political. The gathering crowd debates her mania and subsequently assumes the traits of her madness, while she slips away unnoticed.
Shirin Neshat's photographs and videos address individual freedoms under attack from or repressed by social ideologies. Throughout most of Neshat's career, she has been exiled from Iran, and is an outside observer of Islamic law's increasing effects on the country's women and daily life. Though Neshat's artwork addresses the social, political, and psychological dimensions of women's experience in contemporary Islamic societies, she extends beyond identity politics, and confronts issues with universal impact, such as sexual desire, personal autonomy, and social subjugation.
---
Barbara Kruger's Untitled (Your body is a battleground), 1989, is a stark emblem for feminist art practice—if the body is our battleground, it is through language that we fight. Inspired by Kruger's work and by similarly discursive artworks in the Broad collection, The Tip of Her Tongue program series features feminist artists in performance who work with language and embodiment. The artists in this series have intense stories to tell and experiment aggressively with the telling. The artists work with words to explore how the body's relationship to language is mediated by histories large and small. The body may both anchor and disrupt the story. It is a source of desire, grief, shame and laughter. These intimate performances explore the politics of representation—with how gender is produced in, through and as language; and how the stories we tell circulate around, move through, against and with the body.
Read More