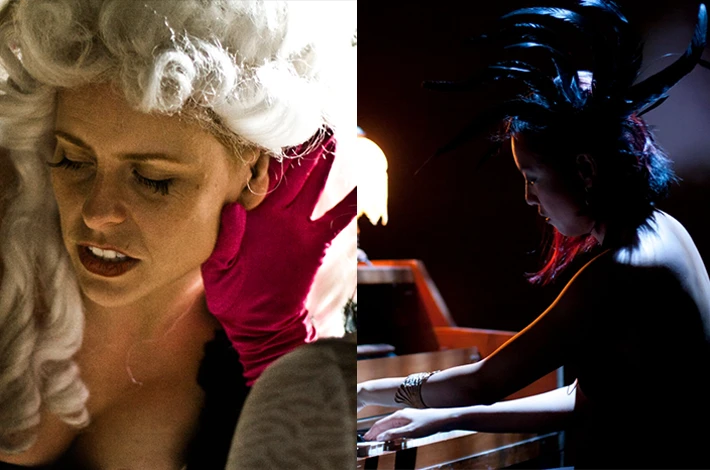 Performance
Tip of Her Tongue: Juliana Snapper + Bora Yoon
This program is now sold out. For information on upcoming Tip of Her Tongue programs, join our email list: thebroad.org/signup 
The Broad is pleased to present original, site-specific performances by Juliana Snapper and Bora Yoon – both of whom were on Huffington Post's recent list of "Fourteen Artists Who Are Transforming the Future of Opera." Juliana Snapper's "At Each Other's Throats" approaches the building as a body, its interior of vaulted curves and tunneling orifices like an enormous throat and mouth, waiting to speak. Working with mathematician and sound designer Miller Puckette, Snapper taps into the resonant frequencies of the building, intrinsic pitches audible only when certain sounds are breathed into them. She is backed by LA's own Nova Vocal Ensemble and The Jouyssance Early Music Ensemble. Korean-American experimental vocalist, performer and sound artist Bora Yoon's "Sonic Circulation" explores the architectural flow and sonic resonance of works in the Broad collection including Jenny Holzer's Inflammatory Essays (1979-82), leading the audience through the arteries of the building, up into the body, down past the membranous heart of the institution (seen through the windows of the Vault), and into the Oculus -- the building's iconic, eye-like architectural feature.  She is joined by interactive live visualist R. Luke DuBois, Cristal Baschet artist Lenka Morávková, and thereminist extraordinaire Armen Ra.
Note: The audience will be standing throughout the evening and walking short distances. Wheelchair accessible. Limited seating for disabled persons. 
Tickets to this program include same-night access before the program to the museum's galleries starting at 5:30 p.m. Please note that the museum will close to the public as usual at 8 p.m. before doors to the performance open at 8:30 p.m.
---
About Juliana Snapper
Juliana Snapper is an internationally recognized interdisciplinary artist, voice scholar and interpreter of art song and electro-acoustic concert works. Raised by an opera singer and a professor of holocaust literature, Juliana has a keen sense of imminent tragedy. As a result, she has cultivated the operatic voice like a weapon. Snapper is best known for developing radical operatic vocal techniques like using inversion to initiate internal gravitational shifts to the vocal mechanism, "Bouche a l'eau" (Mouth to water), allowing her to sing underwater, and a "Listening Vocality" re-routing cycles of transmission and reception. Snapper's solo and large-scale works have been presented across the UK, Europe, Asia, and North America. She has been featured at the Guggenheim, the Pulitzer Foundation, the Getty, the Walker Art Center, MoMA PS1 and the Ojai Festival Main Stage with support from the Durfee Foundation, and the Robert Rauschenberg Foundation, among others.
About Bora Yoon
Bora Yoon is an award-winning, Korean-American composer, vocalist, and sound artist who creates immersive audiovisual soundscapes using digital devices, voice and found objects and instruments from a variety of cultures and historical centuries — to create a unique language of storytelling with music, space, and sound. Yoon's pioneering works have been presented by Lincoln Center, Brooklyn Academy of Music, the Nam June Paik Museum (Korea), Singapore Arts Festival, MADE Festival (Sweden), Festival of World Cultures (Poland), Park Avenue Armory, and Walker Art Center, among others. Yoon's latest album, Sunken Cathedral (Innova), was released to a sold-out theater at Asia Society New York in April 2014 and was named Album of the Year by ABC Australia. Bora Yoon is a Music / Sound fellow with the New York Foundation for the Arts, a TED fellow, and a doctoral fellow in Music Composition at Princeton University.
Bora Yoon will be accompanied by interactive live visualist R. Luke DuBois, Cristal Baschet artist Lenka Morávková, and thereminist extraordinaire Armen Ra.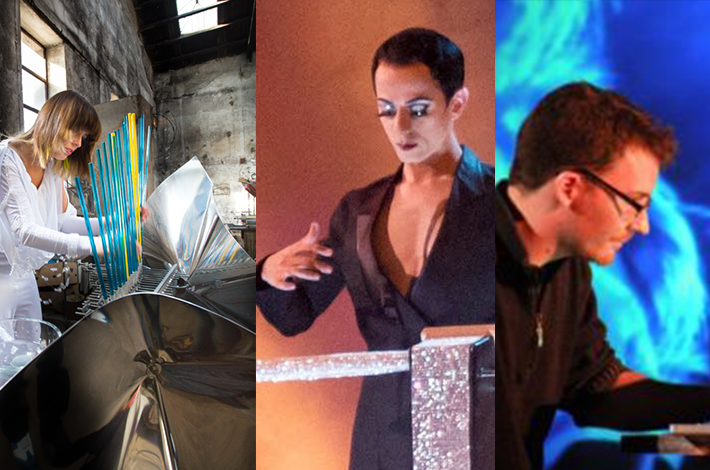 ---
Barbara Kruger's Untitled (Your body is a battleground), 1989, is a stark emblem for feminist art practice—if the body is our battleground, it is through language that we fight. Inspired by Kruger's work and by similarly discursive artworks in the Broad collection, The Tip of Her Tongue program series features feminist artists in performance who work with language and embodiment. The artists in this series have intense stories to tell and experiment aggressively with the telling. The artists work with words to explore how the body's relationship to language is mediated by histories large and small. The body may both anchor and disrupt the story. It is a source of desire, grief, shame and laughter. These intimate performances explore the politics of representation—with how gender is produced in, through and as language; and how the stories we tell circulate around, move through, against and with the body.
Read More