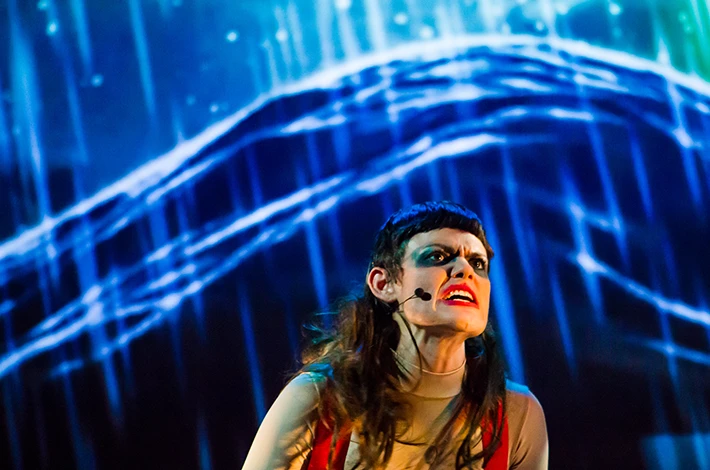 Performance
Tip Of Her Tongue: Dynasty Handbag, Soggy Glasses, A Homo's Odyssey
Dynasty Handbag is a performance and video artist and actor living in Los Angeles. Her work has been presented at international dives both great and small. Her performances have been heralded by The New York Times as "the funniest and most pitch perfect performance seen in years" and "outrageously smart, grotesque and innovative" by The New Yorker. She has produced numerous video works and two albums of original music. In addition to her work as Dynasty Handbag she has acted in performances by various avant-garde theater groups and in many comedic web series that remain unpopular. She also works as a professor and lecturer of performance and comedy-related subjects at CalArts.
Soggy Glasses, A Homo's Odyssey is a feminist, comedic, fanny-packed, monomythic hero-journey. Using Homer's Odyssey as both dramaturgical framework and toilet paper, Dynasty Handbag recasts the masculine allegory of returning home in a feminist context, on a voyage though her extremities, heart, mind, bowels and artist colon-y. Using voiceovers, video interaction, and a giant plush "hero" sandwich, Dynasty Handbag employs female physical and spiritual bodies as the terrain for her journey home, in an ultimate Homeric search for her true nature, and she will most likely fail.
Soggy Glasses, A Homo's Odyssey was originally commissioned by Franklin Furnace for the BAM 2014 Next Wave Festival and was developed through residencies at Yaddo and The MacDowell Colony, and the LMCC Process Space. This performance for The Tip of Her Tongue marks the West Coast debut of Soggy Glasses: A Homo's Journey.
---
Barbara Kruger's Untitled (Your body is a battleground), 1989, is a stark emblem for feminist art practice—if the body is our battleground, it is through language that we fight. Inspired by Kruger's work and by similarly discursive artworks in the Broad collection, The Tip of Her Tongue program series features feminist artists in performance who work with language and embodiment. The artists in this series have intense stories to tell and experiment aggressively with the telling. The artists work with words to explore how the body's relationship to language is mediated by histories large and small. The body may both anchor and disrupt the story. It is a source of desire, grief, shame and laughter. These intimate performances explore the politics of representation—with how gender is produced in, through and as language; and how the stories we tell circulate around, move through, against and with the body.
Read More