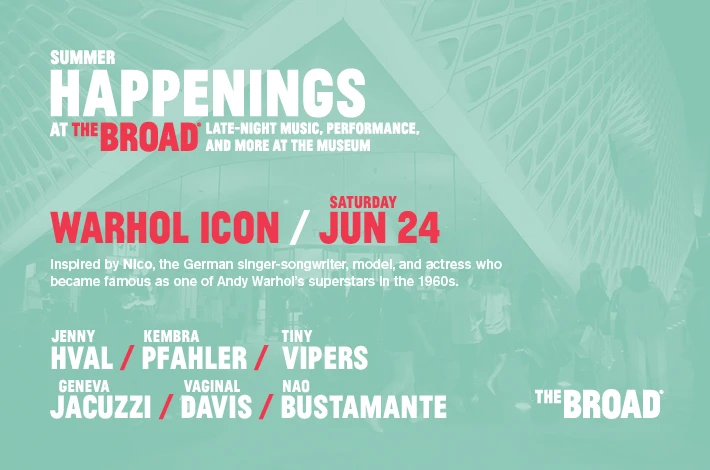 Music
Summer Happenings at The Broad: Warhol Icon
Tickets $25 in advance, $30 at the door. Ages 21+. Tickets include access to the full museum, but please note the Infinity Mirrored Room will not be open.
The first program in Summer Happenings at The Broad is Warhol Icon, inspired by Nico, the German singer-songwriter, model and actress who became famous as one of Andy Warhol's superstars in the 1960s. The program covers the breadth of her work from the Velvet Underground, through later synth collaborations, to her neo-folk approaches. Musical performances by Jenny Hval, Kembra Pfahler, Tiny Vipers and Geneva Jacuzzi evoke Nico's experimental approaches toward music, while forging new frontiers within each artist's respective practices. Vaginal Davis weaves her performance with a rare screening of Philippe Garrel's collaborative film starring Nico and Pierre Clementi, The Inner Scar, the histrionics of which are echoed in Nao Bustamante's video installation, positioned in the lobby of The Broad. Taken as a whole, Warhol Icon surveys a lasting musical legacy still resoundingly felt today.
Set Times + Locations
8:30 p.m. - 12 a.m.  |  Nao Bustamante video on a loop in the lobby
8:45 - 9:15 p.m. | Vaginal Davis in the Oculus Hall
9 - 9:50 p.m. | Geneva Jacuzzi on the Plaza Stage
9:15 - 10:15 p.m. | The Inner Scar in the Oculus Hall
10:10 - 11 p.m. | Jenny Hval on the Plaza Stage
10:15 - 10:45 p.m. | Vaginal Davis in the Oculus Hall
10:30 - 11:20 p.m. | Tiny Vipers in Gallery 303
11 - 11:50 p.m. | Kembra Pfahler in the Oculus Hall
 
Guest Curators
Bradford Nordeen is an independent curator and writer who lives in Los Angeles. The founder of Dirty Looks, a bicoastal platform for queer experimental film and video, and its site-specific, offshoot series Dirty Looks: On Location, Nordeen served as the Platinum Programmer for Outfest Los Angeles, 2013 - 2016. His writing has been published in Art in America, Afterimage, Lambda Literary, X-TRA, Little Joe, and BUTT Magazine. Nordeen is the author and co-editor of three Dirty Looks publications: Dirty Looks at MoMA, Check Your Vernacular and the Dirty Looks Volumes series, as well as the forthcoming survey, Analog Tendencies.
Brandon Stosuy is Editor in Chief at The Creative Independent. He was formerly Director of Editorial Operations at Pitchfork. He co-curates the annual Basilica Soundscape festival in Hudson, N.Y. and the Tinnitus music series in NYC. He and the artist Matthew Barney have collaborated on a series of live events and publications. ADAC, their most recent book-length project, was published in 2013 by Dashwood. The collaborative exhibition, Rural Violence, opened in August 2015 in Troy, New York, and had editions in Long Island City, NYC in November 2015, and in Jackson Hole, Wyoming, in August 2016. He has also collaborated on exhibitions and books with the German artist Kai Althoff and the American artist Brody Condon. His anthology, Up is Up, But So Is Down: New York's Downtown Literary Scene, 1974-1992, was published by NYU Press in 2006. His first children's book, Music Is..., was published in 2016 and his second children's book is forthcoming in 2017.
---
About the performers
Jenny Hval has in recent years made a name for herself as a recording artist and writer both in her native Norway and abroad. Multidisciplinary and transgressive are words often employed to describe her art, but Jenny Hval's polyphonic artistry is in fact seamlessly interwoven between musical, literary, visual and performative modes of expression. Her artistic voice is altogether present, accessible and obscurely complex at the same time. Hval released her first two albums under the alias Rockettothesky (an alias named after her very first recorded song in 1999, and slayed with the greatest pleasure in 2010). She has since recorded three albums under her own name: Viscera, Innocence Is Kinky, and Apocalypse, girl (Sacred Bones Records / Su Tissue, 2015). She made her debut as a writer with the novel Perlebryggeriet in 2009. The less genre friendly Inn i ansiktet followed in 2012. She has worked on a number of collaborations, sound pieces, compositions, productions and performances. She is currently preparing for the release of her bold, new vampire blood solo album Blood Bitch, co-produced by noise artist Lasse Marhaug and herself.
Nao Bustamante is an internationally known artist, originally from California; she now resides in Los Angeles. Bustamante's precarious work encompasses performance art, video installation, visual art, filmmaking, and writing. The New York Times says, "She has a knack for using her body." Bustamante has presented in Galleries, Museums, Universities and underground sites all around the world. She has exhibited, among other locales, at the Institute of Contemporary Arts in London, the New York Museum of Modern Art, The San Francisco Museum of Modern Art, Sundance International Film Festival, Outfest International Film Festival, El Museo del Barrio Museum of Contemporary Art, First International Performance Biennial, Deformes in Santiago, Chile and the Kiasma Museum of Helsinki. She was also an unlikely contestant on TV network, Bravo's "Work of Art: The Next Great Artist." Bustamante is alum of the San Francisco Art Institute, New Genres program and the Skowhegen School of Painting and Sculpture. Currently she holds the position of Associate Professor and Vice Dean of Art at the USC Roski School of Art and Design.
Vaginal Davis is the internationally acclaimed intersexed doyenne of intermedia arts and sciences. Her beat is galactic. Born in Los Angeles but based in Berlin, Germany since 2005 where she works with CHEAP Kollektiv founded in 2001 by Susanne Sachße, Marcuse Siegelstein, and Daniel Hendrickson. Davis has curated and hosted the performative film event Rising Stars, Falling Stars since 2007, now located at silent green Kulturquartier through the auspices of Arsenal Institut fur Film und Videokunst. She is a frequent guest professor at colleges, art schools, and universities globally, teaching her spiky brand of live art that utilizes the DBD (doing-by-doing) method.
La Cicatrice Interieure (The Inner Scar)
Philippe Garrel (born 1948) is a French director, cinematographer, screenwriter, film editor and producer, associated with New Wave movement. Garrel became interested in film and started his career early, influenced by the new work of Jean-Luc Godard and François Truffaut. At the age of 16, Garrel wrote and directed his first film, Les Enfants Désaccordés, in 1964. In 1982, Garrel won the Prix Jean Vigo for the film L'Enfant Secret. He won several awards at Cannes, Venice Film Festivals represented over 25 years for his filmmaking. Garrel met the German singer and actress Nico in 1969 and the two embarked on a working relationship that spanned ten-years, including their work on La Cicatrice Interieure for which her seminal album Desertshore was composed.
Geneva Jacuzzi is well known for her uncompromisingly obtuse synth-driven pop and one-of-a-kind performance art that is comprised of one time only spectacles and installations. Her works have been presented in famous art institutions such as the Museum of Contemporary Art, MOCA and numerous other venues across the globe. She has developed a very focused cult following in the art AND music scenes. She was originally well known for her multitude of self-released home recordings but also released a full length Lamaze in 2010 to much acclaim. Her most recent album Technophelia (Medical Records) is the culmination of a hybrid of DIY and professional studio recordings. Her lyrics describe blood thrown onto fire, clown-like machines in search of sadness, and the raging monologues of elemental beings, while her videos and live performances depict the shattering of self into a variety of personas, all played by Jacuzzi. 
Kembra Pfahler was born in Hermosa Beach, California in 1961, and she lives and works in New York City. Major solo exhibitions include Fuck Island, Participant Inc. (New York, NY, USA, 2012); Capital Improvements, Emalin Gallery (London, 2016); File Under 'V', Rove Gallery (London, UK, 2005); Availabism and Anti-naturalism: A Feminine Experiment, American Fine Arts Company (New York, NY, USA, 2002); and Womanizer, Deitch Projects (New York, NY, USA 2002). Selected group exhibitions include Future Feminism, The Hole (New York, NY, USA , 2014); New York Minute, Garage Center for Contemporary Art (Moscow, RU, 2011) traveling to MACRO Museum (Rome, IT, 2011); Dead Flowers, Vox Populi (Philadelphia, PA, USA, 2010); and Whitney Biennial, Whitney Museum of American Art (New York, NY, USA, 2008).
Tiny Vipers Since the release of her sophomore album Life on Earth, Seattle-based musician Jesy Fortino (Tiny Vipers)  has become a civil engineer. While studying at University of Washington to pursue a wholly new life direction, she wrote and recorded Laughter. Although Laughter seems like a deviation from the singer-songwriter albums Fortino released on Sub Pop, it can be seen as a continuation of early works such as Empire Prism, and later instrumental works like her 2015 contribution to the 'Ambience' series (Box Bedroom Rebels) and collaborations with Rafael Anton Irisarri and Liz Harris (Grouper). Though Hands Across the Void and Life on Earth are collections of songs, just underneath their façade simmers a raw emotional expression that goes beyond words. Laughter is the result of experiments deconstructing pop tropes. Fortino takes inspiration from early electronic pioneers like Florian Fricke of Popol Vuh, as well as the raw experimentation of 80's proto-industrial tape culture. Additionally, she carries the seemingly disparate influences of Slava Tsukerman's Liquid Sky soundtrack and Meredith Monk's exercise in turning the human voice into a spectral instrument. The record presents a spectrum of emotions that accompanied Fortino's engineering studies. Opener "Boarding Charon's Boat" is full of wonder and curiosity. There is also uncertainty, frustration, and despair, like the lyrics in "K.I.S.S (Keep It Simple Stupid):" "You think you won't let this world harm you / you think you won't let anyone down / you've listed away your own heart." In between these extremes there is a soundscape of patience, hope, discovery, and adventure. The apprehension that comes along with trying something new and challenging is captured in the fragile structure of the compositions, which threaten to fall apart almost as soon as they come together.
---
About Summer Happenings at The Broad 2017
Summer Happenings at The Broad is a series of late-night performances that will be held one Saturday night a month from June through September 2017. Summer Happenings is inspired by art in the Broad collection, while shifting focus toward the immersive and immaterial, including performance, dance, music and spoken word. Occupying various spaces throughout the museum and plaza, Summer Happenings at The Broad will orchestrate a constellation of thrilling musicians, performers and multimedia artists. The performers will take their thematic calling from artists such as Andy Warhol, Takashi Murakami and Jean-Michel Basquiat, as well as The Broad's current exhibition, Oracle. These events fluctuate between happenings, salons and scenes and will animate important influences of the leading artists of our time.
$25 advance tickets, $30 at the door. 
Build your own series: purchase tickets to any two or more Summer Happenings events in a single transaction for $20 each. 
Summer Happenings at The Broad is made possible by Leading Partner East West Bank 
Read More