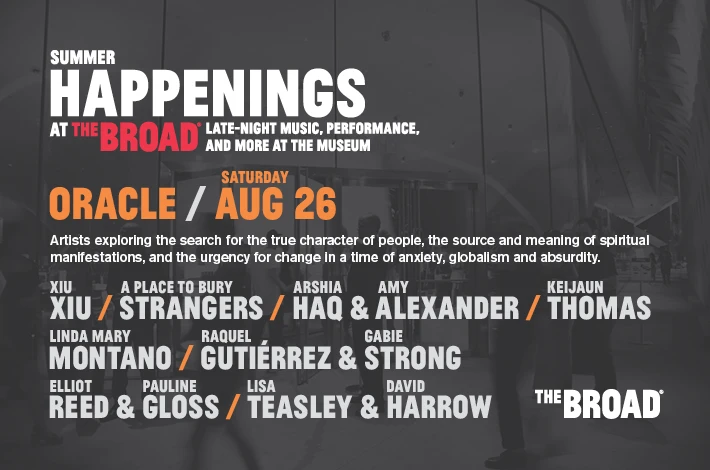 Music
Summer Happenings at The Broad: Oracle
Tickets $25 in advance, $30 at the door. Ages 21+. Tickets include access to the full museum, but please note the Infinity Mirrored Room will not be open.
August's Summer Happening is inspired by themes of globalization, surveillance and the underlying systems and forces at work in the world that make up the current exhibition Oracle. Oracle the Happening strives to reclaim that heightened experience and anxiety as artists pick up abundant stereotypes and play prophet, sage, historian and cheerleader. A Place to Bury Strangers performs what could be a soundtrack for the apocalypse, while Xiu Xiu make music for people opposed to and opposed by the horror and disquiet of life. Transformative performance artist Linda Mary Montano offers healings and blessings, and Keijaun Thomas will perform her work, "Distance is not Separation". The third-floor galleries will feature a Xenolalia room – the Christian missionary spirit gift or ability to speak in an unlearned language – with poets Raquel Gutiérrez, Elliot Reed and Lisa Teasley, and musicians Gabie Strong, Pauline Gloss and David Harrow.
Set Times + Locations
8 - 8:50 p.m.  |  Arshia Haq + Amy Alexander on the Plaza Stage
8:45 - 9:15 p.m. | Linda Mary Montano + Ron Athey in the Plaza 
9 - 9:50 p.m. | Xiu Xiu on the Plaza Stage
9:15 - 11:45 p.m. | Linda Mary Montano + Kae Whalen in the Lobby
9:30 - 11:30 p.m. | The Xenolalia Room: Lisa Teasley + David Harrow, Raquel Gutierrez + Gabie Strong, and Elliot Reed + Pauline Gloss in Gallery 303
10:10 - 11 p.m. | A Place to Bury Strangers on the Plaza Stage
10:15 - 11:45 p.m. | Keijaun Thomas in the Oculus Hall
Guest Curators
Ron Athey is a performance artist associated with Los Angeles music scenes, body art and a 1990s response to HIV/AIDS. His first outing was Premature Ejaculation, a noise/actionist group started with Rozz Williams in 1981. Athey has toured performance projects internationally, including commissions from the English Arts Council, MADRE Napoli and Kampnagel Hamburg. In 2013 Dominic Johnson produced an extensive monograph on Intellect Press: Pleading in the Blood: The Art and Life of Ron Athey. Curatorially, Athey has, alongside his collaborator Vaginal Davis, co-curated the Visions of Excess events at Platinum Oasis/OUTFEST, Fierce Festival Birmingham, UK and Aksioma/Kapelica at Castle Codelli in Ljubljana, Slovenia. Athey is currently working on a participant-based automatism project with the composer and opera director Sean Griffin.
James Spooner is a working artist from New York living in Los Angeles. He first gained recognition with his critically acclaimed cult documentary "Afro-punk," which provided the inspiration for the Afropunk festivals that James also co-founded and co-curated for 4 years before leaving the organization. He has spent the last decade tattooing in his Los Angeles private studio Monocle Tattoo, where he developed a pioneering vegan tattoo procedure. Currently he is finishing his first graphic novel in which he is both the author and illustrator.
---
About the performers
A Place To Bury Strangers "That's the most intense fear and feeling--when you go to a show and you're actually scared," says Oliver Ackermann, guitarist and frontman of Brooklyn trio A Place To Bury Strangers.
"Or you can palpably feel the danger in the music," adds bassist Dion Lunadon, "Like it's going to fall apart at any moment and the players doing it are so in the moment they don't give a shit about anything else. They're just going for it. It's a gutter kinda vibe; everything about it is icky and evil and dangerous."

The band are currently working on their 5th album with an eye toward a fall release. Rather than fixate on the minute recording details like they may have done in the past, the group, rounded out by drummer Lia Simone are trusting their instincts and trying to keep things as pure as possible. Music is much more exhilarating when it's unpredictable even on repeat plays.
Xiu Xiu began in 2002 to try to make music for people opposed to and opposed by the horror and disquiet of life. Thoughout this time they have been called "self-flagellating," "harsh," "brutal," "shocking," and "perverse;" but also "genius," "brilliant," "unique," "imaginative," and "luminous." The group draws upon musical traditions of British post-punk, 20th century classical, industrial noise, experimental and traditional percussion musics, '50s rock and roll, field recordings, queer dance pop and kosmiche. Xiu Xiu have toured relentlessly all over the world and have collaborated with Mitski, Merzbow, Eugene Robinson, Mantra Percussion, and Lawrence English and recorded reinterpretations of the music of Nina Simone (NINA), American religious songs (Unclouded Sky), Mozart's The Magic Flute, and the music of Twin Peaks. In this period Xiu Xiu also became involved in the art and film world. They created museum installations with Danh Vo, David Horvitz and Phil Collins and are currently scoring films for John Cameron Mitchell, Dennis Cooper and Susanne Sachsse. 2017 brings the insanely anticipated release of FORGET, Xiu Xiu's 10th studio album. Xiu Xiu is Shayna Dunkelman, Angela Seo and Jamie Stewart. Each member, a respected and extraordinary artist in their own right, together have never played with more intensity, dedication and doomy love/hate.
Arshia Haq + Amy Alexander
Arshia Haq is an audiovisual and performance artist, filmmaker, writer and DJ based in Los Angeles. She is the founder of Discostan, which presents musical narratives from North Africa, the Middle East, South and Southeast Asia. Narrative threads include migration, nostalgia, homeland, borders, often within realms of Islamic influence, through lenses of traditional forms and kaleidoscopic reinventions of pop culture. Her work has shown at MOMA New York, Hammer Museum, Centres George Pompidou, Toronto International Film Festival, and LAX Art, amongst others. She has also recently released an album of her field recordings from Pakistan on the Sublime Frequencies label. 
Amy Alexander is a digital media, audiovisual and performance artist who has also worked in film, video, tactical media and information technology. She has been making films since 1990 and creating art through programming since 1994. Much of Alexander's work is performance-­based, often working at intersections of cinema, performing arts, humor, politics, and popular culture. Her current research and practice focuses on expanded approaches to the moving image that reflect contemporary cultural and technological shifts. Alexander's projects have been presented internationally on the Internet, in clubs and on the street as well as in festivals and museums including the Whitney Museum, Ars Electronica, Transmediale, ISEA and NIME.  She is an Associate Professor of Visual Arts at the University of California, San Diego.
Linda Mary Montano was raised orthodox Catholic and this informed my mind, my art and my life. As a result of this early spiritual training I lived two years in a convent, years in an ashram, years in a Zen monastery and years making transformative art of my daily life, my illnesses, my traumas, my hopes and fears.
Having  performed  "creative schizophrenia" by morphing myself into different personas since 1975, I began performing as "real" people about 15 years ago, starting with Bob Dylan, Paul McMahon and also as Mother Teresa. The Mother Teresa doppelganger performance was born as a result of my chronic illness called Cervical Dystonia. It makes me tremor, scrunch up, spasm and twist with pain. One day I was doing all of that and my inner voice said, "I feel just like Mother Teresa!!!" So of course, having designed the MY ART IS MY LIFE manifesto back in 1969, I became her, as art, every chance I had and for her 100th birthday I performed as her in protest at the Empire State Building because they would not turn on the lights to blue and white to honor Mother Teresa.
Keijaun Thomas creates live performance and multimedia installations that oscillate between movement and materials that function as tools, objects and structures, as well as a visual language that can be read, observed, and repeated within sensorial environments. Her work investigates the histories, symbols, and images that construct notions of Black identity within black personhood. Thomas examines, deconstructs, and reconstructs notions of visibility and hyper-visibility, passing and trespassing, eroticized and marginalized representations of the black body—addressing blackness outside of a codependent, binary structure of existence.
Raquel Gutiérrez + Gabie Strong
Raquel Gutiérrez was born and raised in Los Angeles and has long been a writer and live performer. She has also been a film actor, curator, publisher (Econo Textual Objects, established 2014), playwright, arts administrator, and community organizer. Gutiérrez writes about art, culture, music, film, performance and community building and creates original solo and ensemble performance compositions. Her work recently appears in Zócalo Public Square, Fence, Huizache and ASAP Journal.
Gabie Strong is a California artist exploring spatial constructions of degeneration, drone and decay as a means to improvise new arrangements of self-reflexive meaning. Strong uses improvised sound performance, radio broadcasting, environmental installation and video as a mediums for experimentation. Current themes in her work address the use of ritual incantation for revealing feminine knowledge and power. Her work has been presented at The UCLA Hammer Museum, Sierra Nevada College, LAMOA DS#3, Los Angeles Contemporary Archive, Pasadena Armory Center for the Arts, and Printed Matter's LA Art Book Fair, amongst others.
Lisa Teasley + David Harrow
Lisa Teasley is the author of the critically-acclaimed novels Dive and Heat Signature, and the award-winning story collection, Glow in the Dark. Teasley's film credits include writer and presenter of the BBC Television Documentary, High School Prom, which was in long-term rotation in the UK. A native of Los Angeles and graduate of UCLA, Lisa Teasley is a fiction editor at Los Angeles Review of Books. As a visual artist, Teasley had a one-woman show at the Watts Towers Art Center, with John Outterbridge as director and curator; her group shows include Brockman Gallery, the Los Angeles County Museum of Art's Rental & Sales Gallery, and the Pittsburgh Center for the Arts. Teasley was a member of the former art collective HOWDOYOUSAYYAMINAFRICAN, aka the Yams, who debuted their first film at the 2014 Whitney Biennial.  
David Harrow first launched into the post-punk climate in the 80's So through synth-soaked new wave and Neue Deutsche Welle, through playing with disco legends like Razormade on the San Francisco scene, through going deep into dub and experimental electronics as part of the On-U Sound production and live team, through the dirty rave haunts of London with Andrew Weatherall, through huge international tours as Technova, through a huge pop smash with Billie Ray Martin, through his live drum'n'bass extravaganzas as James Hardway, through the trance world, on through the Californian bass and weird-beat scenes as OICHO, to the esoteric ambient soundscapes and percussion soundtracks he releases today, Harrow is always, as a wise man once said "on to the next one".
Elliot Reed + Pauline Gloss
Elliot Reed is an LA based musician and performance artist. He recently completed a performance tour through Osaka, Tokyo, and London and has shown work at The Hammer Museum, University of Southern California, Macalester College, University of Minnesota, Northwestern University, The Illinois Institute of Technology, University of Chicago, The Gene Siskel Film Center, FOKL Arts Center Kansas City, Human Resources Los Angeles, and other venues in New York, Baltimore, Paris, Minneapolis, Chicago, Phoenix, Tuscon, Dowelltown Tennessee, Marfa and Austin. In 2014, Elliot founded Elliot Reed Laboratories and currently serves as the Director of Lab Operations. He works as an independent contractor performing solo and with other artists and ensembles, in addition to hiring outside talent for recording, printing and other services. Recent technological advances such as cloud computing allow company business to occur anywhere with internet access. Elliot occasionally adopts the title "Corporate Headquarters" while making public appearances.  
Pauline Gloss is a literary sound-artist based in Los Angeles working in dialogue with the Text-Sound tradition. Her language-sound work attempts to dramatize and expand language in its timbral, rhythmic, textural, and meaning-making dimensions. Her current body of work is concerned with using highly reduced language materials in accretion and homophonic association to develop larger emotional and conceptual architectures whose stability is always already in question. She runs Spoken Records, a label specializing in the release of work in the Text-Sound tradition. Her most recently released recording project, "Greetings from Here: Audio Postcards in Transition," an improvised, epistolary record, has been written about favorably in art and music publications. She has performed and shown solo work in Los Angeles and New York.
Summer Happenings at The Broad is made possible by Leading Partner East West Bank
---
About Summer Happenings at The Broad 2017
Summer Happenings at The Broad is a series of late-night performances that will be held one Saturday night a month from June through September 2017. Summer Happenings is inspired by art in the Broad collection, while shifting focus toward the immersive and immaterial, including performance, dance, music and spoken word. Occupying various spaces throughout the museum and plaza, Summer Happenings at The Broad will orchestrate a constellation of thrilling musicians, performers and multimedia artists. The performers will take their thematic calling from artists such as Andy Warhol, Takashi Murakami and Jean-Michel Basquiat, as well as The Broad's current exhibition, Oracle. These events fluctuate between happenings, salons and scenes and will animate important influences of the leading artists of our time.
$25 advance tickets, $30 at the door. 
Build your own series: purchase tickets to any two or more Summer Happenings events in a single transaction for $20 each. 
Summer Happenings at The Broad is made possible by Leading Partner East West Bank 
Read More