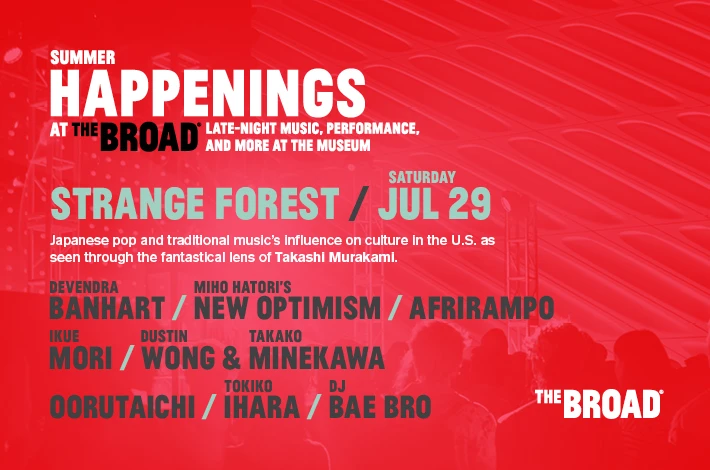 Music
Summer Happenings at The Broad: Strange Forest
Tickets SOLD OUT - No Tickets will be available at the door. Tickets are still available for Summer Happenings in August and September.
The second program in Summer Happenings at The Broad takes its title from the work of Takashi Murakami, who has long found inspiration in the collaged cultures that emerged in Japan at the end of the Tokugawa period of isolation. Strange Forest presents artists who work with those traditional and Western influences in real-time. The evening includes Tokiko Ihara, who plays the Sho, a meditative traditional woodwind instrument. This contrasts with the blistering female drum and guitar duo Afrirampo and the solo artist Oorutaichi, known for his "drifting folklore music" that combines electronic music, folk and pop with his own invented language. Those Japan-based groups are joined by ex-DNA member Ikue Mori and Miho Hatori of Cibo Matto, who arrived to NYC in the 1970s and 1990s respectively, both unintentionally joining bands and quickly developing their own styles in the downtown NYC music scene. The evening also features L.A. based Devendra Banhart, whose last album "Ape in Pink Marble" was deeply inspired by Japanese culture, and onetime Ponytail member Dustin Wong in collaboration with Takako Minekawa. 21+ only. Tickets to Summer Happenings at The Broad include access to the museum, but please note that the Infinity Mirrored Room will not be open.
Set Times + Locations
8 - 8:55 p.m.  |  DJ Bae Bro on the Plaza Stage
9 - 9:50 p.m. | Afrirampo on the Plaza Stage
9:15 - 9:30 p.m. | Tokiko Ihara in the Lobby
9:30 - 10:20 p.m. | Ikue Mori in Gallery 303
9:45 - 10:35 p.m. | Oorutaichi in the Oculus Hall
10:10 - 11 p.m. | Devendra Banhart on the Plaza Stage
10:20 - 10:35 p.m. | Tokiko Ihara in the Lobby
10:45 - 11:35 p.m. | Dustin Wong + Takako Minekawa in Gallery 303
11 - 11:50 p.m. | Miho Hatori's New Optimism in the Oculus Hall
11:15 - 11:30 p.m. | Tokiko Ihara in the Lobby
 
Guest Curators
Ryu Takahashi is an independent curator, producer and artist manager based in New York and Tokyo. He was formerly a publicist at Sony Music, and as a co-director/curator at VACANT, a gallery and performance space in Harajuku Tokyo, he has worked with artists like David Byrne, Zs, Jenny Hval and Devendra Banhart. He is currently managing artists Arto Lindsay and BIGYUKI. 
Brandon Stosuy is Editor in Chief at The Creative Independent. He was formerly Director of Editorial Operations at Pitchfork. He co-curates the annual Basilica Soundscape festival in Hudson, N.Y. and the Tinnitus music series in NYC. He and the artist Matthew Barney have collaborated on a series of live events and publications. ADAC, their most recent book-length project, was published in 2013 by Dashwood. The collaborative exhibition, Rural Violence, opened in August 2015 in Troy, New York, and had editions in Long Island City, NYC in November 2015, and in Jackson Hole, Wyoming, in August 2016. He has also collaborated on exhibitions and books with the German artist Kai Althoff and the American artist Brody Condon. His anthology, Up is Up, But So Is Down: New York's Downtown Literary Scene, 1974-1992, was published by NYU Press in 2006. His first children's book, Music Is..., was published in 2016 and his second children's book is forthcoming, also on Simon & Schuster, in 2017.
---
About the performers
Afrirampo: Formed in Osaka, Japan in 2002, Afrirampo is a rock band comprised of two members; ONI (Vocal, Guitar) and PIKA (Vocal, Drum). Their music, mixed with primitive sound and bound up with mind-blowing performance, has created an international stir. In 2003, they launched their debut album "A", followed by albums including "URUSA IN JAPAN" from Sony's imprint Ki/oon Records in 2005. They announced to split in 2010, and in the year after, an album "NEVER ENDING AFRIRAMPO" (a CD/DVD set, Ki/oon Records) containing a live recording from their final show was released. In March 2016, after six years since their break-up, they are back together to present the newborn Afrirampo.
Devendra Banhart first attracted international notice with his 2002 debut album, Oh Me Oh My… The Way the Day Goes By the Sun Is Setting Dogs Are Dreaming Lovesongs of the Christmas Spirit—a collection of recordings he had made for himself. Subsequent albums include Rejoicing in the Hands (2004), Niño Rojo (2004), Cripple Crow (2005), and Smokey Rolls Down Thunder Canyon (2007), and What Will We Be (2009). Mala, his Nonesuch debut, was described by Q as a "career-best" and by the Wall Street Journal as his "most concise, hushed and winsome effort to date." Banhart has collaborated with fellow musicians including Anohni (formerly known as Antony) and the Johnsons, Beck, Vashti Bunyan, Os Mutantes, and Vetiver. He also has performed with both Gilberto Gil and Caetano Veloso, and was part of a David Byrne–curated concert at Carnegie Hall. An accomplished visual artist, Banhart's distinctive, minutely inked, often enigmatic drawings have appeared in galleries all over the world, including the Art Basel Contemporary Art Fair in Miami; the San Francisco Museum of Modern Art; the Palais des Beaux-Arts in Brussels; and Los Angeles' Museum of Contemporary Art. In 2015 Prestel published I Left My Noodle on Ramen Street, a collection of his of drawings, paintings, and mixed media pieces. He has created the cover art for most of his records, and in 2010 his artwork and packaging for What Will We Be was nominated for a Grammy.
Dustin Wong & Takako Minekawa The sounds of Dustin Wong & Takako Minekawa are a coalescence of the complexities of life, with the sheer joy of imaginative creation. A Completely characteristic of their style, Wong and Minekawa achieve a density of textures, timbres, beats, and harmonies while remaining totally weightless, suspended in the air. Based in Tokyo Japan, they are part of a growing DIY community, frequently performing in smaller spaces such as Nanahari, Fuchi-kuchi, and Ochiai Soup. Their artistic focus is to create the unexpected. It is a scene that encourages this adventurousness. Wong and Minekawa use their considerable technical skill to create the psychedelic, surreal, and conceptual, and with dexterity and inventiveness. While Minekawa still contributes to J-Pop releases and Wong is still connected to his Baltimore roots, their joyous collaboration is as delightful and challenging as it is innovative.
Ikue Mori moved from Tokyo to New York in 1977. She started playing drums and soon formed the seminal no wave band DNA with Arto Lindsay. Since the 1990s, she has collaborated with numerous musicians and artists throughout the US, Europe, and Asia, while continuing to produce and record her own music. Ikue won the Distinctive Award for Prix Ars Electronics Digital Music category in 1999 and shortly after started using laptop computer to expand her vocabulary not only playing sounds but create and control the visual work as well. Ikue received a grant from the Foundation for Contemporary Arts in 2006. Tate Modern commissioned Ikue to create a live sound track for screenings of Maya Deren's silent films in 2007. Recent commissioners include the Montalvo Arts Center and SWR German radio program and Shajah Art foundation in UAE. Currently working with new group OBELISK and HIGHSMITH duo with Craig Taborn, MEPHISTA and various ensembles of John Zorn.
Miho Hatori's New Optimism NYC based artist Miho Hatori is a singer/musician/visual artist, primarily known for her work as the vocalist of Cibo Matto. New Optimism is her solo project. "It all started when I heard the postmodern term New Sincerity (A movement that dreamed of stamping out hipster irony and reenergizing an apathetic youth culture). The media was using the ethos heavily in TV commercials and movies for a while, but I wanted to do something opposite of that, and I came up the name of NEW OPTIMISM. New Optimism shows up in dialogue. It is my philosophy, music, and vision." Musically, New Optimism is groove oriented experimental pop music. Miho has been influenced and learned from all of her career experiences (Hip hop, Dub, Dance, Brazilian, Caribbean music). She has been featured on and collaborated with the likes of the Gorillaz, Beastie Boys, Handsome Boy Modeling School and many others. On New Optimism's first EP, she has also collaborated on a track with Rostam Batmanglij from Vampire Weekend.
Oorutaichi Originally from Osaka, Oorutaichi began recording and performing in 1999, inspired by The Residents, The Doors, Tyrannosaurus Rex, Aphex Twin and dancehall reggae. Establishing his own form of 'drifting folklore music' combining elements of electronic sounds, folk, pop, and with an invented language, he has toured both domestically and internationally. Aside from his solo career, he's the founding member of the band Urichipangoon, and has also recently been active under the name Yuuki, a duo project with female artist YTAMO.
Bae Bro, also known as Paul Wilson, is a self-taught beat junkie from Southside Jamaica, Queens. Growing up the youngest of four brothers, a household full of house music and a childhood spent in the thick of 90s hip-hop stirred Bae Bro's beginnings as a producer at the age 11. Finding the piano at 16, Bae Bro started playing gigs in the jazz scene, leading to work with Tanya Morgan, Outasight, and Lauryn Hill. In 2012, he played his first show as a solo artist, performing his own music as a producer/DJ. Las year, Bae Bro performed at Boiler Room as a menber of Vibe Music Collective. Currently, he tours with artist Arto Lindsey, music directs for SZA, and is a member of NEW OPTIMISM with Timo Ellis and Miho Hatori. He also appears frequently as a member of New York new music group House Special. 
Tokiko Ihara Born at the end of the Silk Road in Nara, Tokiko Ihara  first received training in ceremonial dance at Niutsuhime Jinja, the guardian shrine of Mount Koya, and temple of ascetic practice. She studied with Hideaki Bunno: The player of Music Department of Imperial Household Agency, and Yasuhiro Higashi. She seeks the expression of light and sound, sources of the universe, through traditional Sho playing, exploring Japanese traditional culture and the spirituality and universality with roots across the world. Her performances are dedicated to temples and shrines, domestically and overseas, and often in collaboration with other artists and musicians.
About the "Ho-Sho" (Shinto Flute): The Sho consists of 17 bamboo pipes inserted in the holes on the upper face of the lacquer-coated wooden part called the "Fukube". Since its elegant figure resembles that of a Phoenix with its wings closed in the high position, it is called "Hosho", meaning "flute of the Phoenix".
Wild Dogs is a Brooklyn-based art production studio that creates enchanting, site-responsive experiences of light, sound, performance, and projection. Their work has been featured in the Venice Architecture Biennale, the New Museum, and Palais de Tokyo as well as public spaces and historic places throughout the world. 
Summer Happenings at The Broad is made possible by Leading Partner East West Bank
---
About Summer Happenings at The Broad 2017
Summer Happenings at The Broad is a series of late-night performances that will be held one Saturday night a month from June through September 2017. Summer Happenings is inspired by art in the Broad collection, while shifting focus toward the immersive and immaterial, including performance, dance, music and spoken word. Occupying various spaces throughout the museum and plaza, Summer Happenings at The Broad will orchestrate a constellation of thrilling musicians, performers and multimedia artists. The performers will take their thematic calling from artists such as Andy Warhol, Takashi Murakami and Jean-Michel Basquiat, as well as The Broad's current exhibition, Oracle. These events fluctuate between happenings, salons and scenes and will animate important influences of the leading artists of our time.
$25 advance tickets, $30 at the door. 
Build your own series: purchase tickets to any two or more Summer Happenings events in a single transaction for $20 each. 
Summer Happenings at The Broad is made possible by Leading Partner East West Bank 
Read More