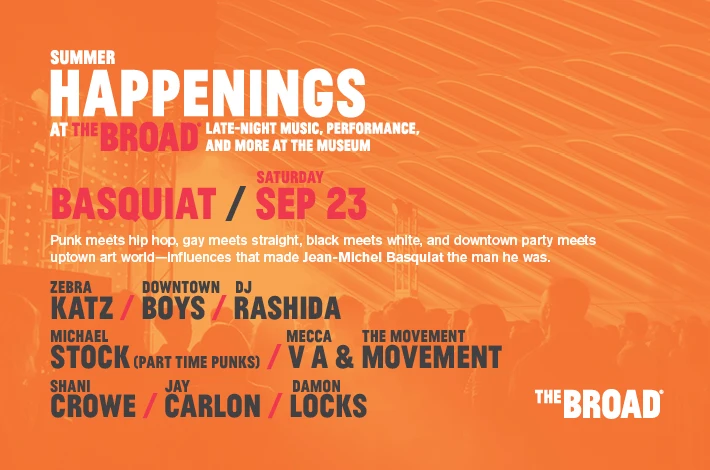 Music
Summer Happenings at The Broad: Basquiat
Punk meets hip hop, gay meets straight, black meets white, and downtown party meets uptown art world— influences that made Jean Michel Basquiat the man he was. Zebra Katz and Downtown Boys provide a musical clash of punk and hip hop. DJ Rashida and Michael Stock turn The Oculus into a downtown dance party. Mecca V A and The MOVEMENT movement and Jay Carlon offer choreographed interventions and "dance-bombs." Shani Crowe's performance is centered on cultural coiffure and beauty ritual related to the diasporic African, and Damon Locks will present a sound piece based on themes found in Basquiat's paintings.
Set Times + Locations
8 - 8:50 p.m.  |  Damon Locks on the Plaza Stage
8:45 - 10:15 p.m. | DJ Michael Stock in the Oculus Hall
8:45 - 11:45 p.m. | Shani Crowe (video loop) in the Lobby
9 - 9:30 p.m. | Jay Carlon in the Third Floor Galleries
9 - 9:50 p.m. | Zebra Katz on the Plaza Stage
9:30 - 9:45 p.m. | Shani Crowe (live performance) in the Lobby
10:10 - 11 p.m. | Downtown Boys on the Plaza Stage
10:15 - 10:40 p.m. | Mecca VA and the MOVEMENT movement in the Oculus Hall
10:40 - 12 a.m. | DJ Rashida in the Oculus Hall
11 - 11:30 p.m. | Jay Carlon in the Third Floor Galleries
11:30 - 11:45 p.m. | Shani Crowe

 

(live performance)

 

in the Lobby
Guest Curator
James Spooner is a working artist from New York living in Los Angeles. He first gained recognition with his critically acclaimed cult documentary "Afro-punk," which provided the inspiration for the Afropunk festivals that James also co-founded and co-curated for 4 years before leaving the organization. He has spent the last decade tattooing in his Los Angeles private studio Monocle Tattoo, where he developed a pioneering vegan tattoo procedure. Currently he is finishing his first graphic novel in which he is both the author and illustrator.
---
About the performers
Damon Locks is a Chicago based visual artist, educator, and vocalist/musician. He attended The Art Institute in Chicago where he received his BFA in Fine Arts. Recently, he has been lending his artistic and/or teaching talents to organizations such as Prisons and Neighborhood Arts Project, Art Reach, the Center for Urban Pedagogy, and UIC. He is a recent recipient of the Helen Coburn Meier and Tim Meier Achievement Award in the Arts and the 2016 MAKER Grant. He just began an Artist Studio Residency at the Hyde Park Art Center. He has completed working as an Artist Mentor in the Chicago Artist Coalition program FIELD/WORK as well as a music residency at The New Quorum in New Orleans. With the aesthetics of a printmaker, he calls upon the medium that suits the situation best whether it be screen/relief/digital print, photography, ink, pencil, voice, drum machine, or sampler. Regardless of the medium, the goal is to connect. Damon Locks will present a sound piece based around themes found in Basquiat's work. 
Jay Carlon is an avid improviser, site-based choreographer, and dance theatre artist.  His work is rooted in activating underutilized and unconventional spaces. In 2013, Jay found himself stranded overnight in an airport in Russia and proceeded to film himself dancing throughout the vacant airport.  Since then, Jay has continued to dance and record himself in public spaces throughout the world, culminating into an archival film series called Dance Film Selfie. This series has been exhibited at The CURRENT SESSIONS (NYC) and the Utah Dance Film Festival.  In 2016, he co-founded CARLON + LOLLIE, a collaborative team of artists whose creative desires are to re-present our collective and individual psyches by reimagining the conventions of performance and space.  Jay's choreography has been presented at 92nd Street Y, homeLA, Electric Lodge, Chez Bushwick, LA Dance Festival, Automata, Los Angeles Performance Practice, and the Choreographers' Performance Alliance (Bay Area, CA).
Downtown Boys "Those who still defend the supremacy of white male hetero-patriarchy had better watch out."—Angela Davis, inauguration-day speech, 2017. Now that the United States has a despot instead of a president, Downtown Boys are that much more driven to use their anger and their joy to drill away at the walls of white supremacy's brain. Based in Providence, RI, the band released their acclaimed debut album, Full Communism, in 2015, and they have been touring their powerful live show throughout North America and Europe since 2012. They bring an aggressive dissonance to make a harmonious message against the erasure of people of color, queer people, femmes, and those of us who have always been in the center of the pit whether you knew it or not. The band is currently working with Greg Norman and Fugazi's Guy Picciotto on their second LP, and they join the countless people filling streets and airports around the country to loudly proclaim #NoBan, #NoRegistry, #FuckWhiteSupremacy.
Zebra Katz is the capstone creation of New York multidisciplinary artist Ojay Morgan. Inspired by Nina Simone, Andre 3000, Missy Elliot, and Lauryn Hill, Morgan has cultivated a signature and unique presence all his own. Emerging from the same electro-tinged, fashion-aligned New York scene that also produced the likes of Lana Del Rey and Azealia Banks, the Brooklynite first came to prominence with "Ima Read," a growled minimalist banger released by Diplo's Mad Decent imprint in 2012. The track provided the sonic backbone for a Rick Owens show at Paris Fashion Week and landed remixes from the likes of Tricky, Azealia Banks, Gangsta Boo and Busta Rhymes. In the years that followed he's collaborated with Leila (Warp recs), releasing music through Mad Decent and the bass-centric Helsinki label Signal Life, as well as independently through his own label ZFK Records.
Michael Stock is the DJ and promoter of the PART TIME PUNKS club nite, twelve-year mainstay every Sunday at The Echo in Los Angeles, and the DJ of the Part Time Punks radio show every Thursday 3-6pm on KXLU 88.9 FM for eleven years now. During daylight hours, he teaches courses on punk, writing and comic books, currently at SCI-Arc but previously at CalArts, LMU and UC-Irvine. He writes comics, too, and his first graphic novel, PENNY DORA & THE WISHING BOX, was published by Image Comics the summer of 2015.
Rashida Robinson / DJ Rashida has established herself as one of the most sought-after DJs in the world. She has played her signature fusion of hip-hop, funk, soul, dancehall and house around the globe in cities like London, New York, Tokyo, Geneva, Antwerp, Sydney and Paris. After getting her start spinning locally in Atlanta, she moved back to her native Los Angeles & soon landed her first major residency spinning at the House of Blues on Los Angeles' world famous Sunset Strip. There she opened for artists such as Kanye West, The Roots, and John Legend. One night after playing what would be the first of many parties for The Artist, Prince approached her about collaborating. Soon after, she began touring the world with the superstar, spinning at all of his private parties, special events and performing live with him on shows such as The Tonight Show and The BET Awards. In addition to her work with Prince, Rashida has become a constant presence at the world's most exclusive parties. She has been a featured performer at the Lollapalooza Festival in Chicago, played in St. Barths for the famous Nikki Beach New Year's Eve party and is frequently called upon to spin for a bevy of corporate and celebrity clients.
Mecca V A and the MOVEMENT movement Mecca Vazie Andrews is an artist, dancer, choreographer, and educator. She has choreographed and performed for short film, theater, and music videos, creating work for The Joffrey Ballet School, LA Contemporary Dance Company, Daft Punk, Toro y Moi, Basement Jaxx, Wild Belle, Ari Up, Ricki Lake, Free City clothing, and many others. The MOVEMENT movement was established by Andrews in 2007 with the mission to develop location inspired, diversity embracing and activism motivated alternative performance experiences. The MOVEMENT movement has been commissioned to share their work at museums, galleries and artful happenings in Los Angeles at venues including Pacific Standard Time, REDCAT, The Art of Elysium, 356 Mission Rd., LACMA, The Hammer Museum, LACE, and The Santa Monica Cultural Affairs Department. 
Shani Crowe is an interdisciplinary artist, who uses cultural coiffure, adornment, and beauty ritual, as as a tool for healing and connection among people of African descent. She is most known for creating intricate cornrowed hairstyles, then capturing them as large photographic portraits. Shani received her BFA in film production from Howard University's John H. Johnson School of Communications. Her work has been featured at the Museum of Contemporary African and Diasporan Art (MoCADA), in Brooklyn, NY, the Urban Institute of Contemporary Art, in Grand Rapids, MI, Columbia University, and Soho House Chicago.
Summer Happenings at The Broad is made possible by Leading Partner East West Bank
---
About Summer Happenings at The Broad 2017
Summer Happenings at The Broad is a series of late-night performances that will be held one Saturday night a month from June through September 2017. Summer Happenings is inspired by art in the Broad collection, while shifting focus toward the immersive and immaterial, including performance, dance, music and spoken word. Occupying various spaces throughout the museum and plaza, Summer Happenings at The Broad will orchestrate a constellation of thrilling musicians, performers and multimedia artists. The performers will take their thematic calling from artists such as Andy Warhol, Takashi Murakami and Jean-Michel Basquiat, as well as The Broad's current exhibition, Oracle. These events fluctuate between happenings, salons and scenes and will animate important influences of the leading artists of our time.
$25 advance tickets, $30 at the door. 
Build your own series: purchase tickets to any two or more Summer Happenings events in a single transaction for $20 each. 
Summer Happenings at The Broad is made possible by Leading Partner East West Bank 
Read More