Enjoy extended summer evening hours at The Broad on the fourth Friday of the month, June through September from 5:00–8:00 p.m.
DJs will be spinning at the East West Bank Plaza at The Broad and dancers will be activating the artworks and architecture in the galleries. Otium, a contemporary American restaurant by chef Timothy Hollingsworth located adjacent to the museum, will offer a limited drink menu of batch cocktails, beer, and wine.
On view in the galleries: Invisible Sun, plus in-depth installations of works by Jean-Michel Basquiat, Roy Lichtenstein, Kara Walker, and Andy Warhol.
The East West Bank Plaza at The Broad is open to the public without admission to the museum. To enter the museum during extended hours, visitors must reserve free general admission tickets, which are released the Friday before each event at 12:00 p.m. PT.
---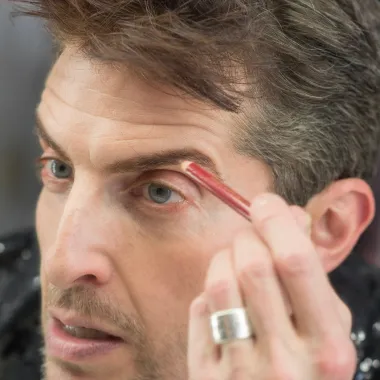 Andrew Ableson
From 1995 to 2000, the award-winning actor and British import Andrew Ableson doubled as an impresario of San Francisco's legendary dance bacchanals, including the iconic "LUSTRE," "TRYST," and "LUSH" that held sway over the nightlife scene with pansexual soirées in seductive basement boîtes. Ableson's clubs welcomed boys, girls, everything between and beyond, featuring the best rotating spinners, such as the beautiful headliner Javi En Rose. He also created the Rock/Cabaret monthly "SYMPHONIES FOR THE DEVIL," with its kraut-twin "SYNTHESIS FOR THE DEVIL," as well as the smoke & laser drenched Robo-Synthetika-Disco weekly "INGENUE." Since living in LA, Ableson helmed the glitz disco "LUXE" and the haberdashers' haven "DANDY." This panoply encompasses dance music from the early '50s, Italo-twist and Exotica, Far-out 60's Frug-a-Delicsoul, Bubble-Gum, and Go-Go, with a chaser of Filthy 70's Porno-Disco.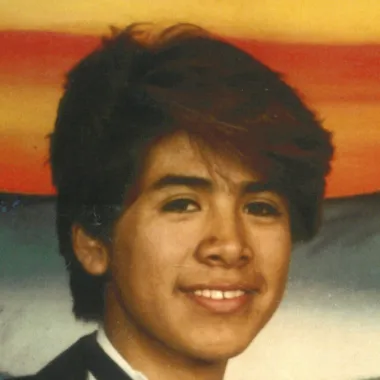 DJ Javi En Rose
With a career spanning over four decades, DJ Javi En Rose has been working the Wheels of Steel from San Francisco (Club 381, Chaos @ Crystal Pistol, Litterbox, Lowrider, DNA Lounge, Speakeasy) to Sundance Film Festival's Native Forum to NYC (Allison Sarofim's and Mistress Formikka's theme parties). From a nine-hour set at Berlin's Eschlarock, all the way to Los Angeles (Dirtbox, Bryan Rabin Events, and opening the first DJ party at Echoplex). With Andrew Ableson she created clubs Lustre and Tryst in San Francisco and the Los Angeles iteration of Lush. She's been known as the L.S.D.J., NATUREBOY, NATUREGURL, DJ Hang The DJ, and her latest incarnation DJ Javi En Rose so named by her dear friend Mr. David Glamamore whilst dancing under the disco lights at the legendary Stud Bar in San Francisco! Javi's brains are in her feet.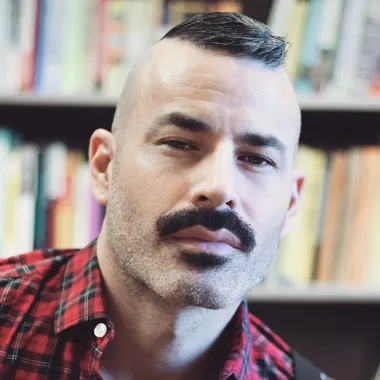 Joel Mejia Smith
Joel Mejia Smith is a queer, Latinx US dance and digital artist based in Los Angeles. His work critically engages representations of gender and sexuality in performance and media, as well as how structures and strategies for dance-making are concealed/revealed or de/mystified as modes of production. A large part of his research agenda has been dedicated to his duet dance theater company casebolt and smith. With collaborating partner Liz Casebolt, their work has been presented at National Theater of Taiwan in Taipei, 92nd Street Y's Buttenweiser Hall in New York City, Miami Dade Cultural Art Center in Miami, REDCAT in Los Angeles, ODC Theater in San Francisco, Vancouver International Dance Festival in Vancouver, Cathedral Quarter Arts Festival in Belfast, Lee Theater in St. Louis, and Museum of Contemporary Art in San Diego among others. Joel is an Associate Professor and current chair of the Department of Dance at UC Riverside.
On the fourth Friday of the month from June through September 2021, The Broad will be open from 5:00–8:00 p.m. with DJs on the East West Bank Plaza at The Broad and dancers activating the museum's galleries.
Ryu Takahashi, Devendra Banhart, Alejandro Perez
Andrew Ableson, Javi En Rose, Joel Mejia Smith
Parallel Attractions, Rostam, Norbert De La Cruz III
Linafornia, Smiley, Haniyyah Tahirah, M'Baye Campbell-Kante
 
Read More