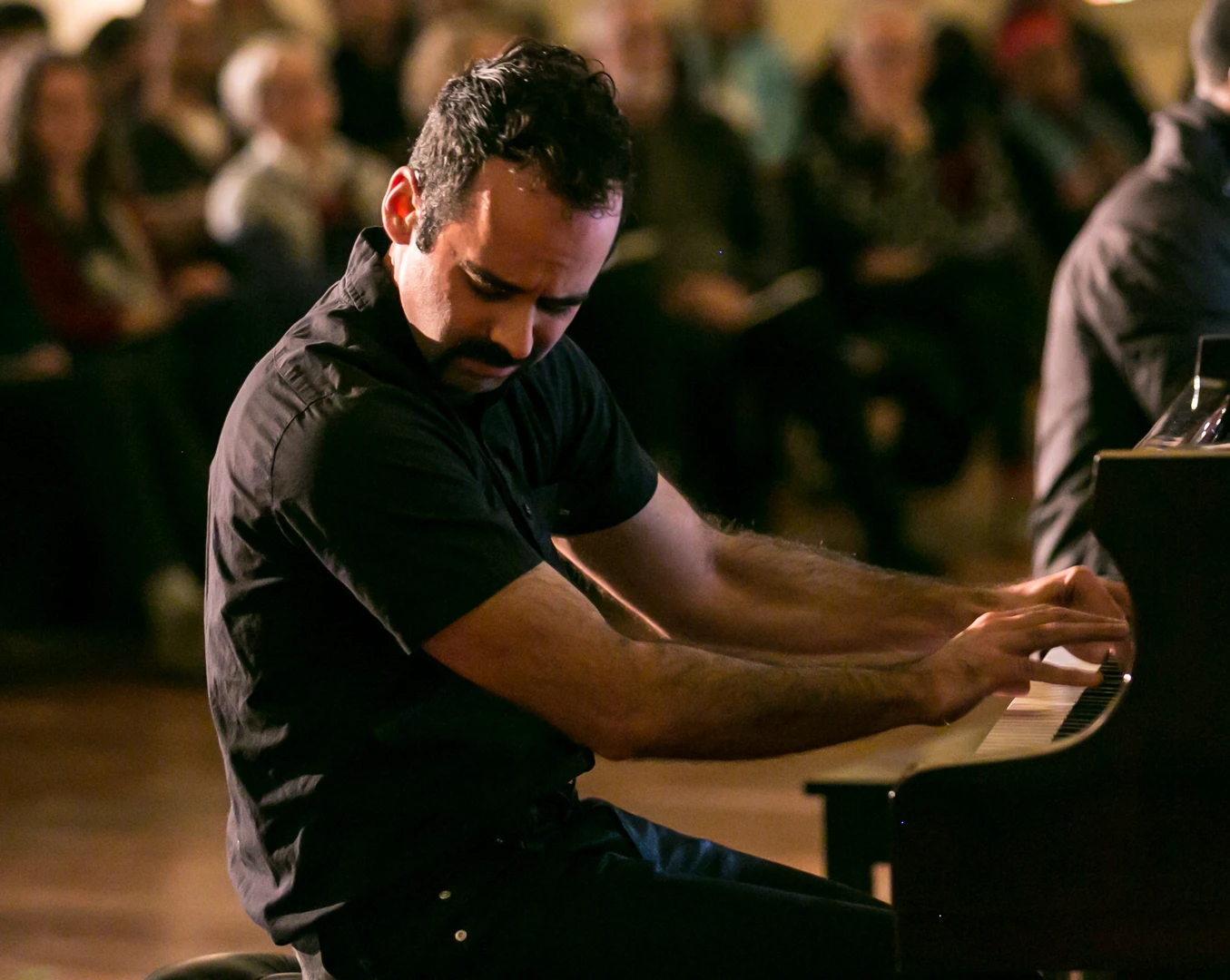 Music
Cross-Hatched | Usuyuki: Johns in Japan
Performed by pianist Adam Tendler, the works in this program reflect Japan's influence on John Cage and Jasper Johns, and include compositions and Fluxus performance pieces that were taking place in Japan when Johns visited the country. Japanese culture and philosophy is a significant influence on Johns' work. Usuyuki is the Japanese word for "light snow." It also suggests the idea that something disappears as it is made visible, just as a snowflake melts when it hits the ground. The fleeting nature of existence is a recurring theme in Johns' paintings, and one that Johns explored during his time in Japan. 
PROGRAM
0'00" (1962), John Cage
Haiku (1950–51), John Cage

Haiku I, for my dear friend, Who
Haiku II, (What stillness!)
Haiku III, The Green Frog's Voice
Haiku IV, The River Plurabelle
Haiku V
Haiku (not numbered)
Haiku I–second version [rejected?]

Music for Piano 3 (1960), Music for Piano 4 (1960), Toshi Ichiyanagi
Piano Distance (1961), Toru Takemitsu
Corona (1962), Toru Takemitsu

Study for Vibration
Study for Intonation
Study for Articulation
Study for Expression
Study for Conversation

Fluxus Performance Pieces

Lighting Piece (1955), Yoko Ono
Distance for Piano (1965), Takehisa Kosugi
Dragging Suite (date unknown), Nam June Paik
Wall Piece for Orchestra to Yoko Oko (1962), Yoko Ono
Portrait Piece (1963), Mieko Shiomi

Electronic Music for Piano (1964), John Cage
Cheap Imitation (1969), John Cage

Accompanied by a video of Second Hand by Merce Cunningham Dance Company. Costumes by Jasper Johns.
This program runs approximately 90 minutes with no intermission. In consideration of the musician and patrons, late seating and re-entry will take place during the first appropriate pause in the program at the discretion of management. If you need to exit during the performance, please wait for an appropriate pause to leave your seat.
Tickets to this program include timed entry tickets for one visit to Jasper Johns: 'Something Resembling Truth' at an alternate date and time of your choosing, subject to availability. Please note that the museum and exhibition close at 5 p.m. on Wednesdays, with the last entry at 4 p.m. 
Jasper Johns, Usuyuki, 1981. Silkscreen, 12 screens. Art © Jasper Johns/Licensed by VAGA, New York, NY
---
In conversation with the special exhibition Jasper Johns: 'Something Resembling Truth', Cross-Hatched takes inspiration from Jasper Johns' collaborative and fruitful friendships with composer John Cage and choreographer and dancer Merce Cunningham. This series includes three evenings of music, voice and dance films programmed with live accompaniment and Fluxus performances, demonstrating the close friendships between the three artists and the influence they played on each other's creative practice. Co-curated and performed by pianist Adam Tendler, the series will also feature legendary vocalist Joan La Barbara, renowned for developing a unique vocabulary of experimental and extended vocal techniques, which have influenced generations of other composers and singers.
A Taste of Cross-Hatched
CROSS-HATCHED PERFORMANCE DATES
Wednesday, Feb. 28, 8 p.m.
Wednesday, Mar. 14, 8 p.m.
Wednesday, Apr. 18, 8 p.m.
"Of course, painters were a large and important part of Merce's audience. The music was one of the strong attractions for them. I thought of John as a sort of teacher/preacher/soldier. His curiosity seemed wide-ranging and athletic, and he was able to connect his work to other fields of thought—to nature, philosophy, science and whatnot. He was generous in his willingness to explain these connections and seemed happy to convince others of the usefulness of his ideas...I think many of us felt that ideas in one medium could trigger ideas in another medium—and that mediums could be mixed in new ways." -Jasper Johns
The Broad wishes to acknowledge The John Cage Trust and Merce Cunningham Trust for their valuable input and permissions.
Read More