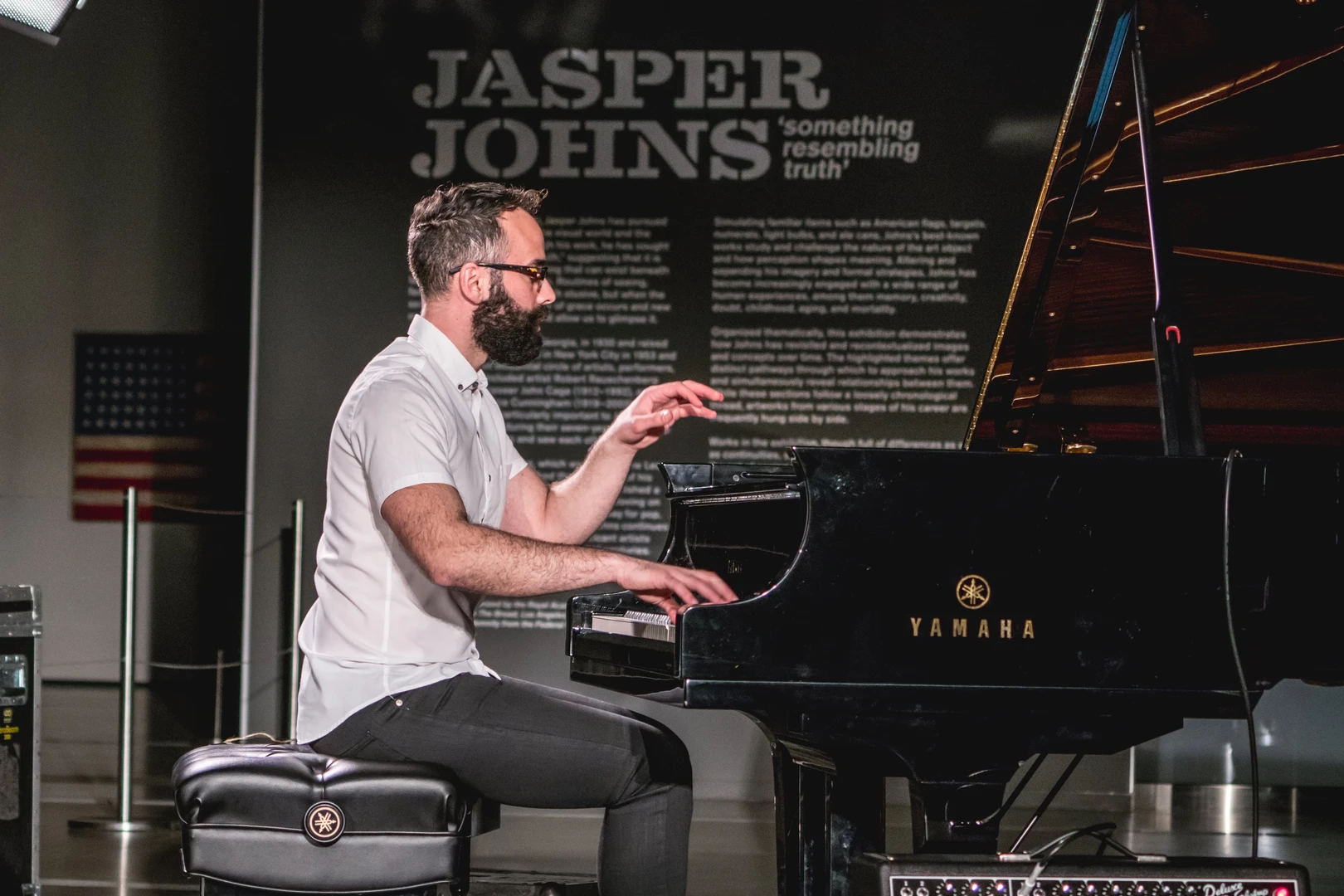 Music
Cross-Hatched | Impresarios, Inc.
In 1958, with Emile de Antonio and Robert Rauschenberg, Jasper Johns formed Impresarios, Inc., which sponsored two performances of new music and dance in New York. Performed by pianist Adam Tendler with vocalist Joan La Barbara and guest conductor Yuval Sharon, all the works in this evening's program reflect the close collaboration and interrelationships of Jasper Johns with John Cage and Merce Cunningham, or were performed at the Impresarios, Inc. events. Most notable is the now-legendary 25-Year Retrospective Concert of the Music of John Cage at Town Hall in New York that took place on May 15, 1958.
ENTRANCE MUSIC
Rainforest (1968), David Tudor
PROGRAM
Sonatas and Interludes (1946–48), John Cage

​Sonata I

Sonata V

Second Interlude

Sonata XII

Travelogue (1977). Performed by Merce Cunningham Dance Company, July and August, 1979

Music for 2 (1984), John Cage. With vocalist Joan La Barbara

Three Pieces for Piano (1954), Morton Feldman

For Piano I (1952), Christian Wolff

Concert for Piano with Aria & Fontana Mix (1957–58), John Cage

​With conductor Yuval Sharon and vocalist Joan La Barbara. 

Aria (1958). With vocalist Joan La Barbara. 

Fontana Mix (1958)

Dream (1948), John Cage

Wonderful Widow of Eighteen Springs (1942), John Cage. With vocalist Joan La Barbara

Nowth upon Nacht (1984), John Cage. With vocalist Joan La Barbara
Tickets to this program include timed entry tickets for one visit to Jasper Johns: 'Something Resembling Truth' at an alternate date and time of your choosing, subject to availability. Please note that the museum and exhibition close at 5 p.m. on Wednesdays, with the last entry at 4 p.m. 
ABOUT JOAN LA BARBARA
Joan La Barbara, Joan La Barbara, composer, performer, sound artist and actor, is renowned for developing a unique vocabulary of experimental and extended vocal techniques (multiphonics, circular singing, ululation and glottal clicks, her "signature sounds"), influencing generations of other composers and singers. Awards and honors include the Foundation for Contemporary Arts John Cage Award; Premio Internazionale Demetrio Stratos for experimental music; DAAD-Berlin and Civitella Ranieri artist residencies; the Guggenheim Fellowship; seven National Endowment for the Arts awards (Music Composition, Opera/ Music Theater, Inter-Arts, Recording, Solo Recital, Visual Arts); and the American Music Center's Letter of Distinction for her significant contributions to contemporary American music. La Barbara's numerous commissions for multiple voices, chamber ensembles, orchestra, interactive technology, and sound scores for dance, video and film have included a score for voice and electronics for Sesame Street, broadcast worldwide since 1977. She has collaborated with visual artists Matthew Barney, Judy Chicago, Ed Emshwiller, Kenneth Goldsmith, Bruce Nauman, Steina, Woody Vasulka and Lawrence Weiner, and premiered landmark compositions, including Morton Subotnick's chamber opera Jacob's Room and multimedia works Hungers and Intimate Immensity; Robert Ashley's operas Now Eleanor's Idea, Dust, Celestial Excursions, Improvement and Concrete; Philip Glass and Robert Wilson's Einstein on the Beach; Morton Feldman's Three Voices; Steve Reich's Drumming; and John Cage's Eight Whiskus and Solo for Voice 45 from Song Books. In addition to her internationally acclaimed recordings of Feldman and Cage, her seminal works from the 1970s, Voice Is the Original Instrument, Sound Paintings (Lovely Music) and Shaman-Song (New World), and Mode Records' recent CD and Blu-Ray surround-sound release The Early Immersive Music of Joan La Barbara, she has recorded for A&M Horizon, Centaur, Deutsche Grammophon, Nonesuch, Music & Arts, MusicMasters, Musical Heritage, New Albion, Newport Classic, Sony, Virgin, Voyager and Wergo. Film work includes creating the character voice for the "alien newborn" in Alien: Resurrection and vocal work on John Frizzell's score for I Still Know What You Did Last Summer, and a portion of her work Erin was included in Jóhann Jóhannsson's score for Arrival. La Barbara was artistic director of Carnegie Hall's multiyear series "When Morty Met John"; cofounder of the composers collective Ne(x)tworks; artist faculty at New York University, teaching music composition; performing arts faculty of Mannes/The New School; composer and publisher member of ASCAP; and member of SAG-AFTRA and AEA. She is composing a new opera inspired by Virginia Woolf and Joseph Cornell.
ABOUT YUVAL SHARON
Described by the New York Times as "opera's disrupter in residence," director Yuval Sharon has been creating an unconventional body of work that seeks to expand the operatic form. He founded and serves as artistic director of The Industry in Los Angeles, an acclaimed company devoted to new and experimental opera that has brought opera into moving vehicles, operating train stations and various "non-spaces" such as warehouses, parking lots and escalator corridors. The Industry's performance installations have been presented at the Hammer Museum and Walt Disney Concert Hall.
For Sharon's current three-year residency at the Los Angeles Philharmonic, his recent projects include War of the Worlds (Fall 2017); Mahler's Das Lied von der Erde with Gustavo Dudamel (Spring 2018); John Cage's Europeras 1 & 2 (November 2018); and Meredith Monk's Atlas (June 2019). Other upcoming projects include Lohengrin for the Bayreuth Festival (Summer 2018) and Olga Neuwirth's Lost Highway for the Frankfurt Opera (September 2018).
A fitting inclusion for this program at The Broad, he previously directed a landmark production of John Cage's Song Books at the San Francisco Symphony and Carnegie Hall featuring Joan La Barbara. Sharon was honored with a 2017 MacArthur Fellowship and a Foundation for Contemporary Art grant for theater. He serves on the board of Opera America and the Artist Council for the Hammer Museum, and as a fellow for the Los Angeles Institute for the Humanities.
---
In conversation with the special exhibition Jasper Johns: 'Something Resembling Truth', Cross-Hatched takes inspiration from Jasper Johns' collaborative and fruitful friendships with composer John Cage and choreographer and dancer Merce Cunningham. This series includes three evenings of music, voice and dance films programmed with live accompaniment and Fluxus performances, demonstrating the close friendships between the three artists and the influence they played on each other's creative practice. Co-curated and performed by pianist Adam Tendler, the series will also feature legendary vocalist Joan La Barbara, renowned for developing a unique vocabulary of experimental and extended vocal techniques, which have influenced generations of other composers and singers.
A Taste of Cross-Hatched
CROSS-HATCHED PERFORMANCE DATES
Wednesday, Feb. 28, 8 p.m.
Wednesday, Mar. 14, 8 p.m.
Wednesday, Apr. 18, 8 p.m.
"Of course, painters were a large and important part of Merce's audience. The music was one of the strong attractions for them. I thought of John as a sort of teacher/preacher/soldier. His curiosity seemed wide-ranging and athletic, and he was able to connect his work to other fields of thought—to nature, philosophy, science and whatnot. He was generous in his willingness to explain these connections and seemed happy to convince others of the usefulness of his ideas...I think many of us felt that ideas in one medium could trigger ideas in another medium—and that mediums could be mixed in new ways." -Jasper Johns
The Broad wishes to acknowledge The John Cage Trust and Merce Cunningham Trust for their valuable input and permissions.
Read More