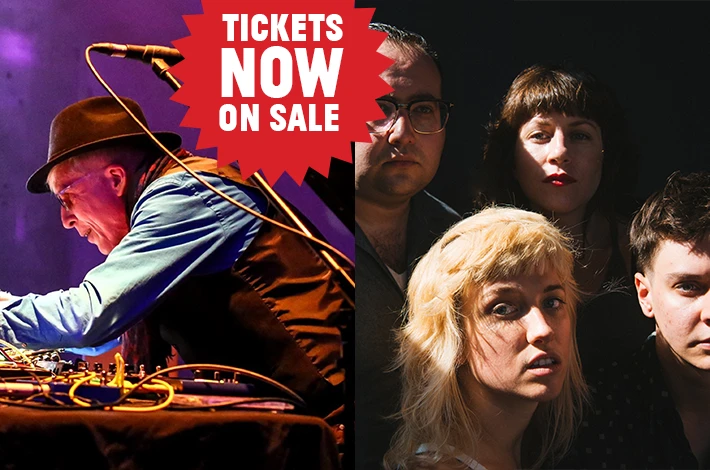 Performance
Callings Out of Context: Rhys Chatham + Priests
Hailing from different cities and generations, Rhys Chatham and Priests find inspiration in punk and no wave and will perform the fifth installment of The Broad's Callings out of Context series. The special double bill is a testament to the enduring quality of early, noisy guitar-based music as well as an inspired pairing of a 63-year-old legend with a group of punks in their 20s.
Downtown New York legend Rhys Chatham, currently based in Paris, is a multi-instrumentalist and composer associated with minimalism and experimental rock music, who used his love of the Ramones in the 1970s and the more experimental no wave scene of the early 1980s to create undefinable pieces for large guitar ensembles including 100 and 200-guitar orchestras. Chatham has collaborated with La Monte Young, Philip Glass, Sonic Youth, and countless others. He will present a multi-instrumental solo piece for this special Broad performance.
Fronted by charismatic vocalist Katie Alice Greer, the D.C. punk/rock band Priests are releasing their first LP, Nothing Feels Natural, on their Sister Polygon label in 2017. Pulling from the hardcore sound of their hometown, contemporary politics and the frenetic no wave of 1980s NYC, the group have found a way to re-energize a classic sound, and are one of the most compelling live bands working today.
Tickets include same-night access to the museum.
---
Watch Priests New Music Video for "JJ"
Listen to our Rhys Chatham + Priests Playlist
---
About Callings Out of Context
Featuring some of today's most exciting and transgressive musicians, Callings Out of Context is an aural complement to the Pop art of the Broad collection. The series features hybrid-minded contemporary musical artists that engage, point to and tell stories about the modern market they are a part of, while opening our ears to new perspectives on genre, repetition and mass production. Each program pairs artists from divergent corners of musical categorization, from the heart of indie rock to the fringes of hip-hop and electronic music to the experimentalism of the avant-garde. The series title was inspired by the Arthur Russell song "Calling Out of Context." 
Read More