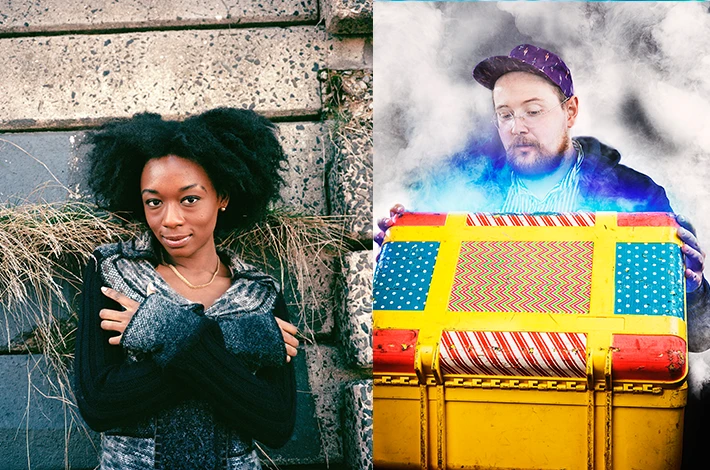 Performance
Callings Out of Context: Junglepussy and Dan Deacon
Junglepussy and Dan Deacon, two artists whose restless experimentalism is matched only by their high-octane live performance styles, performed a special double-bill for the fourth installment of The Broad's Callings out of Context series. With humorous yet hard-driving approaches, both artists smuggle subversive themes and an insurgent consciousness into joyful, movement-based music.
Born to a Trinidadian mother and a Jamaican father, rapper and musician Shayna McHayle AKA Junglepussy is rapidly becoming known for her sultry, brazen lyricism and unapologetic sexuality. Bodacious, hilarious, crass and clear, McHayle's words convey her perspective with humor and naturalism, an unhurried flow and an easy, independent blissfulness. Unifying her work is the depth of an idea that often feels scorned: to love yourself. McHayle "talks shit like one of the girls and pulls apart the patriarchy as she experiences it." (Pitchfork)
Baltimore-based producer, performer, beat-maker and instrument-builder Dan Deacon creates electronic music that defies its expected frame, bursting with verve and rooted in an experimental sensibility. And you will dance. His wildly entertaining interactive live show, which perpetually migrates from museums to concert halls to clubs—and challenging the context of each—was honed in DIY spaces. Aesthetically direct and unequivocally fun, Deacon's newest material combines analog synths, electronically processed vocals (Deacon's own) and a retrofitted player piano into an exuberantly messy musical treatise for freedom and self-realization.
---
Watch Junglepussy at The Broad
Watch Dan Deacon's Boiler Room London Live Set
---
About Callings Out of Context
Featuring some of today's most exciting and transgressive musicians, Callings Out of Context is an aural complement to the Pop art of the Broad collection. The series features hybrid-minded contemporary musical artists that engage, point to and tell stories about the modern market they are a part of, while opening our ears to new perspectives on genre, repetition and mass production. Each program pairs artists from divergent corners of musical categorization, from the heart of indie rock to the fringes of hip-hop and electronic music to the experimentalism of the avant-garde. The series title was inspired by the Arthur Russell song "Calling Out of Context." 
Read More