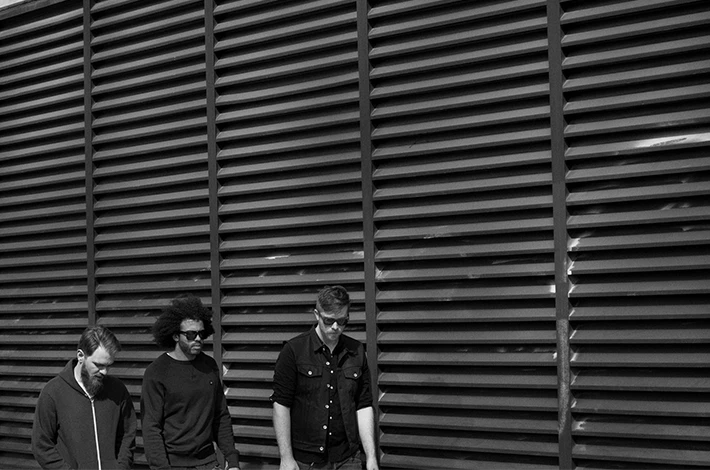 Performance
Callings Out of Context: clipping., Prissy Whip, + Baseck
Tickets to this program include same-night access before the program to the museum's galleries starting at 5:30 p.m. Please note that the museum will close to the public as usual at 8 p.m. before doors to the concert open at 8:30 p.m.
This program is now sold out. For information on upcoming Callings Out of Context programs, join our email list: thebroad.org/signup 
---
About clipping.
Before 2013's Midcity, the trio of rapper Daveed Diggs and producers Jonathan Snipes and William Hutson did not expect to find an audience for their abrasive brand of rap music. Its music is a genuine attempt to contribute productively to rap, to offer what they can to the genre they love. clipping. see themselves as respectfully following the path first explored by rap's pioneering sound designers like The Bomb Squad and Dr. Dre— those producers who were inventing a new language as they worked, and especially those who smuggled industrial soundscapes and musique-concrète techniques into mainstream music and popularized a sound that felt as tough as the stories its lyrics told. clipping.'s music attempts to reshuffle and repeat accepted rap scenarios, while eliminating a traditional single-point perspective. Diggs's writing glues together half-glimpsed images and misremembered references, many of which might feel familiar. The band formed in 2009. Initially conceived as a remix project, Jonathan Snipes and William Hutson began composing new beats to accompany mainstream and gangster rap a cappellas. clipping. began in earnest in 2010, when rapper Daveed Diggs joined the group. The three members had known each other for many years— Diggs and Hutson since elementary school, and Snipes since college. clipping. is their first project as a trio, building on their long relationship and on their shared obsession with rap, and with music's outer limits. Individually, the members are known outside of the group for their extra-curricular artistic projects. Diggs is an actor, most recently featured in Hamilton on Broadway while Snipes composes music for film, and Hutson is an established noise music artist. Snipes and Hutson have collaborated on many projects, including the score to the documentary Room 237, which was released by IFC in 2013.
About Baseck
Baseck is a Los Angeles-based experimental electronic musician. His roots run deep in L.A.'s underground rave scene since the early 90s. Baseck's fascination with sound brought him to turntablism at an early age. His attraction to hands-on hardware, learned from scratching records, led to audio manipulation with small battery powered toys, drum machines, then modular synthesizers.
About Prissy Whip
Prissy Whip is a noise-rock 4-piece from Los Angeles, CA. Instrumentation consists of guitars that don't sound like guitars, a howling, lyrically ungoverned vocalist and a minimal (yet double-snared) drum kit. Members of Stab City, Hex Horizontal, Spider Problem and Unctuous Rump combine to form this experimental and eclectic ensemble. R.I.P. AF is the band's second release and the first to feature Shayne Eastin on vocals. The album is full of bizarre, dissonant guitar tones, frenetic drumming and unpredictable song structures that are often loud, spastic and unexpected. However, the material still manages to coalesce into cohesive hooks and occasionally even hummable melodies. These songs are both confrontational and well nuanced while tapping into the self-destructive and compassionate subconscious. Sex, violence, fairy tales and literature inspire these hard driving songs that walk the tightrope that is the border of human duality.
---
About Callings Out of Context
Featuring some of today's most exciting and transgressive musicians, Callings Out of Context is an aural complement to the Pop art of the Broad collection. The series features hybrid-minded contemporary musical artists that engage, point to and tell stories about the modern market they are a part of, while opening our ears to new perspectives on genre, repetition and mass production. Each program pairs artists from divergent corners of musical categorization, from the heart of indie rock to the fringes of hip-hop and electronic music to the experimentalism of the avant-garde. The series title was inspired by the Arthur Russell song "Calling Out of Context." 
Read More