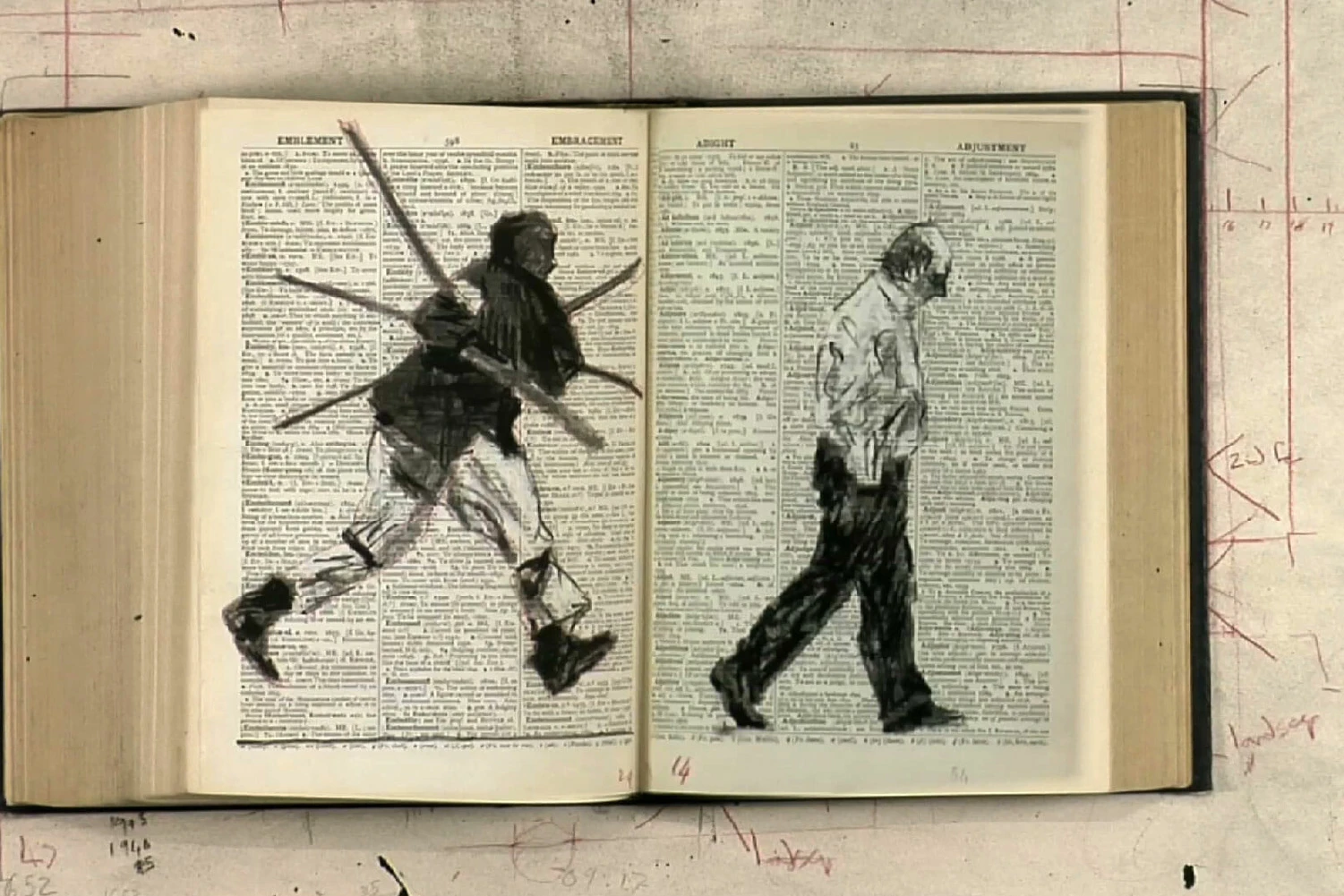 Performance
What Beautiful Space Tomorrow
In conjunction with The Broad's special exhibition, William Kentridge: In Praise Of Shadows, on view through April 9, 2023.
What Beautiful Space Tomorrow is an event showcasing a performance by curator, mentor, and performer at The Centre for the Less Good Idea Bongile Lecoge-Zulu, a screening of William Kentridge's short film Second Hand Reading, and discussions led by Founding Director of The Space for Creative Black Imagination Dr. Raél Jero Salley with Black Lives Matter co-founder and Crenshaw Dairy Mart co-founder Patrisse Cullors, interdisciplinary theater scholar and practitioner Dr. Zachary Price, The Broad's Curator and Publications Manager Ed Schad, and Lecoge-Zulu.Attendees will have the opportunity to participate in a "mad chorus" using Kentridge's rubrics on view in the exhibition
Co-organized by Raél Jero Salley and The Center for the Less Good Idea.
The Centre for the Less Good Idea is a space for responsive thinking through experimental, collaborative, and cross-disciplinary arts practices based in Maboneng, Johannesburg and founded by Kentridge and Bronwyn Lace to engage in pursuit of "the less good idea," in Kentridge's work through humorous performance, playful exercises, and inquisitive examination. This co-organized event engages immediate local and national issues of state-sponsored Anti-Black violence
Directly following the program, join us in the REDCAT Lounge for a no-host bar meet-and-greet and further discussions with Lecoge-Zulu, Price, Salley, and Ed Schad, curator of Kentridge's exhibition at The Broad. To get to REDCAT, exit The Broad, cross 2nd St. at the crosswalk, turn left and go to the end of the block. The REDCAT entrance is at 631 W 2nd St. at Hope St.
ACT 1
Performance: Godot-logue In LA
An off-key offering by vocalist and musician Bongile Lecoge-Zulu. This monologue is a reworking of the well-known nonsensical monologue delivered by Lucky in "Waiting for Godot" by Samuel Beckett. Lecoge-Zulu is the performing soldier and delivers the chaotic, hilarious, and tragic text now littered and woven with contextual and present day -isms, gathered by Lecoge-Zulu on the streets and in public rhetoric.
Conceptualisers | Bongile Lecoge-Zulu | Calvin Ratladi
Director | Calvin Ratladi
Performer | Bongile Lecoge-Zulu
Conductor | Zachary Price
Rubric and Audience Activation
Screening: Second-hand Reading
(William Kentridge,2013,7 min., HD video)
A flipbook / stop-motion animation film composed of hundreds of drawings by artist William Kentridge superimposed on pages of the Shorter Oxford English Dictionary and other lexicons and encyclopedias. The soundtrack is a traditional funeral hymn sung in Sesotho language performed by the composer Neo Muyanga in response to the 2012 police massacre of 34 striking mine workers at Marikana, South Africa. The following is a translation of the lyrics into English:
When the rain comes again / in torrents
When it rains / please remember me
See how thirsty / and wretched I am
Please permit some drops / to fall
And wet me / a little too
INTERMISSION
ACT 2

In Conversation
Patrisse Cullors, Bongile Lecoge-Zulu, Zachary Price, Dr. Raél Jerro Salley, Ed Schad
 Image credit: Still from William Kentridge, Second-hand Reading, 2013, 7 min., HD video. The Broad Art Foundation. © William Kentridge
---
---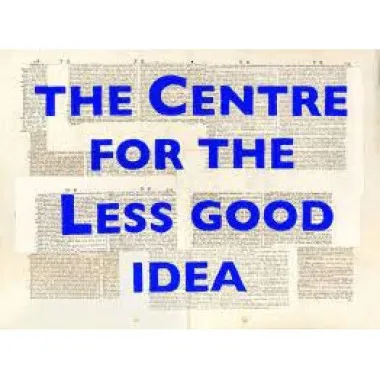 The Centre for the Less Good Idea
The Centre for the Less Good Idea is based in Johannesburg, South Africa. Founded by William Kentridge and Bronwyn Lace in 2016, it is a physical and immaterial space to pursue incidental discoveries made in the process of producing new work. The Centre is a space to follow impulses, connections, and revelations. It is a physical performance space for artists to come together and for curators to bring together combinations of text, movement, sound, and image. The Centre nurtures the act of playing with an idea to allow for recognizing those things you didn't know in advance: the secondary ideas, those less good ideas coined to address the first idea's cracks.
The amusing and grammatically awkward Tswana proverb (translated by the great Sol Plaatjie in his book of 732 Setswana proverbs in 1916): "If the good doctor can't cure you, find the less good doctor," goes a long way to describing the interests at The Centre. Secondary pursuits, collective and collaborative artistic process is celebrated at The Centre and it is that to which it gives its attention and resources.
The Centre believes an ensemble sees the world differently from how one individual does. It is a safe space for failure, for projects to be tried and discarded because they do not work. It's a space for short-form work which doesn't have a natural home in a theatre or gallery.
The Centre has quickly gathered momentum and by 2022 has become a formative space for arts projects in South Africa and beyond. Between 2016 and 2022 over 400 individual performances, films and installations have been created and shown at The Centre and more than 700 artists of all disciplines have worked on projects at The Centre.
In early 2020, SO | The Academy for the Less Good Idea was launched. The Centre, in its collaborative and multidisciplinary approach, has recognised a powerful yet unforced learning that takes place between practitioners in the building of Seasons and programmes. SO Academy seeks to expand and extend these learning opportunities.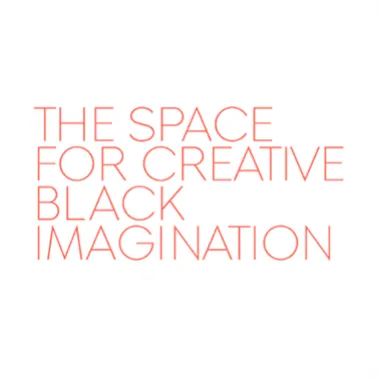 The Space for Creative Black Imagination
The Space for Creative Black Imagination is a making and research institute that responds to the challenges of the 21st century by its dedication to the study of culture, race, social justice, and imagination beyond established paradigms, through interdisciplinary, interactive, and social projects in visual, design, and media studies.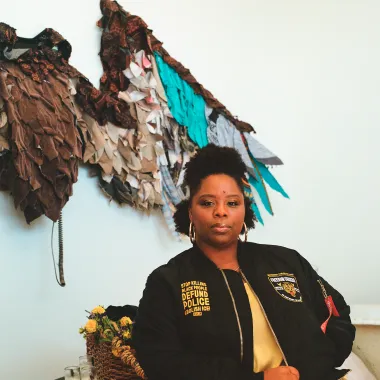 Patrisse Cullors
Patrisse Cullors is an artist, organizer, and freedom fighter from Los Angeles, CA. Co-founder of the Black Lives Matter Global Network and founder of the Los Angeles-based grassroots organization Dignity and Power Now, she is also a performance artist, Fulbright scholar, popular public speaker, and a Sydney Peace Prize recipient. For 20 years, Patrisse has been on the frontlines of criminal justice reform and is the founder/chair of a Los Angeles County Ballot committee, Yes on R, which passed in 2020. Patrisse is a co-founder of the Crenshaw Dairy Mart, a community-based artist collective and art gallery dedicated to shifting the trauma-induced conditions of poverty and economic injustice, bridging cultural work and advocacy, and investigating ancestries through the lens of Inglewood and its community. Cullors has exhibited widely across Los Angeles and the United States, from traditional arts institutions including The Broad to public spaces.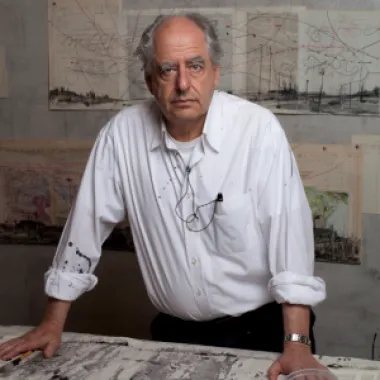 William Kentridge
Broad collection artist William Kentridge grew up in Apartheid-era Johannesburg, and he has continued to live there throughout his life. His studio practice is inherently collaborative and expansive, spanning drawing, filmmaking, printmaking, sculpture, theater, opera, and installation. In addition to key drawings, sculptures, prints, and tapestries featured in The Broad's special exhibition William Kentridge: In Praise of Shadows, the artist's 11 Drawings for Projection films are on view, as well as a series of films that reflect on early cinema, including 7 Fragments for Georges Méliès, Day for Night, and Journey to the Moon (all 2003), a suite of nine short films that prominently feature the artist himself and celebrate the artist's studio as a site of experimentation and associative play. Many recent drawings are on view that were created for his monumental performance project The Head & the Load (2018), which unearth the neglected histories of Africans and Africa in World War I. Important early works rarely or never before seen in the United States—such as Domestic Scenes (1980) (54 etchings tied to Kentridge's work in theater) the Art in a State of Grace, Art in a State of Hope, Art in a State of Siege (all 1988)—show Kentridge's long-lasting political engagement, upholding artistry and the creative act as its own form of transformative knowledge.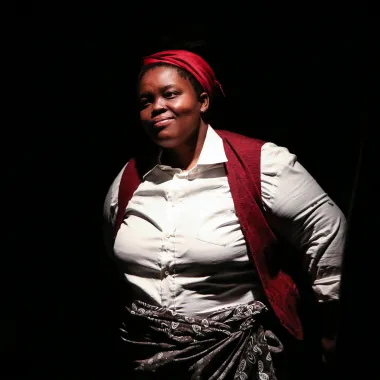 Bongile Gorata Lecoge-Zulu
Bongile Gorata Lecoge-Zulu is a frequent performer, curator, and mentor at The Centre for the Less Good Idea. She works with and across contemporary performance, music, theatre, education, writing and curation. Lecoge-Zulu has performed in ensembles, bands and theatres across Southern Africa and Europe and is currently involved in multiple experimental interdisciplinary projects wherein much of her investigation has to do with possibilities generated by merging music with other art forms. Her practice is therefore deeply collaborative, collective, and generative.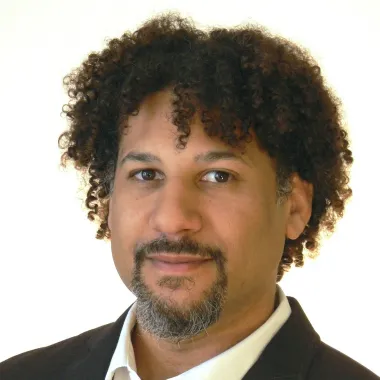 Zachary Price
Zachary Price is an interdisciplinary theater scholar and practitioner who investigates the political, economic, and historical conditions that shape performance and cultural production. He seeks to understand how performance and cultural production shape, shift, disrupt, and reify cultural and political conditions and perhaps make it possible for us to transgress and transcend them, if only for a moment of theatrical or performance bliss. His research project, Black Dragon, is an intertextual analysis of an intersectional project—Afro Asian performance across a series of platforms, including but not limited to film, theater, and new media, bringing to bear on some familiar works of art a focus on Black masculinity and how it was transformed by Black working-class men in particular after World War Two through Asian martial arts. His writings have appeared in Theatre Topics, The Drama Review, The National Review of Black Politics, Journal of Asian American Studies, and The Postcolonialist. Works in progress include contributions to Sports Plays, Classics In and Out of the Academy: Classical Pedagogy in the Twenty-First Century, articles on Black theater and performance in Los Angeles, and Afro Asian trans-Pacific performance and cultural production in Japan (Black Tokyo). Zachary Price is Assistant Professor of Doctoral Studies at UCI Claire Trevor School of The Arts Drama Department and was previously a tenure-track Assistant Professor in the Department of Performance Studies at Texas A&M University, College station. He has taught in the Department of African American Studies at UCLA, where he was a Chancellor's Postdoctoral Fellow and an Assistant Researcher in the Bunche Center for African American Studies and co-authored the first Hollywood Diversity Report. He received a PhD in Theater Studies from UC Santa Barbara, an MFA in Drama from the New School University, and a BS in Performance Studies from Northwestern University.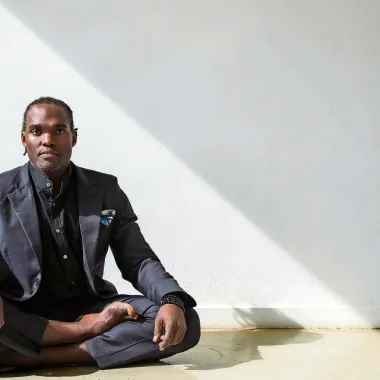 Raél Jero Salley
Dr. Raél Jero Salley is a maker, educator, scholar, speaker and writer. You may know him from his role as the Founding Director of 'The Space for Creative Black Imagination', the Chair of the Department of Art History, Theory, and Criticism at the Maryland Institute College of Art (MICA), & as former faculty at the University of Cape Town in South Africa. Raél (Rah-El) is also a martial arts instructor, a yoga instructor, a plant lover, and Mazie's grandson. Salley's activities include multidisciplinary visual artmaking, curation, and theory-making. Artworks are represented by Gallery MOMO (Johannesburg, South Africa). Salley is a contributing editor to The Postcolonialist journal, and their writing has appeared in The Queer Africa Reader; Kerry James Marshall: Who's Afraid of Red, Black, and Green; Third Text; Social Dynamics; African Arts, and other outlets. Salley initiated 'the names we give' public forum (2011), the 'Exuberance Project' (2012), and ACTSA (Africana Art, Culture, Theory, and Society), a diversity research initiative.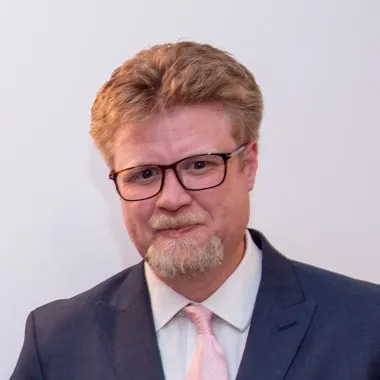 Ed Schad
Ed Schad is Curator and Publications Manager at The Broad in Los Angeles. Most recently, he curated the special exhibitions William Kentridge: In Praise of Shadows and Takashi Murakami: Stepping on the Tail of a Rainbow. Previously, he curated the monographic survey exhibition, Shirin Neshat: I Will Greet the Sun Again, and edited and wrote the book to accompany the exhibition. He also curated Carlos Cruz-Diez's Couleur Additive, co-curated a trilogy of group exhibitions Creature, Oracle, and A Journey that Wasn't, and was the host-curator of Jasper Johns: Something Resembling Truth co-organized by The Broad and the Royal Academy of London. He is the editor in chief of William Kentridge: In Praise of Shadows and 50 Artists: Highlights of the Broad Collection, and he is the managing editor of The Broad Collection; The Broad: An Art Museum Designed by Diller Scofidio + Renfro; The Broad: Art and Architecture; and Cindy Sherman: Imitation of Life, all published by Delmonico Prestel. Schad's writing has been included in Art Review, Frieze, Modern Painters, Flash Art, The Brooklyn Rail, L.A. Weekly, and the Los Angeles Review of Books.