---
William Kentridge's first monograph presentation at The Broad and his first major exhibition in Los Angeles in two decades will feature more than 130 works in an engaging and interactive design by Belgian designer Sabine Theunissen. Surveying 35 years of the celebrated South African artist's practice, this landmark exhibition includes all 18 works from the Broad collection with substantial loans from across the United States and South Africa. Curated by Ed Schad, the exhibition is organized both thematically and chronologically throughout the museum's first-floor galleries. A highlight of the exhibition is The Broad collection's 30-minute five-channel video and multimedia installation The Refusal of Time (2012). 
Kentridge grew up in Apartheid-era Johannesburg, and he has continued to live there throughout his life. His studio practice is inherently collaborative and expansive, spanning drawing, filmmaking, printmaking, sculpture, theater, opera, and installation. In addition to key drawings, sculptures, prints, and tapestries featured at The Broad, the artist's 11 Drawings for Projection films will be on view, as well as a series of films that reflect on early cinema, including 7 Fragments for Georges Méliès, Day for Night, and Journey to the Moon (all 2003), a suite of nine short films that prominently feature the artist himself and celebrate the artist's studio as a site of experimentation and associative play.
Many recent drawings will be shown that were created for his monumental performance project The Head & the Load (2018), which unearth the neglected histories of Africans and Africa in World War I. Important early works rarely or never before seen in the United States—such as Domestic Scenes (1980) (54 etchings tied to Kentridge's work in theater) the Art in a State of Grace, Art in a State of Hope, Art in a State of Siege (all 1988)—show Kentridge's long-lasting political engagement, upholding artistry and the creative act as its own form of transformative knowledge.
The exhibition opening also marks the world theatrical premiere of the performance Houseboy, a production of the Centre for the Less Good Idea in Johannesburg, at REDCAT (Roy and Edna Disney/CalArts Theater) in downtown Los Angeles from November 17–20.

Tickets to the exhibition and performances will be available on September 4, 2022 at thebroad.org. Subscribe to our e-newsletter to be notified about this and other upcoming programs at The Broad!
Image credits: William Kentridge, And When He Returned, 2019. Hand-woven mohair tapestry. 118 x 187 in. (300 x 475 cm). Collection of the Artist. © William Kentridge; William Kentridge, Houseboy, 2021, production still. Adapted reading for stage of Ferdinand Oyono's 1956 novel Houseboy.120 minutes. Photo Zivanai Matangi. Courtesy The Centre for the Less Good Idea and William Kentridge Studio.
---
know before you go
Timed tickets will be released on Sunday, September 4, 2022, at 10 a.m. PT at ticketing.thebroad.org.
Tickets are $18 for adults, $12 for students (with valid student ID), and free for children 17 and under.
Get Tickets
---
Highlighted Artwork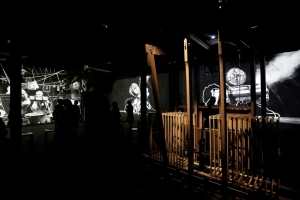 five-channel video installation with sound; four steel megaphones; breathing machine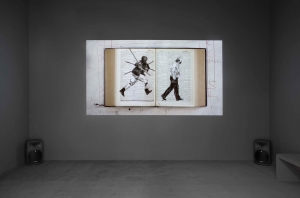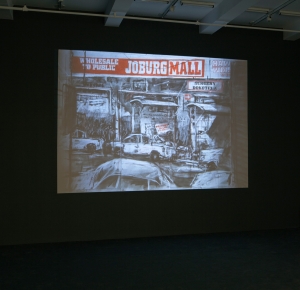 35 mm film transferred to DVD and hard drive; 9 min 54 sec looped, with sound
Art in a State of Grace, Art in a State of Hope, Art in a State of Siege
William Kentridge
1988
Silkscreen on velin d'arches creme and brown paper
Each 63 x 39 inches (160 x 100 cm)
Drawing for Ursonate (fümms böwö tää)
William Kentridge
1988
Composite of charcoal and pastel on found encyclopedia pages
Paper: 10 1/8 x 7 5/8 inches (25.7 x 19.4 cm) (each); Overall mounted: 30 11/16 x 60 5/8 inches (78 x 154 cm)
Singer Trio
2018
Singer sewing machines, four breast drills, antique wooden rulers, mild steel, aluminum, wood, electronics
64 x 69 x 19 inches (163 x 176 x 50 cm)