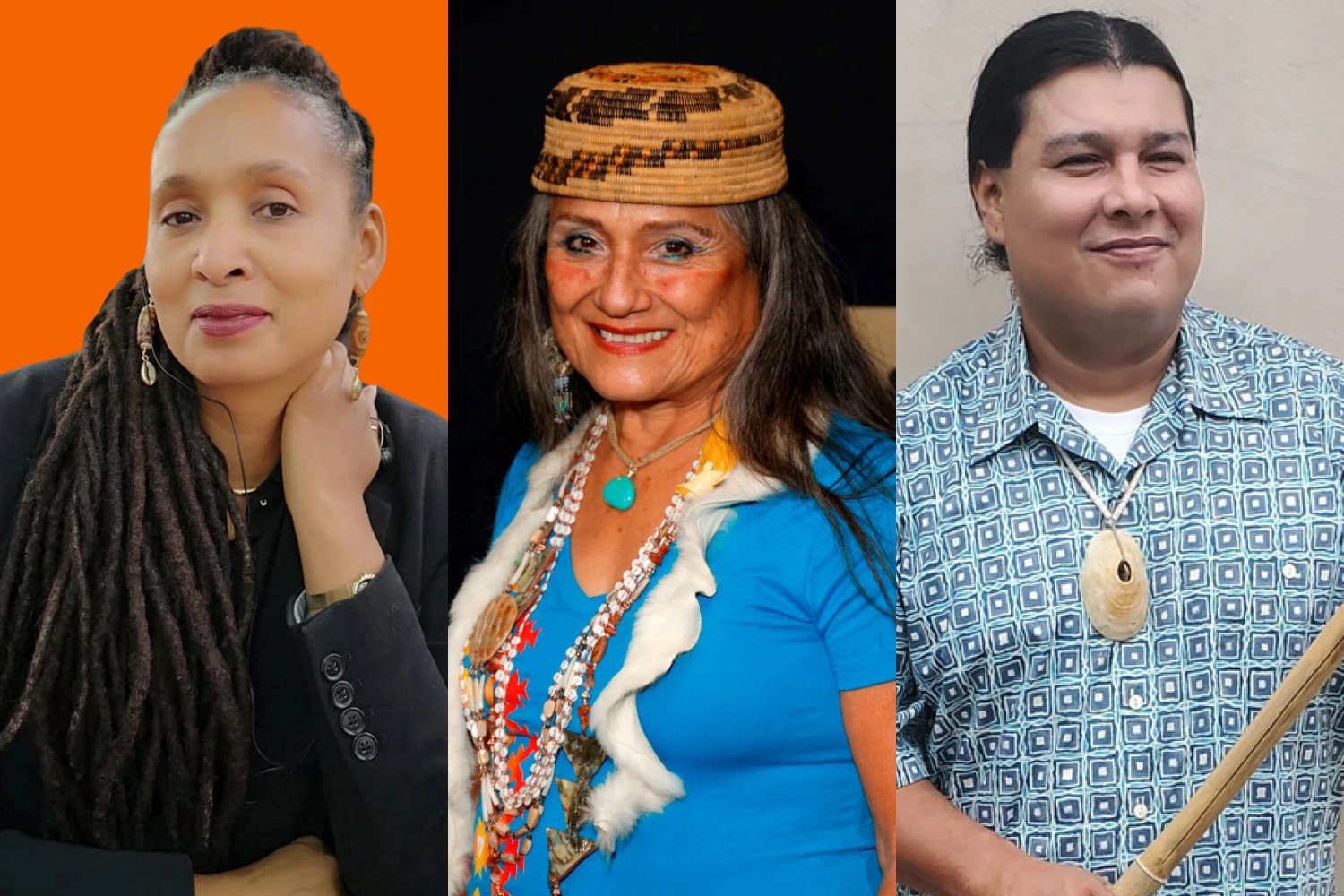 Performance
Speaking in Gabrielino + When We Dream in Bittersweet Tongues
In conjunction with the special exhibition, William Kentridge: In Praise of Shadows, on view through April 9, 2023, The Broad presents an evening of programming centered on the effects of colonialism on Black, Indigenous, and People of Color (BIPOC) literature, language, and music. The evening features some of the last remaining Gabrielino language speaking Tongva people, richly diverse poets addressing topics such as unearthing ancient codes for a safer world in the now, empowerment and social justice, and the personal discovery of multi-ethnic experience, and a live djembe and movement performance honoring personal cultural heritage.
7:30 p.m.: When We Dream in Bittersweet Tongues, Pt. 1 of 2
"Since the colonization of countries and continents of color began, BIPOC narratives, storytelling, and storytellers have been relegated to the "other" space, to the "less important" and "invalid" places, thus re(dis)locating culture, cultural values, beliefs, voices, and identities. Reclaiming our BIPOC narratives and relocating the role of storytelling in our teaching and in our public and private sectors will not only challenge ingrained biases, but our narratives will enrich the world."  —Shonda Buchanan 
Shonda Buchanan has guest co-curated When We Dream in Bittersweet Tongues, featuring poetry and performances that weave the thread of this storytelling into the fabric of Kentridge's exhibition. South Africa, where William Kentridge was born and continues to live and work, is the focal point of his studio practice, which is inherently collaborative and expansive, spanning drawing, filmmaking, printmaking, sculpture, theater, opera, and installation addressing apartheid and other social wounds.
Accomplished musician and educator M'Baye Campell-Kante and former principal soloist for Lula Washington Dance Haniyyah Tahirah will perform a live duet to set intention and open space for readings by award-winning memoirist of Black Indian Shonda Buchanan, San Francisco Poet Laureate Tongo Eisen-Martin, and diasporic Indigenous trans poet féi hernandez.
When We Dream in Bittersweet Tongues, Pt. 2 of 2 takes place at The Broad on April 1, 2023.
8:30 p.m.: Speaking in Gabrielino (The original native tongue of Indigenous Angelinos)
Speaking in Gabrielino features performances by Tongva activists, artists, and educators Lazaro Arvizu, Jr. and Virginia Carmelo, along with invited guests. Attendees will listen to the sound of the Tongva language as the two speakers dialogue about important issues including social justice and land justice. The piece speaks to the disappearance of languages as an outcome of colonialism and white supremacy. The experience will also include imagery and sound that complement the spoken dialogue. Curated by Lazaro Arvizu, Jr.

ASL interpreters provided by Pro Bono ASL
---
---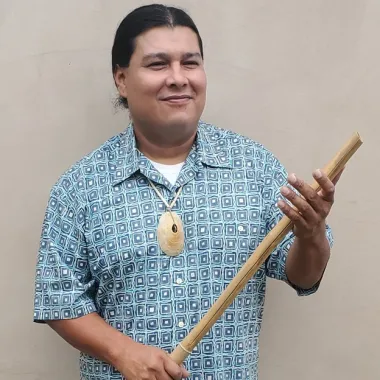 Lazaro Arvizu, Jr.
Lazaro Arvizu, Jr. is an artist, educator, musician, and researcher dedicated to the culture of the first people of Los Angeles. Born in the Los Angeles Basin, he is knowledgeable of the landscape and cosmology of the Gabrielino culture. He has worked for over 20 years facilitating creative and meaningful cultural experiences to people of all ages and walks of life, in many venues.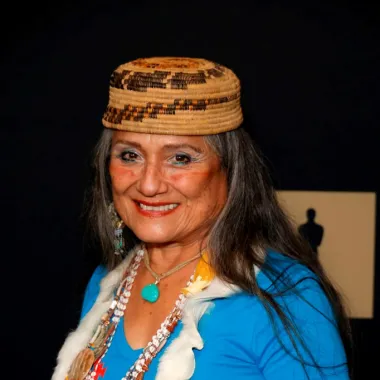 Virginia Carmelo
Virginia Carmelo was born in Orange County, California and raised in Fullerton, California. Her paternal side is California Native American: Gabrielino/Tongva (Pronounced Toong–vey) and Digueno/Kumeyaay tribes. In 1974, Virginia received her B.A. from CSU, Fullerton in Ethnic Studies. During that time, being influenced by and involved in the social movements of the sixties, she began dance studies that led her to study indigenous dance with two prominent masters in the Los Angeles area. Virginia was teacher to five of her 6 children for a 5-year stint of home schooling. Currently, they take part in preserving and sharing the Tongva culture. The family endeavors to revitalize Tongva tribal song, dance, story, and regalia. Today, the group "Toveema" can be seen performing both ancient and modern tribal song and dance at many prominent venues throughout Southern California. They take pride in the making of all regalia and instruments, using natural indigenous materials. In 2004, Virginia was led to research the Tongva language. A portion of the tribal language was recorded during the early 1900's and last spoken around 1930. Thanks to linguist, Pam Munro and language programs, this California Indian language is being spoken again after 80 years being silent. From 2001 to 2012, Virginia served as a Tribal Council Member of the Gabrielino/Tongva Nation, the tribe indigenous to the entire Los Angeles Basin. From 2005 to 2010, she served as Tribal Chairperson. Currently, Virginia is a consultant and Cultural Educator, also dedicating time to activism and indigenous dance.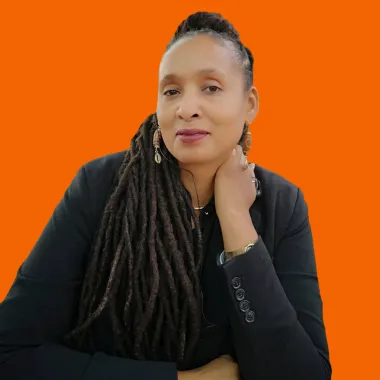 Shonda Buchanan
Shonda Buchanan is a Pushcart Prize nominee, a USC Los Angeles Institute for the Humanities Fellow, and a Department of Cultural Affairs City of Los Angeles (COLA) Master Artist Fellow, and the author of five books, including the award-winning memoir, Black Indian. An award-winning poet, fiction, and nonfiction writer and educator, she has been a journalist for over 25 years, publishing in the Los Angeles Times, the LA Weekly, AWP's The Writer's Chronicle, Los Angeles Times Magazine, Indian Country Today, and The International Review of African American Art. President of Beyond Baroque Literary Art Center's Board of Trustees, Buchanan is also a Sundance Institute Writing Arts fellow, a PEN Center Emerging Voices fellow, and a Jentel Artist Residency fellow. Finalist for the 2021 Mississippi Review poetry contest, her memoir Black Indian won the 2020 Indie New Generation Book Award and was chosen by PBS NewsHour as one of the "top 20 books to read" to learn about institutional racism. Shonda Buchanan is the newest fiction faculty member in Alma College's MFA Program. Writing on Tongva/Chumash land, she is currently shopping her book of poetry about Nina Simone.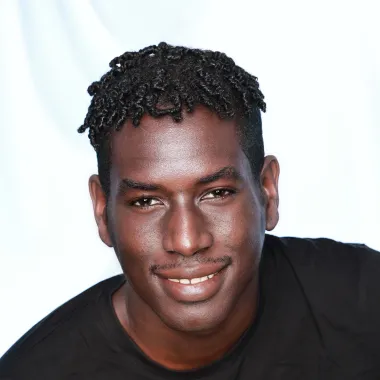 M'Baye Kante
Originally from Brooklyn, New York, M'Baye Kante is an accomplished artist with over 10 years of professional experience. He is a percussionist of the djembe and dundun drums in addition to playing the kora, a 21-stringed instrument originating from the Malian Empire in the 12th century. He also has modeled for world renowned agency Ford models in New York. He currently devotes his time cultivating and educating youth on West African culture through music, art, and dance. Apprenticing under master Senegalese percussionist Malick Sow in addition to being a musician for The Music Center, M'Baye has performed at schools and universities all over California, conducting numerous workshops and educational performances that highlight the connection between West African indigenous music and modern music as it is today. Kante is also a filmmaker whose film Da Djembe Lives won an award for Best Documentary in the Compton Film Festival. Collectively, Kante and Haniyyah Tahirah have created and performed original work entitled 'Wideke 11' that premiered exclusively at the Broad's 4th Fridays in front of Intermittent Signals by Ghanaian-born artist El Anatusi. Most recently they conducted a community West African drum and dance class at The Broad's Family Weekend Workshops and are in production on a film inspired by Anatusi's work Strips of the Earth's Skin commissioned by the Broad Museum. Most recently M'Baye worked with actor & director Richard Lawson in the upcoming film Black Terror. M'Baye Kante also is the live percussionist for Tahirah's Modern d\Dance class at Gravity Dance Company in Long Beach.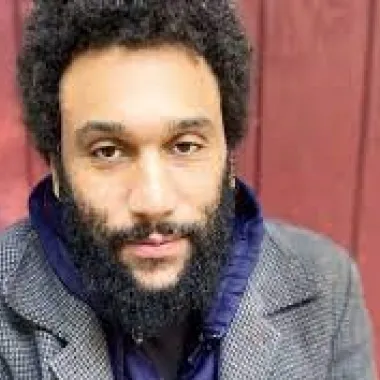 Tongo Eisen-Martin
Tongo Eisen-Martin was born in San Francisco and earned his MA at Columbia University. He is the author of someone's dead already (Bootstrap Press, 2015), nominated for a California Book Award, and Heaven Is All Goodbyes (City Lights, 2017), which received a 2018 American Book Award, a 2018 California Book Award, was named a 2018 National California Booksellers Association Poetry Book of the Year, and was shortlisted for the 2018 Griffin International Poetry Prize. Eisen-Martin is also an educator and organizer whose work centers on issues of mass incarceration, extrajudicial killings of Black people, and human rights. He has taught at detention centers around the country and at the Institute for Research in African American Studies at Columbia University. He lives in San Francisco and is the eighth Poet Laureate of San Francisco.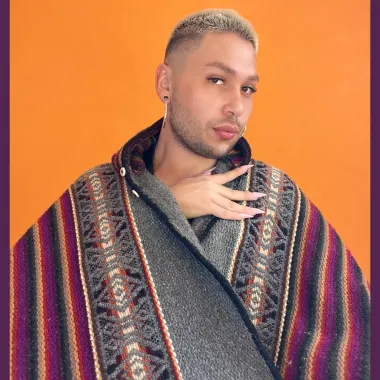 féi hernandez
féi hernandez (b. 1993, Chihuahua, Mexico) is a diasporic Indigenous trans, Inglewood-raised, formerly undocumented immigrant. They are a writer, cultural worker, organizer, visual artist, birthworker, and a spiritual practitioner. Their mission is to decolonize the imagination by facilitating the empowerment and guidance of trans and queer BIPOC writers, artists, and healers alike, specifically by helping them harness their multidisciplinary, spiritual, and intersectional gifts. Descendant of the Raramuri, Pi'ma, and Cora peoples, hernandez is devoted to eradicating borders, deconstructing colonial impositions, and unearthing ancient codes for a safer world in the now to ensure the continual legacy of Black and Indigenous futures. hernandez is the author of the full-length poetry collection Hood Criatura (Sundress Publications, 2020), a 2022 Tin House Scholar, and a 2021 Define American fellow. hernandez has been published in POETRY, Autostraddle, PANK Magazine, Immigrant Report, The Breakbeat Poets Vol. 4: LatiNext, Somewhere We are Human, TransLash Media & Narrative, and more. féi hernandez is founder of The House of Etéreo, and within it, Spirit School for the Divinely Gifted, a spiritual learning space for trans and queer BIPOC spiritual practitioners.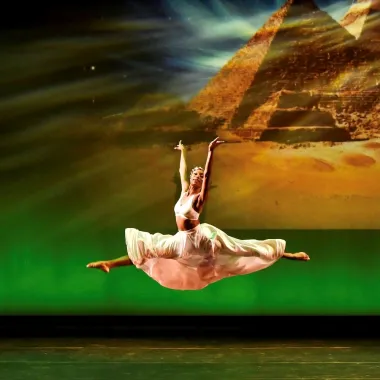 Haniyyah Tahira
Haniyyah Tahirah is an L.A. native who is a professional dancer, choreographer, and dance instructor with over 15 years of experience. Trained in ballet, modern, jazz, West African, and Afro-Brazilian dance, Tahirah worked as a Principal Dancer and Soloist for over 12 years with the internationally acclaimed Lula Washington Dance Theatre performing all over the U.S. as well as Russia, China, Brazil and Tel Aviv, Israel. She has performed as a guest artist with Viver Brasil Dance Co., and the Las Vegas Contemporary Dance Theatre. Tahirah has also worked with Tony Award winner George Faison in addition to working as a motion-capture artist in the making of the 2009 blockbuster film Avatar directed by James Cameron. Collectively, Tahirah and M'Baye Kante have created and performed original work entitled 'Wideke 11' that premiered exclusively at the Broad Museum's 4th Fridays in front of Intermittent Signals by Ghanaian-born artist El Anatusi. Most recently they conducted a community West African drum and dance class at The Broad's Family Weekend Workshops and are in production on a film inspired by Anatusi's work Strips of the Earth's Skin commissioned by the Broad. Haniyyah Tahirah also teaches at Gravity Dance Company in Long Beach where Kante is the percussionist for her Modern dance class. Haniyyah continues to teach dance and body awareness to her students both youth and adults while still cultivating her many skills and artistic talents.