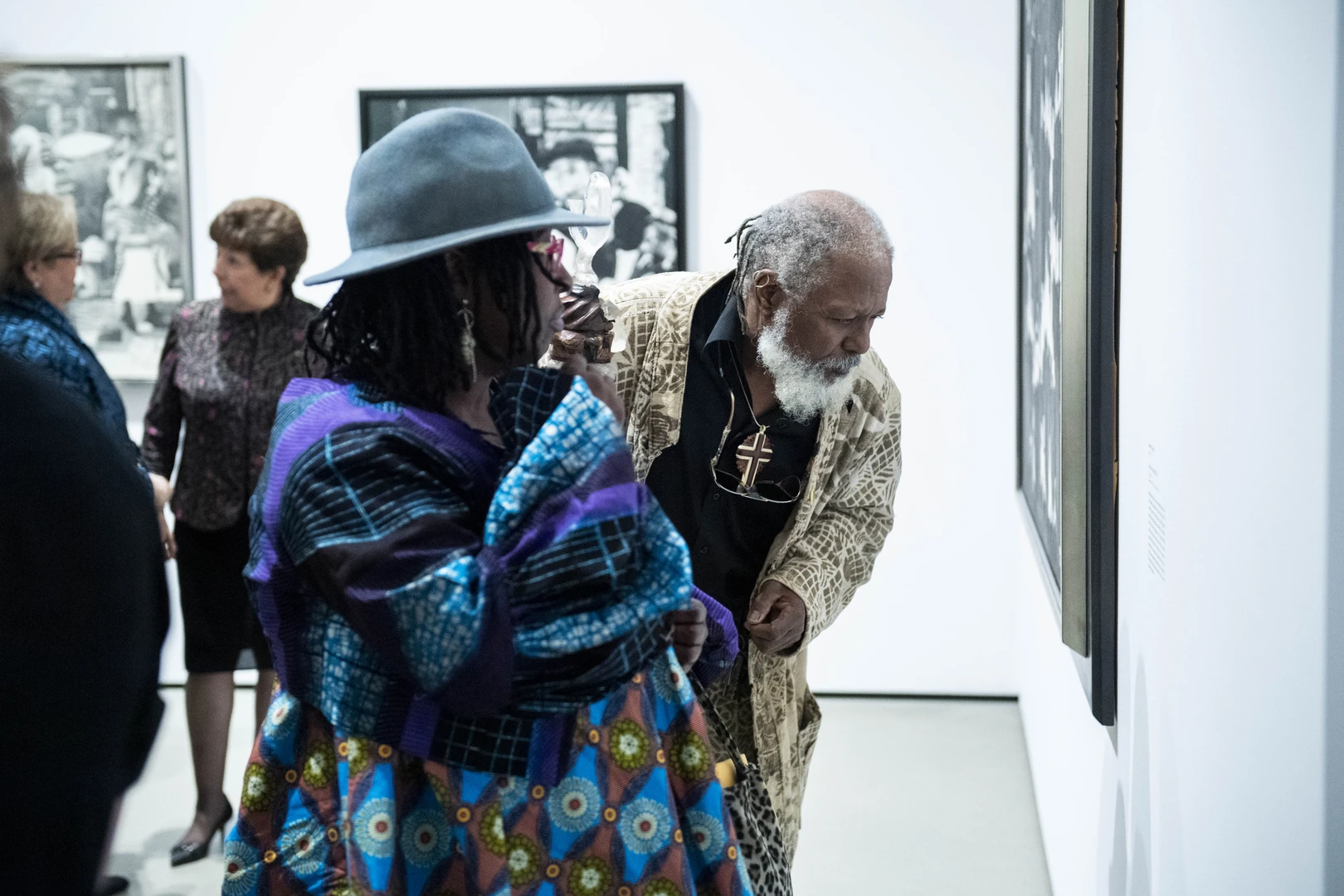 Talk
Free Soul of a Nation Gallery Talks - Damien Sojoyner and Hasani Simons
The Broad will offer a series of free Soul of a Nation: Art in the Age of Black Power 1963-1983 gallery talks on Thursdays at 7 p.m., beginning on Thursday, May 2 and running through the end of July. These free talks will offer unique perspectives on the art, artists, and era of Soul of a Nation from some of the gallerists and cultural leaders who were working during the 1960s through the early 1980s, as well as from community activists organizing today in South Los Angeles and emerging artists who have been influenced by the artists featured in Soul of a Nation. Free advance tickets can be booked, and each talk will have limited, walk-up admission on a first-come, first-served basis. The series was co-curated in part by The Southern California Library.
---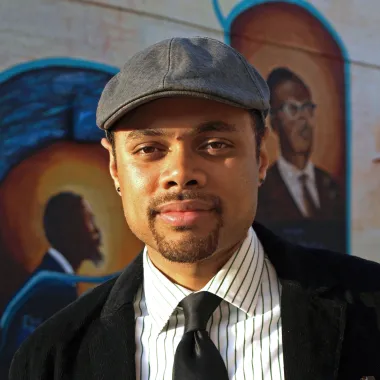 Damien Sojoyner
Damien M. Sojoyner is an Associate Professor in the Department of Anthropology at the University of California, Irvine. He researches the relationship among the public education system, prisons and the construction of Black masculinity in Southern California. In addition to his work appearing in many popular media forms, he has written articles in scholarly journals such as Transforming Anthropology, Race, Education, and Ethnicity, Cultural Anthropology and the Berkeley Review of Education. His book, entitled First Strike: Prison and Educational Enclosures in Black Los Angeles, was released by the University of Minnesota Press.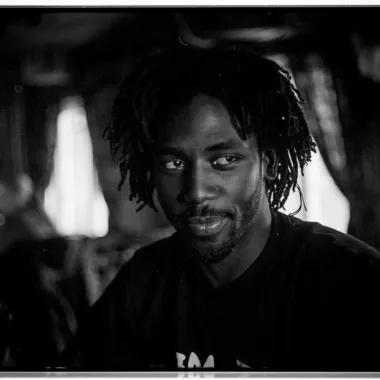 Hasani Simons
Hasani Simons is a community organizer, artist and student. Growing up in South Central Los Angeles has informed both his intimate understanding of the suffering Black people experience from the police and prison system, as well an analysis of how alternative systems that are offered as solutions to him and his peers, namely: education, housing, welfare, and other social services, just sustain state violence. Today, led by his passion for music and art, Hasani creates art reflective of his experiences to improve life outcomes for young people.
About Free Soul of a Nation Gallery Talks
May 2, 2019 - Eric Hanks
Eric Hanks was one of the leading representatives of Black artists through his Santa Monica gallery, M. Hanks Gallery, founded in 1988. By selling their works nationally, contributing to museum collections, and publishing catalogs, Hanks has helped create an audience and market for these artists. Hanks is currently a commissioner on the Los Angeles County Arts Commission.
---
May 9, 2019 - Kohshin Finley
Los Angeles native and current resident, Kohshin Finley, earned his BFA from Otis College of Art and Design. Finley's work depicts defiant people of color as they progress through spaces that continuously try to break them down. The subjects of his paintings use their victories over oppression as armor for their journey through everyday life. His friends and family are the subjects of his paintings, captured while they have visceral conversations about their life in America. Prior to each painting, Finley writes poems stemming from these conversations and interlaces them with his own history to tell a personal story that takes on a new life on the canvas.
His work has been exhibited at California African American Museum, The Honolulu Museum of Art School and Mesa Contemporary Arts Museum. His work has been featured in The Los Angeles Times, The Cut, Huffington Post, Buzzfeed, Hyperallergic, LALA Magazine, and Artillery.
---
May 16, 2019 - Yardenna Aaron
Yardenna Aaron has a 20-year legacy of working in the community to bring balance and justice in Los Angeles' communities.  Her work led her to a career in providing social justice research to community social justice organizations. Her passion for justice led to the co-creation of the Here to Stay Coalition in 2008 in the wake of Proposition 8 in California, which created LGBTQ visibility in the MLK annual parade. She continues to serve the community not only as a researcher but as a Board member for the Earthlodge Center for Transformation, which provides a spiritual sanctuary for LGBTQI and womyn communities to ensure their groundedness and longevity in our social and economic justice work.  
---
May 23, 2019 - Savannah Wood
Savannah Wood is an artist with deep roots in Los Angeles, Pasadena and Baltimore. Since returning to L.A. in 2015 after three formative years in Chicago, she has been doing curatorial and communications work at Clockshop, a multidisciplinary arts organization based in Frogtown. Savannah is interested in uncovering obscured histories, tapping into ancestral magic, and disrupting linear readings of time. She makes photographs, clothing and plant-based sculpture.
---
May 30, 2019 - Dale Brockman Davis
Dale Brockman Davis is an artist and curator, and was the co-founder, along with his brother Alonzo Davis, of the influential Leimert Park-based Brockman Gallery. Brockman Gallery exhibited several Soul of a Nation artists including Betye Saar, David Hammons, John Outterbridge, Romare Bearden, Elizabeth Catlett, and Noah Purifoy, as well as housed artists and provided them with studio space. Davis was also a longtime arts teacher at Dorsey High School in South Los Angeles.
---
June 6, 2019 - Dr. Todd Boyd
Dr. Todd Boyd, a.k.a. "Notorious Ph.D.," is the Katherine and Frank Price Endowed Chair for the Study of Race and Popular Culture and Professor of Cinema and Media Studies at the University of Southern California School of Cinematic Arts. A media commentator, author, producer, consultant and scholar, Dr. Boyd is an intellectual and creative force who transcends boundaries and defies conventional categorization. In the immediate aftermath of the 1992 L.A. riots Dr. Boyd arrived at USC and began developing a new field of study centered around hip hop culture. His pioneering work would make connections across film, music, television, sports, fashion, art, and politics, establishing him as a preeminent expert and distinctly authoritative voice on the role of culture in American society.
Dr. Boyd is especially well known for appearing as a commentator in numerous documentaries., including Twenty Feet From Stardom. His writing has appeared in The New York Times, The Los Angeles Times, Chicago Tribune and ESPN.com and he has written seven books. 
---
June 13, 2019 - Phoebe Beasley 
Phoebe Beasley's work is in the collections of Southern University, New York Public Library, Brigham Young University, Neiman-Marcus, Mystic Seaport Museum, University of Texas, Kansas African-American Museum, Colgate-Palmolive, Magic Johnson Enterprises, Swarthmore College and Entertainment Studios. Beasley's artwork was part of an exhibition by the Smithsonian Institution, "In the Spirit of Martin," honoring the legacy of Dr. King. In 1998, Beasley collaborated with Dr. Maya Angelou on a limited-edition book "Sunrise is Coming After While," comprised of poems by Langston Hughes.
Beasley was honored in 2013 by the California African American Museum with the Lifetime Achievement Award for Visual Arts & Arts Advocacy. She served on the California Arts Council and is a member of the Board of Directors of The Bernard and Shirley Kinsey Foundation for Arts and Education. Beasley also serves on the Board of Directors of The Music Center of Los Angeles County.
---
June 27, 2019 - Damien Sojoyner and Hasani Simons
Damien Sojoyner is an associate professor at the University of California, Irvine in the Department of Anthropology and a self-described "Urban Anthropologist with a Diasporic Framework." Sojoyner has written extensively on and advocates for criminal justice reform. He is active with The Southern California Library in South Los Angeles. Hasani Simons is a community organizer and an artist who grew up in South Los Angeles. Simons and Sojoyner will speak about their respective work in relation to the artwork and issues addressed in Soul of a Nation.
---
July 11, 2019 - Kamil Oshundara
Kamil Oshundara is the Cultural Executive at Monkeypaw Productions, specializing in academic and cultural research as it fuels the woven integrity of storylines, plot intentionality and character development. Part of her work involves diving deep into the genre material to produce "critically conscious media" that better represents marginalized groups. 
 
Kamil holds a joint degree from UCLA in African-American studies and World Arts and Cultures. There, she conducted research on art for revolution by Black women of the Black Panther Party, and Black Speculative Arts with a focus on Black Horror and the mobilization of fear, fantasy and futurism in genre to explore the material realities of oppression and resistance for Black women. In all, she is dedicated to creating "critically conscious" art for systemic change.
---
July 18, 2019 - Texas Isaiah
Texas Isaiah is a visual narrator whose work explores multi-dimensional realities by inviting a sitter to participate in the photographic process. He is interested in replacing the negligence that has been perpetuated within the photographic process with intimacy and vulnerability. He is invested in the possibilities of what it can mean to be seen, loved, and cared for when you have your photograph taken. Texas Isaiah has exhibited in numerous spaces including the Hammer Museum (Los Angeles), Aperture Gallery (NYC), Phillips (NYC), BRIC (NYC), Residency (Los Angeles), The Kitchen (NYC), The Studio Museum in Harlem (NYC), Charlie James Gallery (Los Angeles), Antenna (New Orleans),  Slought Foundation (Philadelphia), and New Space Center for Photography (Portland). Reviews and mentions of his work have appeared in Art Forum, PDN, Artnews, and Cultured Magazine. He is the 2018 Grant Recipient for Art Matters. 
---
July 25, 2019 - Janette Robinson Flint
As a founding member of Black Women for Wellness, Janette holds the executive director position. It gives her great pleasure to imagine a world with powerful women, at optimum physical, mental and emotional health leading us to justice and peace.
 
Currently Janette participates with several advisory boards that include, Having Our Say, Leadership Development in Interethnic Relationships and National Advisory Board for Merger Watch. Her work in the health field began with advocacy during her pregnancy and today she is a member of the Reproductive Justice Coalition of Los Angeles, California Coalition for Reproductive Freedom, and Trust Black Women. Over the course of the years her journey has included The Birthing Project USA, Great Beginnings for Black Babies, National Health Foundation, March of Dimes, California Primary Care Association, Inglewood Healthy Mothers & Babies, South Los Angeles Health Project and Women Infant & Children (South Los Angeles advisory board) Programs.
Read More