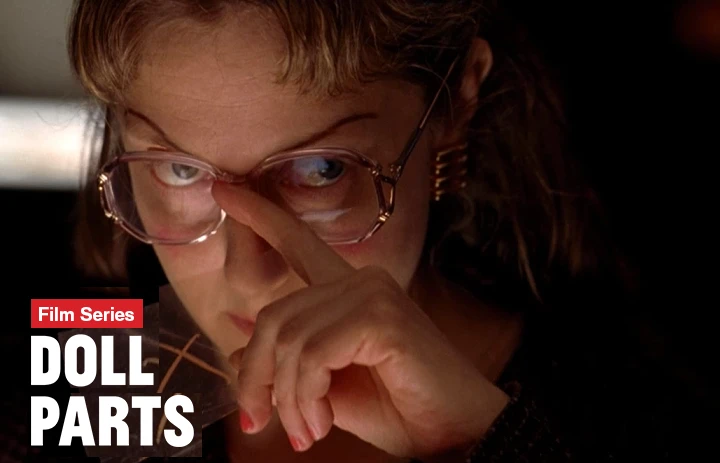 Screening
Film Series | Doll Parts: Doll Clothes, Doll Parts, Office Killer
The Oculus Hall at The Broad
Tickets $12 - This program is sold out.
Cindy Sherman, Doll Clothes, 2:23 min., 1975
Samuel Bayer, Doll Parts, 4 min., 1994
Cindy Sherman, Office Killer, 95 min., 1997
Released in 1997, Office Killer is Cindy Sherman's sole foray into feature filmmaking. An explosion of B-Hollywood film tropes, film noir aesthetics and cult filmmaking practices, Office Killer presents a cast to die for, and a screenplay penned by Sherman and New Queer Cinema auteurs Todd Haynes and Tom Kalin. Something is not right at the office when moody lurker Dorine (Carol Kane) accidentally offs a coworker, inspiring a loner killing spree that jeopardizes the lives of her colleagues, played by Molly Ringwald, Jeanne Tripplehorn, and Barbara Sukowa. Evoking a staunch feminist stance on identity politics of the 1990s, the film is paired with the promotional video for Doll Parts, taken from Hole's second masterful album, Live Through This, and Sherman's early animated short Doll Clothes.
---
The Broad's Doll Parts film series took place from June through September 2016 in conjunction with the Cindy Sherman: Imitation of Life exhibition. Tearing through underground and pop landscapes from Maya Deren to Hole, Doll Parts reframed the Cindy Sherman special exhibition as a moving-image feast of international films, artists' tapes, and music videos. From fairy tales to horror, femme fatales to "office killers," Doll Parts examined the iconography of Sherman's photographic practice, showcasing influences, like minds, and apparent heirs to the artist's evolving body of work. Outré artifice, feminist trailblazers, and plasticine appendages reign supreme. 
Read More