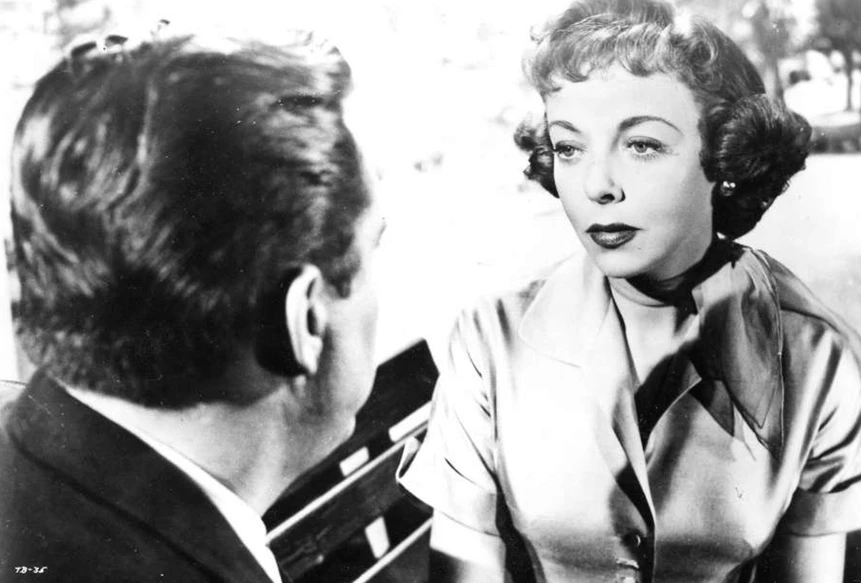 Screening
Film Series | Doll Parts: Home Stories, The Bigamist
Tickets $12 (includes same-night access to the full museum)
Matthias Müller, Home Stories, 6 min., 1990
Ida Lupino, The Bigamist, 80 min., 1953

Like Cindy Sherman, Ida Lupino made her mark on both sides of the camera, a defiant siren of film noir, but also one of the first female auteurs, directing and producing independent features that delved into hot-button cultural topics like abortion and polyamory. For The Bigamist, Lupino positioned herself opposite Joan Fontaine, in a subtle and gorgeously photographed potboiler about a traveling salesman who takes on two wives. In Matthias Müller's short Home Stories, the filmmaker distills gestures of the classic Hollywood melodrama, collecting the moonlit sighs and dramatic departures, shot in 16mm off of a television screen.
Doll Parts tickets include same-night access before the film program to the museum, including the Cindy Sherman: Imitation of Life special exhibition
---
The Broad's Doll Parts film series took place from June through September 2016 in conjunction with the Cindy Sherman: Imitation of Life exhibition. Tearing through underground and pop landscapes from Maya Deren to Hole, Doll Parts reframed the Cindy Sherman special exhibition as a moving-image feast of international films, artists' tapes, and music videos. From fairy tales to horror, femme fatales to "office killers," Doll Parts examined the iconography of Sherman's photographic practice, showcasing influences, like minds, and apparent heirs to the artist's evolving body of work. Outré artifice, feminist trailblazers, and plasticine appendages reign supreme. 
Read More