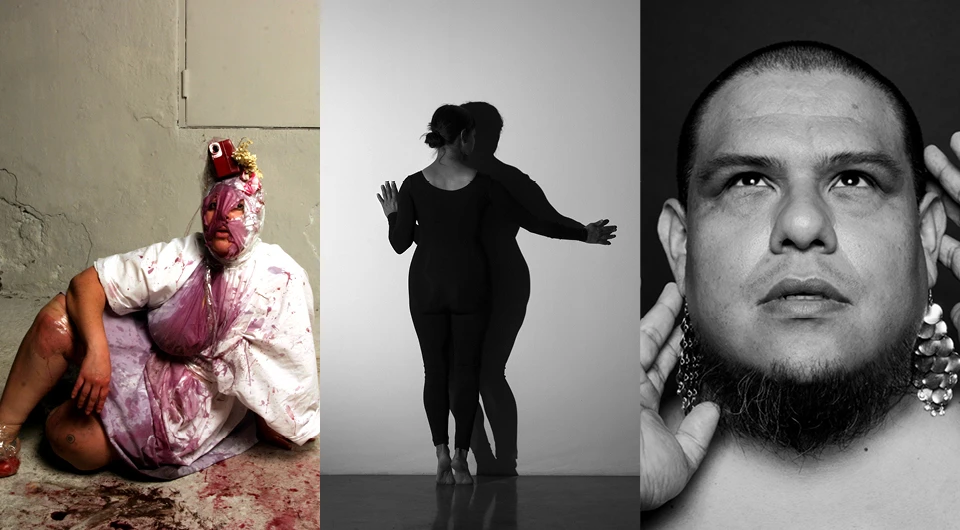 Performance
En Cuatro Patas: Nao Bustamante + Gina Osterloh + Dorian Wood
This edition of En Cuatro Patas (The Broad's feminist Latinx performance series) features performances by Nao Bustamante, Gina Osterloh and Dorian Wood taking place in The Broad's outdoor plaza and Oculus Hall. 
Esta edición de En Cuatro Patas (la serie de performance feminista Latinx del Broad) presenta actuaciones de Nao Bustamante, Gina Osterloh y Dorian Wood que se llevan en la plaza al aire libre y Oculus Hall de The Broad.
---
know before you go
Tickets include general admission access to the museum from 5:30–8 p.m. (when the museum closes). Doors re-open 15 minutes prior to the program at 8:15 p.m.
This event runs approximately 90 minutes with no intermission. Please note that these performances include adult themes. Attendees will be walking short distances and standing for periods of time. The performances take place in The Broad's outdoor plaza and Oculus Hall, and Visitor Services Associates (VSAs) will guide attendees from one location to the next. This program is wheelchair accessible, and seating will be made available for those requiring seats.
El boleto incluye el acceso de admisión general al museo de 5:30-8 p.m. (cuando el museo cierra). Las puertas abren 15 minutos antes del programa a las 8:15 p.m.
Este evento dura aproximadamente 90 minutos sin interrupcion. Por favor, considere que estas acciones artísticas incluyen temas para adultos. Los visitantes caminarán distancias cortas y permanecerán de pie durante largos períodos de tiempo. Las performances se llevan en en la plaza al aire libre y Oculus Hall de The Broad y los asistentes de servicios para visitantes guiarán a los visitantes de un lugar a otro. Este programa es accesible para sillas de ruedas y habrá asientos disponibles para aquellos que lo requieran. 
Get Tickets
---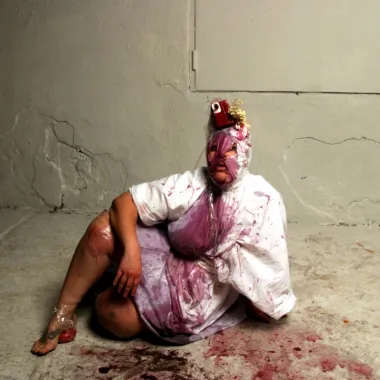 Given Over to Want
Sculpting the body with tape, shadow-play and boxed wine allows for the exploration of human want, both natural and contrived. The performance deals with the themes of transformation and desire. The image is as primordial as it is hungry and holy, both fully human and fully alien.
Esculpir el cuerpo con cinta adhesiva, juegos de sombras y vino en caja permite la exploración del deseo humano, tanto natural como artificial. La performance explora temas de transformación y deseo. La imagen es tan primordial como hambrienta y santa, a la vez completamente humana y extraña.
Nao Bustamante has presented work at venues including Vincent Price Art Museum, Los Angeles; Institute of Contemporary Art, London; The Museum of Modern Art, New York; SF MOMA, San Francisco; Sundance Film Festival; Outfest; El Museo del Barrio Museum of Contemporary Art, New York; First International Performance Biennial Deformes; and Kiasma contemporary art museum, Helsinki. Bustamante has had residencies at University of California, Riverside and the University of California Institute for Mexico and the United States (UC MEXUS). Bustamante is an alumna of the San Francisco Art Institute New Genres program and the Skowhegen School of Painting and Sculpture. She is professor of art at the USC Roski School of Art and Design where she also serves as the Vice-Dean of Art and the MFA Director.
Nao Bustamante ha presentado su trabajo en espacios como el Vincent Price Art Museum de Los Ángeles; el Instituto de Arte Contemporáneo en Londres; el Museo de Arte Moderno de Nueva York; el SFMOMA de San Francisco; el Festival de Cine de Sundance; Outfest; el Museo del Barrio de Arte Contemporáneo de New York; la Primera Bienal de Performance Internacional Deformes; y el Museo Kiasma de Helsinki. Bustamante fue una artista en residencia en la Universidad de California, Riverside y en el Instituto para Mexico y los Estados Unidos (UC MEXUS). Bustamante es egresada del programa New Genres del Instituto de Arte de San Francisco y de la Escuela de Pintura y Escultura Skowhegen. Ella es profesora de arte en la USC Roski School of Art and Design donde también oficia como Decana de Arte y Directora del Programa de MFA.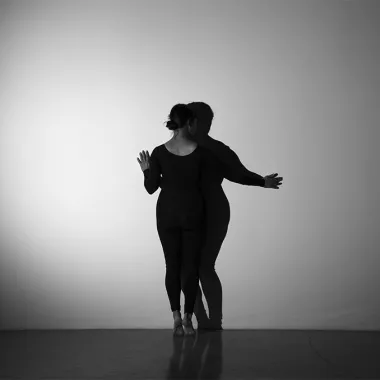 Shadow Woman
In Shadow Woman, the body and its shadow oppose and support each other, at times indiscernible, underscoring the psychological split between illusion and reality, perception and projection. The performance investigates the tracing of the silhouette as an early form of photography and the desire to fix an image of self and other.
En Shadow Woman, el cuerpo y su sombra se oponen y se apoyan, a veces indiscernibles, subrayando la división psicológica entre la ilusión y la realidad, la percepción y proyección. La performance investiga el trazado de la silueta como una forma primativa de fotografía y el deseo de fijar una imagen del yo y del otro.
Gina Osterloh's practice embodies the printed image, drawing, film and performance, exploring resonances between the physical body and its representational stand-in. She cites growing up mixed-race in Ohio as leading her to photography and larger questions of being, identity, and how a viewer perceives difference. Osterloh has exhibited internationally and has been reviewed in Art in America, The New Yorker Magazine, Art Asia Pacific, Asian Art News, and KCET Artbound, among others. Honors and awards include a Fulbright in the Philippines, a Woodstock Center of Photography residency, and a Create Cultivate Grant with LA County Arts Commission and Los Angeles Contemporary Exhibitions (LACE).
La práctica de Gina Osterloh integra imágenes impresas, dibujo, cine y performance, explorando las resonancias entre el cuerpo físico y sus sustitutos representacionales. Osterloh cita la experiencia de crecer como mestiza en Ohio como una que cultivó su interés en la fotografía y hizo hacerse preguntas más amplias sobre el ser, identidad, y la percepción de la diferencia por parte de la espectadora. Osterloh ha exhibido internacionalmente y su trabajo ha sido reseñado en Art in America, The New Yorker Magazine, Art Asia Pacific, Asian Art News and KCET Artbound, entre otros. Sus reconocimientos y premios incluyen una beca Fulbright en Filipinas, una residencia en el Centro de Fotografía de Woodstock y la beca Crear y Cultivar de la Comisión de Artes del Condado de Los Ángeles y en las Exposiciones Contemporáneas de Los Ángeles (LACE).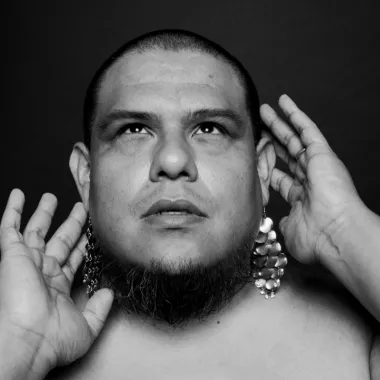 Infestación: pisos I, II, III
Remain in one place for long enough, more for a plague. How many, with what frequency, of what color, eggs?
Permanesca en un lugar durante el tiempo suficiente, más para una plaga. ¿Cuántos, con qué frecuencia, de qué color, huevos?
Dorian Wood was born in Los Angeles to Costa Rican parents. Through their corpulent body and distinctive voice, Dorian challenges the separation of artist and spectator, using subject matter informed by their own perspective as a non-binary person of color and an autodidact without a formal college education nor a strong alliance to any community. Their musical, performative and visual works have been presented in concert halls, galleries and performance spaces throughout Europe, the United States and Mexico.
Dorian Wood nació en Los Ángeles, de padres costarricenses. A través de su cuerpo corpulento y su voz distintiva, Dorian desafía la separación de artista y espectadorx, utilizando materia informada por su propia perspectiva como persona de color no-binaria y unx autodidacta sin educación universitaria formal ni una fuerte alianza a cualquier comunidad. Sus obras musicales, performativas y visuales han sido presentadas en salas de conciertos, galerías y espacios de performance en Europa, los Estados Unidos y México.
En Cuatro Patas continues the exploration of the politicized body, featuring feminist Latinx performance and media artists who ruminate on and fantasize alternative embodiments. The artists featured in this series dissolve boundaries between animal and human while exploring the transformational and pleasurable possibilities of the non-human figure. The series invites artists to take on the corporeality of the abject, the degraded, the non-human, the sub-human—the animal. En Cuatro Patas assumes other positions, realities and political imperatives that imagine a world otherwise. Through a series of four programs that include performance, film and video, artists from Los Angeles and Latin America will come together to mobilize the body through varied interventions. For many of the artists, it will be their first time performing in Los Angeles. En Cuatro Patas will launch in January 2018 as part of the Pacific Standard Time Festival: Live Art LA/LA organized by REDCAT and will continue throughout 2018.
En Cuatro Patas Performance Dates 
Saturday, Jan. 20
Thursday, May 24
Thursday, Oct. 11
Thursday, Nov. 15
En Cuatro Patas presenta artistas feministas Latinxs de performance y de medios que rumian y fantasean corporalidades alternativas. Los trabajos en esta serie disuelven las fronteras entre lo animal y lo humano y tambíen exploran las posibilidades transformacionales y plancenteras de la figura no humana. Esta serie invita a artistas a considerar la corporalidad de lo abyecto, lo degradado, lo no humano, lo infrahumano, lo animal. En Cuatro Patas asume posiciones y realidades alternativas e imperativos politicos que imaginan el mundo de otra manera. Los cuatro eventos que conforman esta serie incluirán performances, cine y video, y se realizarán en el Museo Broad. Por medio de esta serie, artistas de Los Ángeles y de América Latina se reunirán para movilizar el cuerpo a través de varias intervenciones. Los eventos comenzarán en enero de 2018 y son parte de Getty's PST: LA/LA Performance Series y continuarán durante todo el año.
Fechas de rendimiento de En Cuatro Patas
Sábado, 20 de enero
Jueves, 24 de mayo
Jueves, 11 de octubre
Jueves, 15 de noviembre
Read More