Learn About the DAP and How to Apply
The Diversity Apprenticeship Program (DAP) is an initiative by The Broad. It is made possible in part by the Institute of Museum and Library Services (IMLS). IMLS is a federal agency which provides library grants, museum grants, policy development, and research. Every year, a cohort of apprentices are selected for the DAP. Each apprentice participates in one month of paid training, and then continues to build on the skills they learned through eight months of paid hands-on work at partner sites across Los Angeles. Throughout, we provide personalized support for each apprentice as they build the skills and confidence to start a career in this field.
Application is currently closed.
What is a preparator or art handler?
A preparator or an art handler works directly with art or artifacts in museums, galleries, and art shipping companies. Usually, they pack and unpack art, install and de-install exhibitions, and move art around museum and storage spaces. Their duties and skills are wide-ranging.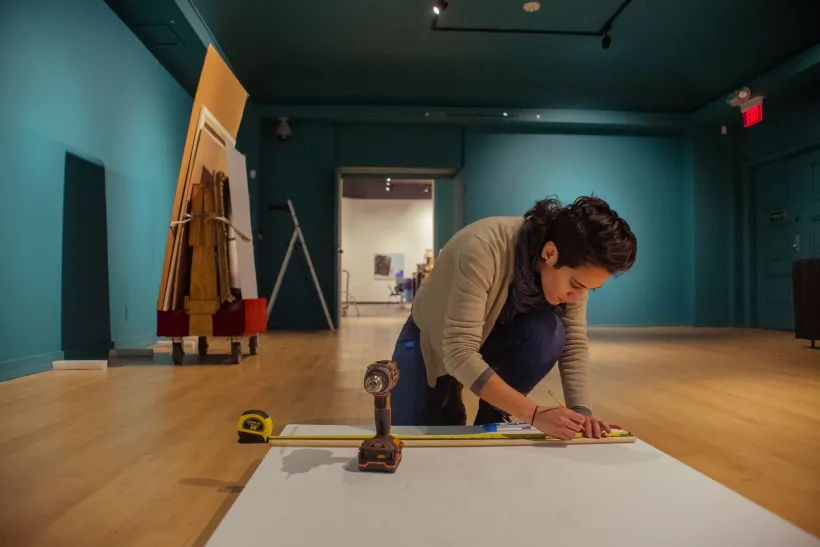 What does the DAP offer?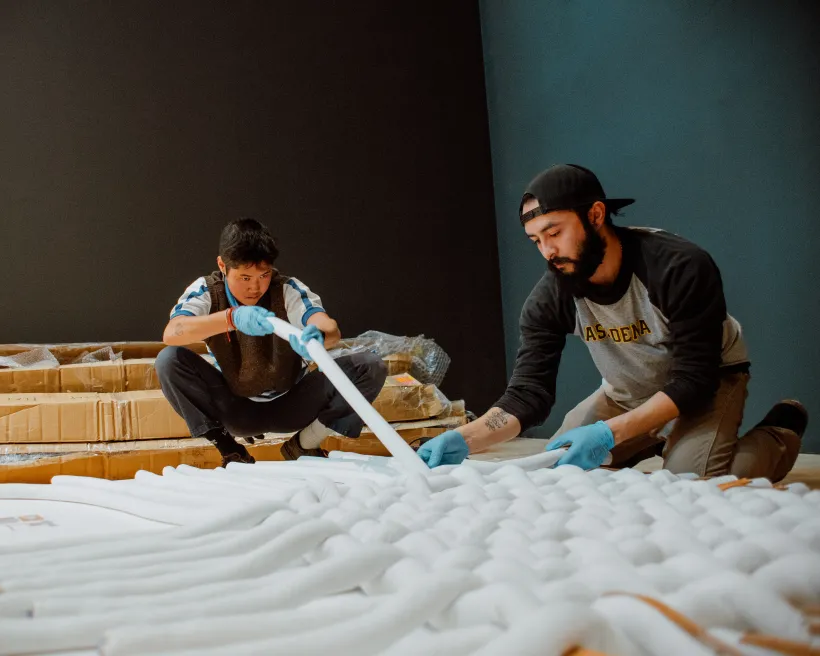 The DAP offers a nine-month, paid, full-time apprenticeship in preparation/art handling. We are especially committed to offering this opportunity to individuals from communities underrepresented on museum staffs.

The first month of the apprenticeship is a training period. During this time, you will learn a variety of skills, including how to pack, handle, and install artwork and artifacts. You will also learn how to maintain galleries, assist preparators (art handlers) and collections managers, properly use tools, and follow safety protocols. After this, you will rotate to at least three partner sites for hands-on work experience.
Read more
During this time, we will provide personalized support as you continue to build skills in art handling. You will also benefit from working closely with experienced mentors/supervisors and program staff, all of whom are committed to supporting your growth and skill development.

Together, apprentices will go on trips to museums and other cultural institutions. As an apprentice, you will receive diversity, inclusion, equity, and accessibility (DEIA) training to support you when navigating predominantly white workspaces. You will also have the opportunity to participate in career development workshops, such as resume and cover letter writing, and mock interviews. By the end of the nine months, you will be familiar with preparator and art handling practices. Throughout, apprentices will also provide feedback on their experience to help improve the program.
What skills or experience should an apprentice have?
Some of the basic skills required to participate as an apprentice include:
Good hand-eye coordination, manual dexterity, and spatial reasoning
Self-motivated, reliable, and focused
Ability to follow instructions and plan ahead
Basic math skills
Work well with supervisors and coworkers
Ability to perform physical tasks, including bending, kneeling, pulling, pushing, walking, standing for long periods of time, and lifting 50 pounds
We do not require previous preparator or art handler experience. Instead, we encourage those with a wide variety of experiences to apply.
For example, the following may translate well to the apprenticeship: food handling or preparation; landscaping or gardening; carpentry; cosmetology or hair styling; plumbing; welding; painting; factory experience; sewing; equipment technician; electrician; automotive/mechanic; tattoo artist; theater stagehand experience; maintenance work; housekeeping; construction (to cover drywall, tiling, roofing, etc.); arts and crafts; jewelry making; auto body work; waiting tables.
Other experiences may also translate. We encourage you to think broadly about the skills and capacities you bring as an applicant. Please include these in your application statement.
What are the commitments to participate in the DAP?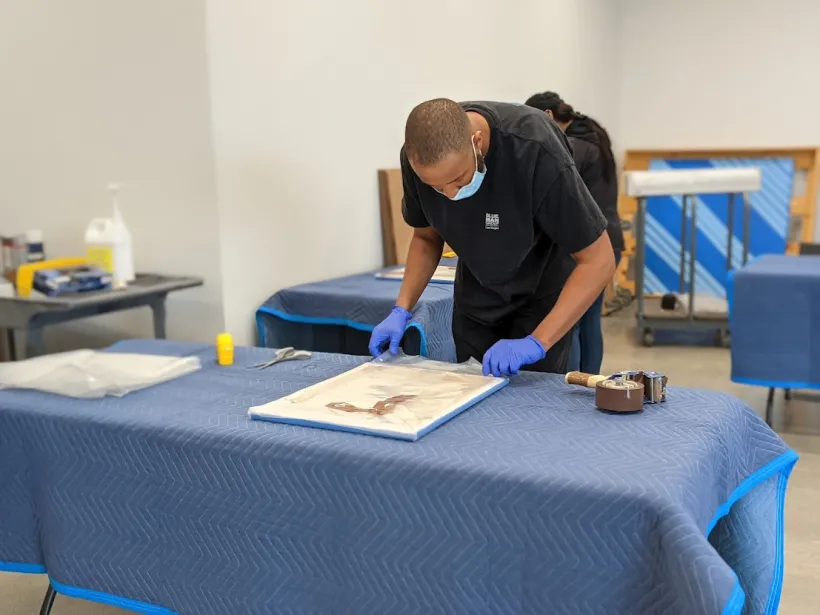 If selected for the DAP, participants must make a full-time commitment (40 hours per week) for the duration of the nine-month apprenticeship. Full-time students who are graduating before the start of the apprenticeship are eligible to apply. Preparator apprentices will typically work Monday through Friday during regular business hours. However, hours may vary depending on assignment and partner site. All activities and assignments take place in the greater Los Angeles area.
You must follow all policies and procedures as established by The Broad and its partner institutions during the apprenticeship. You will be working with people of diverse backgrounds and experiences, and you are expected to be respectful to the entire community.
Read more
You must participate in all program and assignment activities, including site-specific orientations, trainings, check-in meetings, conference opportunities, evaluation meetings, and special events.
If selected for the DAP, participants must commit to the following COVID health and safety guidelines:
All employees of The Broad are required to be vaccinated against COVID-19, subject to certain exemptions as required by law. All newly hired staff must show proof of their COVID-19 vaccination within 45 days of hire. Please contact Human Resources if you have questions regarding the COVID-19 vaccination policy.

Adhere to all safety measures and guidelines.

Ability to wear a mask during your scheduled work shifts.

Ability to adhere to a health screen in compliance with health and safety guidelines as outlined by LA County Department of Public Health.  

Must adhere to COVID-19 policies and procedures. 
Pay for a preparator's apprentice is $19.00 an hour. You will also be eligible for medical, vision, and dental benefits through The Broad for the duration of the apprenticeship.
What is the application process?
1. To apply for the DAP, submit an application. The DAP application requires personal and contact information, and short written statements. We are not looking at grammar or spelling in the written statements, but we are looking for a strong interest in becoming an art handler, physical work, and excitement to learn new skills. The DAP application also includes an optional demographic survey. Declining to fill out this optional survey will not impact your chances of being selected.
2. Applications are then reviewed by program staff and partners. Your application is reviewed on several factors, including: Your potential for success as an apprentice and previous experience you highlighted in your application written statements.
3. Interviews — If selected, applicants then move on to a phone interview with one program staff member or partner. Those applicants who do well on phone interviews move on to an in-person interview, which is conducted by a panel of program staff and partners. The interviews are additional opportunities for you to ask questions and get to know the program better, as well as for us to get to know you better.
4. Skills Tests — Applicants selected for in-person interviews will also be invited to take a basic skills test. The skills tests are designed to assess your skill level with certain physical characteristics that you need as an art handler. We also use this test to determine what support will be needed during training.
5. Background Check — Selected candidates are required to pass a background check. Background checks are not the deciding factor in selecting apprentices and we handle each one on a case-by-case basis.
Application Opens — February 1, 2023

Application Deadline — April 28, 2023

Interviews and Skills Tests — May 24–June 25, 2023

Selected Applicants Notified — Early July 2023

Apprenticeship Begins — Late July 2023

Apprenticeship Ends — April 2024
Note: Dates are subject to change.
All applicants must be 18 and older to apply. In compliance with federal law, all persons hired will be required to verify identity and eligibility to work in the United States and to complete the required employment eligibility verification document form upon hire. Employment is contingent upon a satisfactory background and reference check. Background checks are not the deciding factor in selecting apprentices and we handle each one on a case-by-case basis.
For questions about eligibility, please contact: