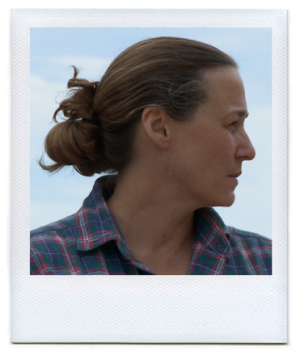 Sharon Lockhart
---
Artist Bio
Since the beginning of her career, Sharon Lockhart has offered subtle and carefully made imagery that both conceals and reveals its subjects. In her signature method, Lockhart stages a photograph, casting and setting each image as if it were a film. She focuses on every detail making up the whole. Distinct parts are meticulously presented, but without the intent of leading the viewer in any particular direction.
Completed over three years, Lockhart's Pine Flat film and photographic project documents the youth of a rural town in the Sierra Nevada Mountains. During the day, the community's adults commuted to work, giving the impression that the population consisted entirely of children. For her Pine Flat Portrait Studio series, 2005, Lockhart set up a black backdrop in a barn and photographed the children whenever they wanted—without sentimentality or nostalgia. Both a portrait and an ethnographic study, the installation slowly exposes the area's characteristics.
The portraits are accompanied by ten short films. The films use a fixed vantage point, instead of cuts and other devices of the medium, an idea found in the 1970s work of Andy Warhol and Hollis Frampton. Lockhart is interested in using film to reveal the unguarded structures of human experience itself rather than simply determining the nature of the medium.
Lunch Break Installation, "Duane Hanson: Sculptures of Life," 14 December 2002–23 February 2003, Scottish National Gallery of Modern Art, 2003, consists of four prints that capture the installation of a sculpture by artist Duane Hanson. In these photographs, Lockhart moves around the sculpture, in each image capturing the work from different perspectives. Three of the figures are part of the artwork and remain unchanged in each image, while the two workers installing the piece are at first easily confused with the life-like sculpture. 
---