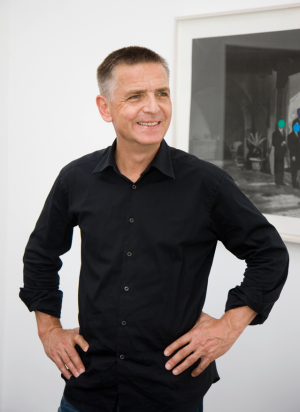 Photography by Dominik Asbach
Andreas Gursky
---
Artist Bio
Andreas Gursky is perhaps the best-known member of a loose association of German artists under the tutelage of the conceptual photographers Bernd and Hilla Becher. Gursky's photos feature scenes involving enormous amounts of information. Subtly enhancing and adjusting the structure of the overwhelming visual settings, Gursky allows viewers to assimilate and consume more than we are usually able with our eyes alone. His images are symbols of both contemporary life and the classical need for order.
Gursky began digitally manipulating his prints as new photographic technologies were invented. Some technologies, including a framing system to hold large, face-mounted photographs attached to Plexiglass, Gursky even helped develop. Contained in such a frame, 99 Cent, 1999, is one of Gursky's most iconic works and a clear example of his alteration of images for a totalizing effect. Modifications like the arrangement of the store's product aisles and the addition of a mirrored roof flatten the image and emphasize an imposed formalist structure. The viewer must accept the (unknown) inauthentic qualities of the scene within a seemingly objective recording of our world.
F1 Boxenstopp, 2007, features four monumental images. Brilliant colors and compositional arrangement codify the flurry of organized but frantic activity of a Formula One pit row. The pit crews, placed underneath a long row of spectators, give the photographs a serene, tranquil balance despite the intense, frenzied event. The result is a typical Gursky effect, a detached aesthetic view of a spectacle that manages to retain its visual stability.
---