For Families

Families Visiting The Broad
We are committed to providing a fun and engaging experience with materials and guides created for families and children of all ages.
Mobile Museum Guide
The "For Families" guide in our mobile museum guide has fun art-themed activities, including a scavenger hunt and a free audio tour, Looking with LeVar. This tour is narrated by award-winning actor, director, and education advocate LeVar Burton, and is fun for all ages! All tours on the mobile museum guide include audio transcripts.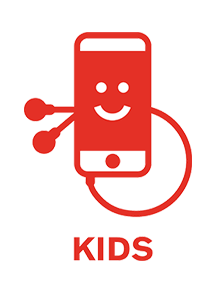 Look for artworks with this symbol to listen to family-friendly information about the work on the tour. All tours on the mobile museum guide include audio transcripts.
Family Weekend Workshops
Currently we are not offering Family Weekend Workshops. Families can still enjoy art activities inspired by artists in the Broad collection. Watch The Broad's Let's Make Art! Family Workshop at Home series to find step-by-step instructions for creating a variety of artworks using everyday materials. 
Tips for Families
Strollers: Standard strollers are welcomed. We also offer free strollers for check-out in the lobby on a first-come, first-served basis.
How to Keep the Artworks Safe: Art is for your eyes and not your hands–artworks should not be touched, and we recommend keeping a two-foot distance from artworks.
Feeding for Babies and Kids: Baby bottles are permitted in the galleries. No other food/drink is allowed in the museum. When it is time for a snack, head outside to the East West Bank Plaza at The Broad and return when you're ready for more exploring in the galleries!
Social Narrative: Review our social narrative before your trip to the museum. This can prepare your child for what to expect. See how to enter the museum, who you may meet, and the different ways to get to our galleries.
Chat with Us: Have a question during your visit? Use live chat or text us at 213-232-6280. You can also talk to any Visitor Experience Team Member during your visit! They are here to answer questions about the artwork, protect the art, and help you navigate the museum.
Breaks: Add breaks to your visit. Enjoy the East West Bank Plaza at The Broad outside of the museum and relax under the shade of our olive trees. Re-entering the museum is easy—show your ticket at the front doors and come back for more art!
Additional Information about Artworks on View
A few artworks on view have extra auditory and visual elements. Visitors who are uncomfortable with flashing lights and/or dark, enclosed spaces should bypass these artworks.
FIRST FLOOR
Yayoi Kusama's Infinity Mirrored Room—The Souls of Millions of Light Years Away (2013)
This installation is a mirror-lined room with flashing LED lights. Visitors physically enter a dark, enclosed space through a door that closes during the one-minute experience. Visitors may exit before their time ends.
THIRD FLOOR
Kara Walker's Testimony: Narrative of a Negress Burdened by Good Intentions (2004)
Located inside a small, dimly lit room that resembles a theater, Testimony: Narrative of a Negress Burdened by Good Intentions is an audio-less video work that is projected on the wall.
Yayoi Kusama's Longing for Eternity (2014)
Viewers can peer through porthole-like windows into a flashing LED light–filled hexagonal chamber.