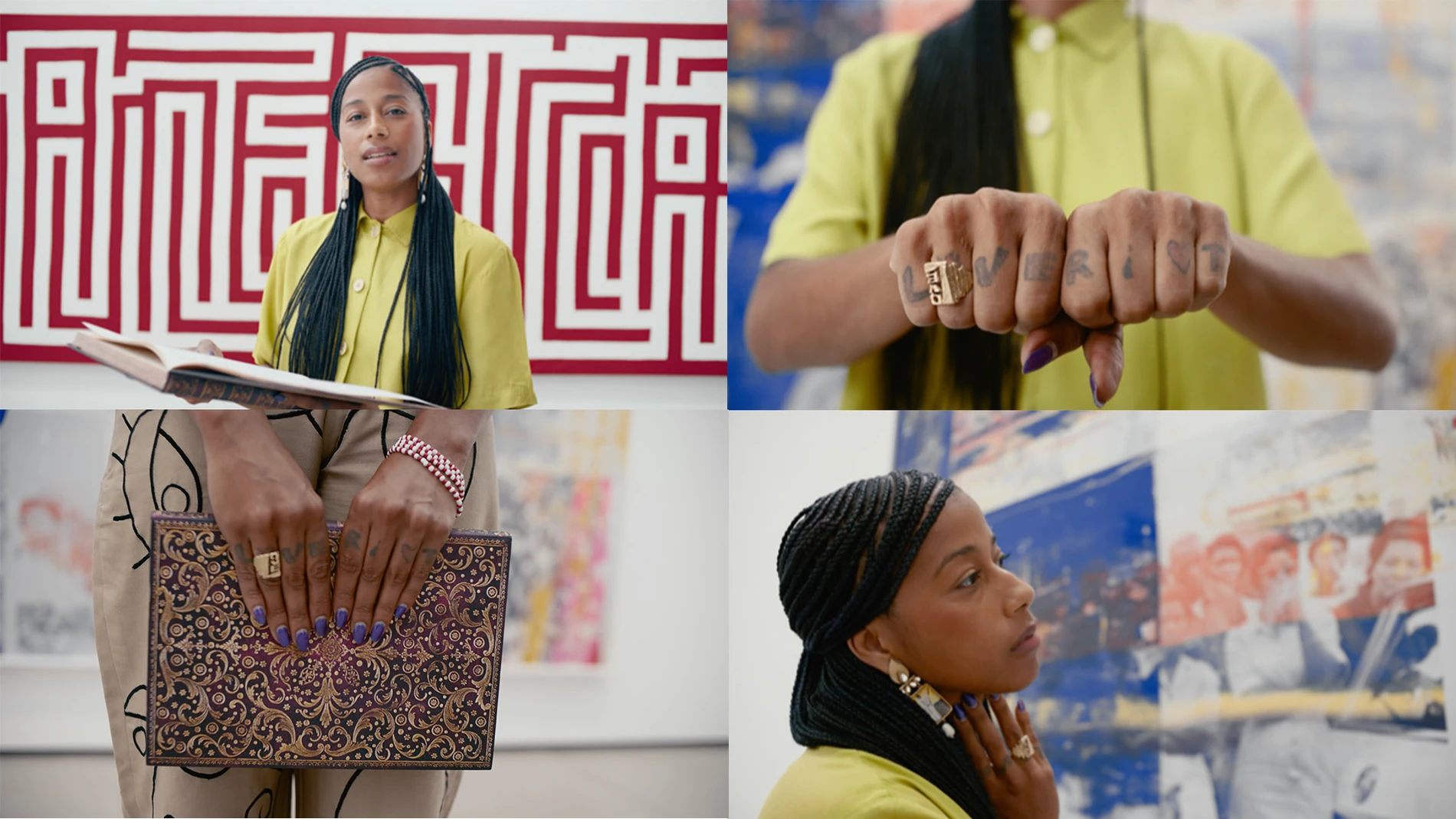 Performance
When the Earth is a Hand Written Letter From the Past: Juneteenth 2023
In commemoration of Juneteenth, a federal holiday which honors African American heritage by marking the 1865 announcement of the abolition of slavery in Texas, we have just released a new video in which poet, storyteller, and organizer aja monet recites powerful poetry in The Broad's galleries. Her performance takes place among works by David Hammons and Hank Willis Thomas, and while monet's poems were not written in response to the artworks, the resonance with her poems "Every Media Minute," "The Devil You Know," and "Untitled," is palpable.
David Hammons's artwork Untitled (2014) uses a gold-framed mirror covered in black fabric to suggest that society is intentionally avoiding or ignoring issues related to class and race. Thomas's piece America (2021) dismantles and rearranges the US flag to spell out the word "America," drawing attention to the deep-seated inequalities present in the nation's history and current state, while his We shall not be moved (2022) shares a title with the African American protest song dating to the early 19th century American south.
when the earth is a hand written letter from the past
a ghost sculpted in blood, city sweating bitter memories
flooded by crawling maggots and swollen hurt
how, how the sewers sing of old sidewalks
and cool breezes are our fairytales we spoon feed our children in the heat
—Excerpt from "The Devil You Know" by aja monet
---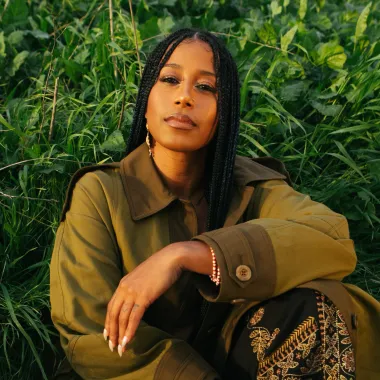 aja monet
aja monet's debut poetry album, when the poems do what they do was released on June 9, 2023, on drink sum watr, a new Secretly Canadian imprint. Collaborators on the album include esteemed musicians Lonnie Holley, Christian Scott, Marcus Gilmore, Samora Pinderhughes, Weedie Braimah, and more. monet is a surrealist blues poet, storyteller, and organizer born and raised in Brooklyn, NY. She won the legendary Nuyorican Poets Cafe Grand Slam poetry award title in 2007 and follows in the long legacy and tradition of poets participating and assembling in social movements. Her first full collection of poems is titled My Mother Was a Freedom Fighter (Haymarket Books). Her poems explore gender, race, migration, and spirituality. In 2018 she was nominated for an NAACP Literary Award for Poetry and in 2019 was awarded the Marjory Stoneman Douglas Award for Poetry for her cultural organizing work in South Florida. monet cofounded a political home for artists and organizers called Smoke Signals Studio. She facilitates Voices: Poetry for the People, a workshop and collective in collaboration with Community Justice Project and Dream Defenders. She is currently working on her next full collection of poems entitled, Florida Water. aja monet also serves as the new Artistic Creative Director for V-Day, a global movement to end violence against all women and girls.
Photo Credit: Fanny Chu