#thebroadfromhome | Workshop
The Broad To Go: Pop Art
In partnership with Touch Art Supply in Highland Park, 1,400 students received a Pop Art-themed art kit through The Broad's non-profit arts education partners, Inner City Arts, 826 LA, Greetings from South Central, and School on Wheels.
View and download a free PDF of the art cards from the kit in English or Spanish. The art cards feature an art activity and prompts inspired by Broad collection artists Andy Warhol, Roy Lichtenstein, and Takashi Murakami.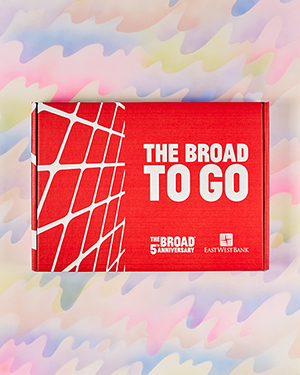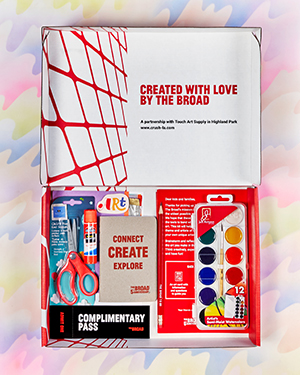 Photos of The Broad To Go art kit by Touch Art Supply
---
"The Broad To Go" art kits were created so that kids could be creative, experience The Broad from home, and get much-needed art supplies while school buildings were closed in 2020.
Inspired by Broad collection artists, each art kit contains art supplies, a journal, free museum passes, and art cards in English and Spanish that offer art activities and questions to develop each student's critical thinking skills.
Partners
The Broad is proud to partner with Touch Art Supply and non-profit organizations that are vital to families in Los Angeles and for advancing arts education.
Learn more about our community partner organizations 826 LA, Greetings from South Central, Inner City Arts, the Los Angeles Public Library, and School on Wheels.
Read More