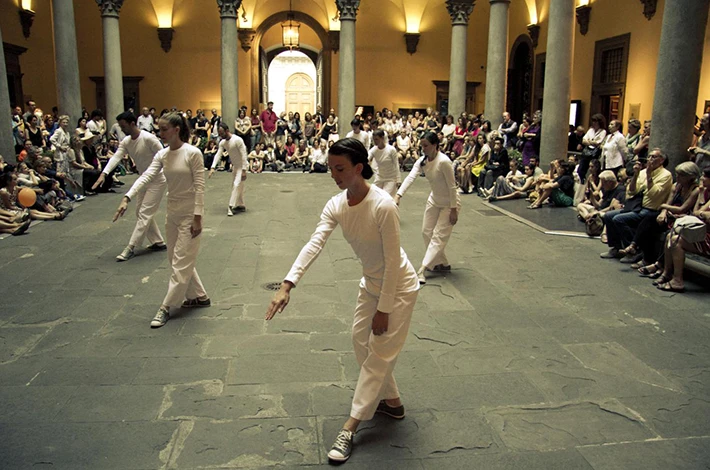 Talk
In Plain Site: Los Angeles | Conversation with Elizabeth Diller, Susan Rosenberg, + Kristy Edmunds
To kick off Trisha Brown Dance Company's weeklong Los Angeles residency organized by CAP UCLA, The Broad is pleased to present a conversation between architect Elizabeth Diller, principal-in-charge of The Broad's design, and Susan Rosenberg, Consulting Historical Scholar at TBDC, moderated by Kristy Edmunds, Executive and Artistic Director of CAP UCLA. Diller, Rosenberg, and Edmunds will discuss the play between architecture, dance and visual art in both Brown's and Diller's respective creative practices. The conversation will also explore how Brown's choreography shaped the experimental performances of the 1970s and '80s New York, which in turn influenced Diller's approach to architecture and design.
A book signing with Susan Rosenberg will take place after the discussion. Trisha Brown: Choreography as Visual Art (Wesleyan, 2016) will be available for purchase at the program.
Please note that The Broad galleries are closed to the public on Mondays. Doors to this program will open at 7 p.m. Bring your ticket for this program to The Broad and skip the line for general admission entry without advance reservation between March 3 - 10.
---
About Trisha Brown Dance Company
"No choreographer who has come along in the last 30 years has done half as much to extend our idea of what dance can be."
-          New York Times 
Trisha Brown Dance Company has presented the work of its legendary artistic director for over 40 years. Founded in 1970 when Trisha Brown branched out from the experimental Judson Dance Theater to work with her own group of dancers, TBDC offered its first performances at alternative sites in Manhattan's SoHo. The repertory has grown from solos and small group pieces to include major evening-length works and collaborations between Ms. Brown and renowned visual artists.
Recognized as one of the greatest dancers and choreographers of her time, Trisha Brown's role as the curator of her own work remains one of her most significant, if unacknowledged, contributions to dance and art history. With a new program, In Plain Site, TBDC brings this facet of Brown's vision to the foreground as a means to perpetuate her legacy into the future.
About Elizabeth Diller
Elizabeth Diller is a founding Partner of Diller Scofidio + Renfro, an interdisciplinary design studio that works at the intersection of architecture, the visual arts, and the performing arts. With Ricardo Scofidio, Diller was the first in the field of architecture to receive the "genius" award from the MacArthur Foundation, which stated, "their work explores how space functions in our culture and illustrates that architecture, when understood as the physical manifestation of social relationships, is everywhere, not just in buildings." DS+R established its identity through independent, theoretical, and self-generated projects before coming to international prominence with two of the most important planning initiatives in New York: the High Line, and the redesign of the Lincoln Center for the Performing Arts campus. In addition to The Broad, Diller is Principal-in-Charge of The Shed, a new center for artistic invention, and the renovation and expansion of MoMA, both in New York. Diller graduated from the Cooper Union School of Architecture in 1979, and taught at the school from 1981-1990. She is a Professor of Architecture at Princeton University. Diller is a recipient of the Smithsonian Institution's National Design Award, the Lifetime Achievement Award from the National Academy of Design, and the Brunner Prize from the American Academy of the Arts and Letters. She is a Fellow of the American Academy of Arts and Sciences, and International Fellow of the Royal Institute of British Architects. In 2013, Diller was awarded the Barnard Medal of Distinction, and DS+R was presented a Centennial Medal of Honor from the American Academy in Rome. Diller was selected by Time magazine as one of the "100 Most Influential People in the World."
About Susan Rosenberg
Susan Rosenberg is Consulting Historical Scholar at the Trisha Brown Dance Company. She is Associate Professor of Art History at St. John's University and earned a doctorate from the Institute of Fine Arts, New York University. As a graduate student she served as a research assistant contributing to publications, exhibitions and public symposia at the New Museum of Contemporary Art, the Whitney Museum of American Art, the Brooklyn Museum and the Philadelphia Museum of Art. She was Assistant Curator of Modern and Contemporary Art at the Philadelphia Museum of Art (1999-2003) and Associate Curator of Modern and Contemporary Art at the Seattle Art Museum (2003-2006). In these positions, she was responsible for exhibitions, installations, acquisitions, and publications of international, national and local dimensions. In Philadelphia she participated in a major reinstallation of the modern and contemporary art collection following gallery renovations – and contributed the collections' first published catalogue. In Seattle she contributed to strategic planning in the areas of artistic commissions, acquisitions and educational programming for a planned outdoor sculpture park and expanded museum facility.
Dr. Rosenberg's most recent book, Trisha Brown: Choreography as Visual Art (Wesleyan University Press) received the CAA's summer 2015 Meiss/Mellon Author's Book Award. Her writings have appeared in numerous international academic journals and museum catalogues, among them October, TDR, and most recently, Nancy Graves Projects, (Ludwig Kunstforum, Aachen German); Minimalisms: 1960s-1980s (at the Carre d'Art-Musee d'Art, Nimes, in celebration of the 40th anniversary of Centre Pompidou, Paris); and in the anthology Spacescapes: Dance & drawing (Zurich: J.P. Ringer).
About Kristy Edmunds
As an artist, curator, artistic director and frequent consultant internationally, Kristy Edmunds holds a reputation for innovation and depth in the presentation of contemporary art in all disciplines, with a particular emphasis on contemporary performing arts. Under Edmunds leadership since 2011, UCLA's venerated performing arts program (known for a decade as UCLA Live) evolved to become Center for the Art of Performance (CAP UCLA), a creative habitat for supporting artists and presenting their work.
Edmunds was the Founding Executive & Artistic Director of the Portland Institute for Contemporary Art (PICA) and the TBA Festival (Time Based Art) in Portland, Oregon. She was the Artistic Director for the Melbourne International Arts Festival from 2005-2008; the first to serve an unprecedented four year term. Upon completion she was appointed to the Victorian College of the Arts as the Head of the new School of Performing Arts at the University of Melbourne, and after one year became the Deputy Dean for the College. Upon her resignation in 2010, Edmunds was awarded as an Honorary Professorial Fellow of the University. From 2009-2012 Edmunds also served as Consulting Artistic Director for the newly formed and critically heralded Park Avenue Armory in New York. Edmunds' robust career has included work as a visual artist, an independent filmmaker, a playwright, a choreographer and a teacher. She holds a bachelor's in film direction from Montana State University and a master's in playwriting and theater direction from Western Washington University.
About In Plain Site: Los Angeles
In collaboration with the Trisha Brown Dance Company and select L.A. area museum and gallery spaces, CAP UCLA has initiated a week-long series of intimate performances that enable audiences to experience the arc of Brown's choreographies in a non-theatrical framework. As part of CAP's ongoing programming that explores the collaborative intersections in the Visual & Performing Arts (with major support from the Mellon Foundation), they have initiated a number of collaborations with partnering institutions, including The Broad, in order to trace her choreographic exploration of sculpture, architecture, and spatial design in a reframed dialogue within our visual art and museum culture.
Look for the detailed performance schedule closer to the event at http://cap.ucla.edu/calendar/details/trisha_brown_17. Some events will be free and open to the public. Others, due to space constraints, will be ticketed. 
Co-presented with CAP UCLA, The Getty Center, Hauser Wirth & Schimmel, and LACMA
---