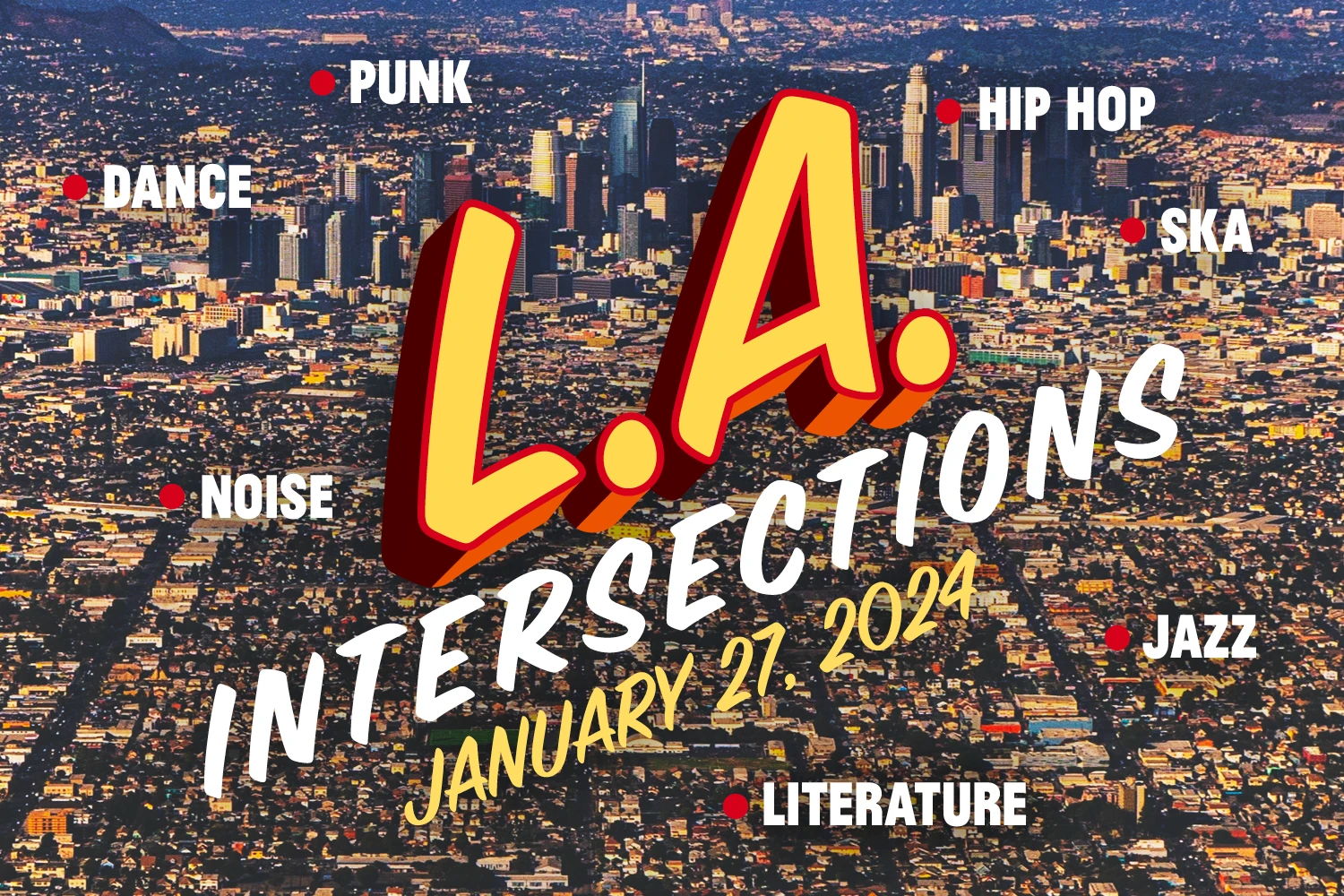 Join us after hours at The Broad for L.A. Intersections, a two-part festival-style series celebrating organic music and spoken word scenes that have emerged in Los Angeles including punk, jazz, rap, noise, and the culturally infused experimentation led by a new generation of Filipinx artists. We've gathered iconic performers who shaped Los Angeles culture through The Desolation Center events, which inspired Burning Man, Lollapalooza, and Coachella; The World Stage, which has kept the language of jazz thriving for generations of musical and literary artists in South LA; The Good Life Cafe, which became synonymous for community within our grassroots hip hop and rap scenes; and Cathay De Grande and Raji's, the city's raucous punk clubs. Added to this eclectic mix are Filipinx artists whose contributions to the performance landscape of Southern California over the past decade look at spectacle and experimentation through an indigenous lens by exploring the relationships between settler colonialism, migration, and the Filipinx diaspora. Experience stages on two floors of the museum featuring live music, movement, and readings, check out the collection exhibition Desire, Knowledge, and Hope (with Smog) featuring 21 local artists, and catch the artist performance interventions in the galleries. L.A. Intersections presents the musicians, writers, and movement artists who have helped position Los Angeles at the vanguard of cutting-edge culture.
Live music by Myka 9 and Aceyalone of Freestyle Fellowship, Carlos Niño & Friends featuring Idris Ackamoor and Nate Mercereau, and Pedestrian Deposit; readings by Keith Morris (Black Flag, Circle Jerks, Off!) and Mike Watt (Minutemen); a slideshow of punk queen Pleasant Gehman's club flyers and pages from her Lobotomy Fanzine; a vocal performance by Micaela Tobin AKA White Boy Scream in the galleries; and more soon to be announced!
L.A. Intersections is organized by The Broad with a curatorial advisory committee comprising Jeffrey Boxer, Kamau Daaood, Pleasant Gehman, Michael Grodner, Medusa the Gangsta Goddess, and Stuart Swezey.
L.A. Intersections: Music, Language, Movement was originally conceived as a way for audiences to return virtually to The Broad and rediscover the joy of connecting with visual art and performers during the height of the COVID-19 pandemic. The three-part video series celebrates a diverse and vibrant array of Los Angeles-based musicians, poets, and dancers who activate the architecture and distinct physical spaces within the museum.
---
know before you go
Event is all ages. Doors at 8pm.
Please note this event is standing room only with the exception of ADA seating. Capacity for the various performances is limited and available on a first-come, first-served basis throughout the museum. A ticket does not guarantee access to all performances.  
Tickets include access to Desire, Knowledge, and Hope (with Smog)  and The Broad's third floor galleries during the event. Please note that Yayoi Kusama's Infinity Mirrored Room—The Souls of Millions of Light Years Away will not be open during the event. 
For information on our current health and safety policies, visit Know Before You Go & FAQ. Visitor policies are subject to change.
Get Tickets
---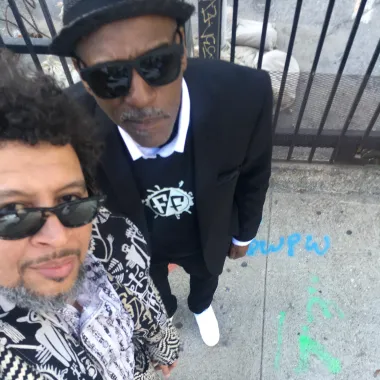 Aceyalone and Myka 9 of Freestyle Fellowship
Edwin Maximilian "Eddie" Hayes, Jr. (born September 30, 1970), better known by his stage name, Aceyalone, is an American rapper from Los Angeles, California. He is a member of Freestyle Fellowship (with Myka 9, Self Jupiter, and P.E.A.C.E.), Haiku D'état, and The A-Team. Freestyle Fellowship developed a reputation for influencing a style of fast double-time rap used by rappers like Busta Rhymes, Bone Thugs-n-Harmony, and Migos. He is also a co-founder of Project Blowed, considered to be the longest-running open mic hip-hop workshop. Aceyalone is best known for his role in evolving left-field hip-hop on the West Coast at a time when the West Coast was dominated by gangsta rap and has been noted particularly for his innovative lyrical style and content. Myka 9 as an underground hip-hop mc extraordinaire with jazz and dancehall flavorings in his vocalese prowess has become through the years a pillar in the Los Angeles community of music and positive creation in general. His art activism has inspired countless others to pursue a more open approach in the spirit of improvisation as a pioneer of freestyle rap fusion. Known for his work with the Grammy award nominated freestyle fellowship, haiku d'é tat, and project blowed. In general, Myka 9 has maintained relevance by consistently putting out a variety of different music, projects, performances, and videos. He's been highlighted in books, Ava DuVernay's documentary film, This is the Life, and the Netflix series, Hip Hop Evolution. In short, it's been said, "Myka 9 is one of your favorite emcee's favorite emcee." Favorite emcee Myka likes to say, "it's all love!"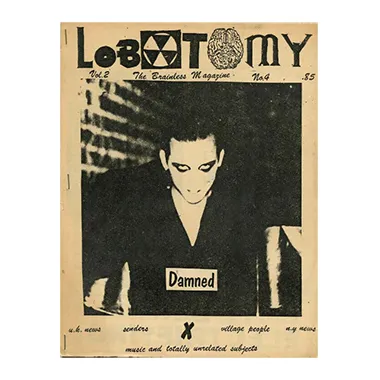 Pleasant Gehman's Punk Flyers and Lobotomy Fanzine Slideshow
In the Lobby of The Broad, don't miss a slideshow featuring dozens of flyers for punk shows that Pleasant Gehman booked at seminal clubs Cathay De Grande and Raji's in the 1980s as well as images from her fanzine Lobotomy, published from 1978 to 1982 covering such artists as Mumps, Damned, Go Go's, Billy Idol, Blondie, Generation X, The Cramps, and so many more.
Photo: Lobotomy: The Brainless Magazine, Vol. 2, No. 4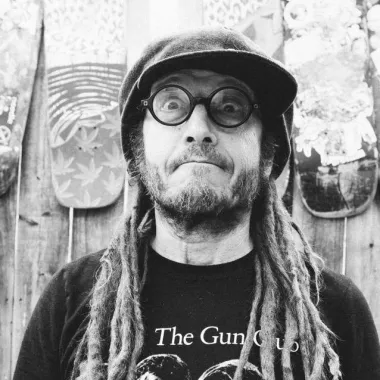 Keith Morris
Keith Morris is an American singer and songwriter known for his role as frontman of the hardcore punk bands Black Flag, Circle Jerks, and Off!. Born and raised in Hermosa Beach, California, he formed Black Flag at the age of 21 with guitarist Greg Ginn and performed on the band's 1979 debut EP Nervous Breakdown. Shortly after leaving Black Flag in 1979, he formed the Circle Jerks with guitarist Greg Hetson; the band released seven albums between 1980 and 1995 and have broken up and reformed on numerous occasions. In 2009 Morris formed the supergroup Off! with guitarist Dimitri Coats, bassist Steven Shane McDonald, and drummer Mario Rubalcaba, and has appeared as a guest vocalist on several albums by other artists. Morris's book My Damage: The Story of a Punk Rock Survivor (Da Capo Press, 2016) is his contribution to setting the record straight about his involvement in the LA punk scene.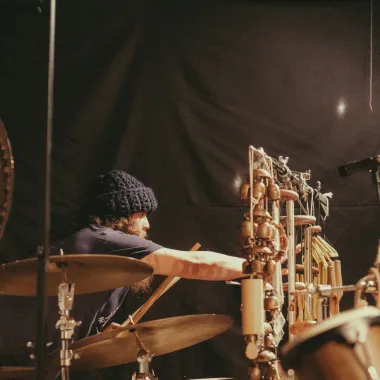 Carlos Niño & Friends featuring Idris Ackamoor and Nate Mercereau
Based in Topanga Canyon, California Carlos Niño is an album producer, percussionist, composer, arranger, and DJ with an extensive body of work that he most often refers to as Spiritual Improvisational Space Collage Music. Niño is primarily known for leading his ensemble Carlos Niño & Friends through live "sonic journeying" and highly creative and collaborative studio sessions. Other notable projects that Niño has been involved with include the spiritual jazz group Build An Ark (active 2001 - 2011), Hu Vibrational (with his mentor Adam Rudolph), Ammoncontact (active 1998 - 2005), his duet projects with fellow Angelino Miguel Atwood-Ferguson, and producing extensive releases for great Independent labels International Anthem Recording Company and Leaving Records with Jamire Williams, Deantoni Parks, Photay, Thandi Ntuli, and others. Carlos Niño was a Host and DJ on KPFK 90.7FM Los Angeles from 1995 - 2015 and was among the founding Dublab DJs (active 1999 - 2019). Idris Ackamoor is a hugely prolific and inspirational San Francisco based saxophonist, multi-instrumentalist, composer, actor, tap dancer, producer, administrator, and Visionary. He is also artistic director of the beloved Afro-Futuristic jazz ensemble The Pyramids. Nate Mercereau is a songwriter, producer, guitarist, multi-instrumentalist, and Wizard who has released numerous albums under his name, and has produced and or played on records by Carlos Niño & Friends, Leon Bridges, Jay-Z, Shawn Mendes, Lizzo, St. Panther, Ruston Kelly, The Weeknd, and many more.

https://cnfarchive.space/
https://www.discogs.com/artist/857497-The-Pyramids-3
https://www.natemercereau.com/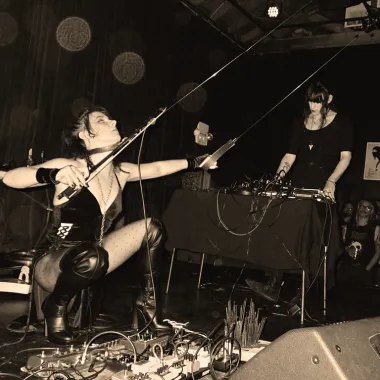 Pedestrian Deposit
Reverse tension, abrasive composition. The collaborative work of Shannon A. Kennedy and J. Borges is best described as visceral and narrative; highly composed, often abstract sound textures informed by elements of experimental sound, harsh noise, musique concrete, neo-classical, dark ambient, and performance art -- but is not beholden to any one genre. Borges' use of crude yet disciplined electronics, tape loops, field recordings, and controlled feedback manipulation contrasts Shannon's use of self-designed, physically activated sculptural instruments made of wood, industrial scrap metal, strings, and springs, and extended bowing techniques; resulting in music that is both raw and refined. J. Borges began Pedestrian Deposit in the Winter of 2000, with the primitive concept of combining layers of electronic sound with no pre-determined relation to one another until mixed. The project slowly evolved to incorporate elements and hybrids of harsh noise, tape collage, field recordings, and ambient music with a specific emphasis on extreme contrast, resulting in a prolific few years of rich and dynamic compositions on such labels as Hospital Productions, Hanson Records, and Borges' own Monorail Trespassing label, to name a few. In the fall of 2008 PD became a duo, with the addition of multi-instrumentalist and visual artist Shannon Kennedy; and her elements of cello, violin and amplified, bowed and manipulated music sculptures. They have consistently toured the United States nearly every year since, placing an emphasis on the development and evolution of physical, psychological, and organic live performance. PD has appeared at such events as Summer Scum 2023; the 2014, 2015 and 2019 Ende Tymes festivals in Brooklyn, NY; the 2017 Recombinant Festival in San Francisco NY; the 2016 Click Festival in Helsingør, Denmark; the 2015 LUFF festival in Lausanne, the 2013 Milwaukee Noise Festival in Milwaukee; the 2010 Activating The Medium festival in San Francisco, CA; and the 2009 No Fun Fest in Brooklyn, New York in addition to innumerable venues, galleries, halls, bars and alternative spaces in the U.S., Canada and Europe. In 2010, they appeared in Alexander Mirecki's feature film, All Together Now, in performance as themselves.
Photo: Suraj Patra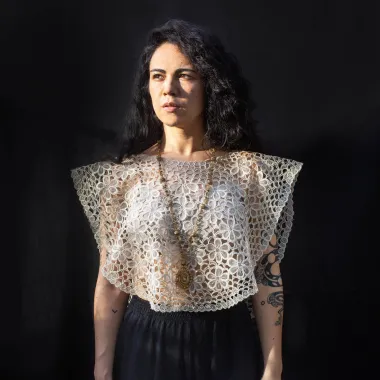 Micaela Tobin AKA White Boy Scream
Micaela Tobin is a soprano, sound artist, and teacher based in Los Angeles, CA who specializes in experimental voice and contemporary opera. Composing under the moniker White Boy Scream, Tobin dissects her operatic and extended vocal techniques through electronics, oscillating between extreme textures of noise, drone, and choral sound-walls. Her work challenges colonial stories and systems, and explores her diasporic identity as a first-generation Filipino-American woman. Her most recent full-length album, BAKUNAWA includes elements of sonic ritual, Filipino myth, and ancestral memory. Tobin premiered the cinematic adaptation of the album through REDCAT in May 2021. In July 2023, she premiered her second opera, titled APOLAKI: Opera of the Scorched Earth, which will be adapted into her next release. Micaela Tobin is currently a voice teacher on faculty at the California Institute for the Arts and teaches through her private studio, HOWL SPACE.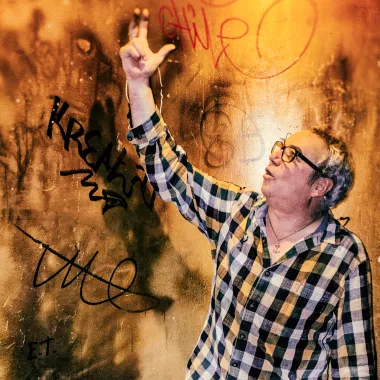 Mike Watt
Mike Watt is well known as the bassist and vocalist for the Minutemen, which he formed in 1980 in San Pedro, CA with D. Boon (vocals, guitar). Minutemen released four studio albums and numerous EPs and were included on many compilations. Joe Strummer of The Clash listed Minutemen as one of the ultimate punk bands along with Ramones, Television Personalities, and Buzzcocks. The documentary We Jam Econo (The Story Of The Minutemen) was released in 2005. Watt has released several solo albums and played with many other bands including the Stooges for over 10 years, fIREHOSE, Unknown Instructors, Big Walnuts Yonder, Banyan, Porno for Pyros, J Mascis + The Fog, Tav Falco, Flipper, SLW cc Watt, and speilgusher with Yuko Araki (drums) - Hirotaka "Shimmy" Shimizu (guitar) and Richard Meltzer (voice). He has written and recorded three operas, and he appears with Mike Kelley in Raymond Pettibon's film Sir Drone (1989). Watt's book of Minutemen era lyrics and journal entries, Spiels Of A Minuteman (2003), includes essays by former SST co-owner Joe Carducci, Thurston Moore, and Blue Öyster Cult lyricist Richard Meltzer, as well as illustrations by Raymond Pettibon that had been used in all of the Minutemen's album artwork. His second book, Mike Watt: On and Off Bass (2012), is a photo memoir featuring photos taken by Watt coupled with excerpts from Watt's Stooges tour diaries mixed with free verse poems. Mike Watt also contributed a chapter to John Doe's memoir, Under The Big Black Sun: A Personal History of L.A. Punk (2016).
Photo: Martin Styblo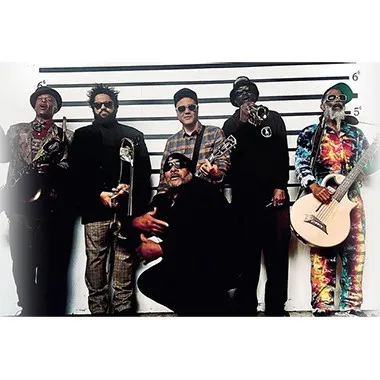 Fishbone
With the classic early '80s lineup now firmly in place, Fishbone is on a mission to reclaim its rightful spot among the rock-n-roll elite. Founded in 1979, Fishbone quickly claimed their spot at the table with their 1983 self-titled release that included fan favorites like "Party at Ground Zero" and "Ugly," followed in 1988 with their groundbreaking, critically acclaimed full-length Truth and Soul album which featured "Freddie's Dead," the band's first big hit on MTV. Since then, Fishbone has gone on to release nine more albums garnering major radio airplay and has made multiple appearances in various movies as well as performing live on Late Night with Jimmy Fallon. The documentary Everyday Sunshine: The Story of Fishbone, written and directed by Lev Anderson and Chris Metzler and narrated by actor Laurence Fishburn, premiered at the 2010 Los Angeles Film Festival.
Photo courtesy of the artist
Jeff Boxer
A native Angelino, Jeff Boxer has long engaged with creative cultures, whether sound, words, or visual. A photographer and a lawyer who often works in the fine art space, he prides himself on exploring all that Los Angeles offers—and especially its many former punk clubs. His favorite quote today is from Aquinas, "The things we love tell us who we are."
Kamau Daaood
Kamau Daaood was honored with the California Art Council 2023 Legacy Fellowship for decades of creative excellence. An LA native, he is best known as a powerful performance poet whose early nurturing began in the late 1960s at the Watts Writers Workshop and as a member of The Pan Afrikan People's Arkestra. Among his crowning accomplishments was the co-founding the World Stage Performance Gallery with Master Drummer Billy Higgins 36 years ago, an institution which is still serving the Los Angeles community today. Daaood is the author of The Language of Saxophones: Selected Poems of Kamau Daaood (City Lights, 2005) and Notes D 'un Griot De Los Angeles (Le Castor Astral, 2012), published during his artist residency at L'Universite Michel de Montaigne in Bordeaux, France. Daaood recorded the critically acclaimed CD Leimert Park (M.A.M.A. Records, 1997), and he has been the subject and featured poet in several documentaries, including Life is a Saxophone produced by S. Pearl Sharp (1984); the PBS documentary Race is the Place (Paradigm Productions, 2005); and Leimert Park: The Story of a Village in South Central LA by Jeannette Lindsay (DVD, 2008). More recently, he appeared in And When I Die I Won 't Stay Dead, a film about Bob Kaufman by filmmaker Billy Woodbury (2016). Kamau Daaood is featured on 2022 CD release of The Gathering /Healing Suite on The Village records.
Pleasant Gehman
Pleasant Gehman is a writer, dancer, actor, musician, painter, show producer, punk rock historian, and tarot reader. She arrived in Los Angeles in 1975 and became a fixture in the nascent punk scene. Her fanzine Lobotomy, published from 1978 to 1982, lead to writing for LA Weekly, Los Angeles Magazine, and national and international music publications. During the 1980s, Gehman was the talent booker at seminal clubs Cathay De Grande and Raji's, booking artists including Nirvana, Screamin' Jay Hawkins, Hole, The Bangles, The Blasters, and more. For thirteen years, her band The Ringling Sisters produced annual holiday fundraisers at The Palace to benefit the children at Hollygrove Orphanage. These shows included spoken word and dance as well as live music, featuring artists such as poet Jim Carroll, Henry Rollins, X, and The Gun Club's final show. Also known as Princess Farhana, Gehman currently co-produces Belle, Book and Candle, a unique monthly event at El Cid run by and for witches featuring occult-inspired burlesque performances, gifted professional psychics, and more. Her popular podcast The Devil's Music features off-the-cuff conversations with friends such as comedians Margaret Cho and Dana Gould, John Doe of X, Belinda Carlisle, John Waters star Mink Stole, the late Pee Wee Herman, and many more. Pleasant is the author of ten books, including Rock'n'Roll Witch (Punk Hostage Press), a memoir about her lifelong psychic and paranormal experiences from early childhood to the late 1970s underground music scene and into the present.
Michael Grodner
Michael Grodner is the director of the critically acclaimed indie film The Icarus Line Must Die of which the Los Angeles Times said, "there's never been a rock n' roll film quite like [it]." The film won Best Feature at the Highland Park Independent Film Festival and Special Jury Award at the Chicago International Movies and Music Festival. A graduate of the USC Film School, Michael cut his teeth directing award‐winning music videos and is the creative force behind the long‐running underground digital music and live concert series Dirty Laundry TV. He is currently developing a documentary feature based on Numero Group's Grammy-nominated "Ork Records: New York, NY" box set.
Medusa the Gangsta Goddess
In one of the rooms in the hip-hop culture house, engraved on the walls is a live account of the 1 Super Soul Sista who has the blessing to be dubbed "the Angela Davis of hip-hop". Starting off MCing as a 16-year-old pop-locker, Medusa continues to cultivate hip-hop seeds in South Central and across the country in unprecedented numbers. You will find no other who will bring it to you like this, someone's music that makes you feel strong, proud, and encourages with the manner of ONE Love. Coming up in the LA scene, she honed her skills At the Good Life Café and Leimert Park's "Project Blowed" Workshop, around Freestyle Fellowship, Black Eye Peas, Macy Grey, and Xzibit, being the first in the LA hip hop scene with a live band. After blessing her already growing fans with her EP, Do It The Way You Feel It, Medusa gained an even stronger fan base overseas, in the country, and on college campuses across the nation, and has virtually become a guru to the underground hip-hop scene and artistic community. She is respected and adored as a Queen to the word and power of her music and what she stands for, not just the fact that she's the undisputed Queen of West Coast underground hip-hop.
Stuart Swezey
Stuart Swezey is the producer/director of the punk desert festival documentary Desolation Center, chronicling his early career organizing events featuring groups such as Sonic Youth, Survival Research Laboratories, Swans, Minutemen, Meat Puppets, Einstürzende Neubauten, and others capturing a time when pushing the boundaries of music, art, and performance felt almost like an unspoken obligation. The film relates the previously untold story of a series of Reagan-era guerrilla music and art performance happenings in Southern California that are recognized to have paved the way for Burning Man, Lollapalooza, and Coachella, collective experiences that have become crucial parts of alternative culture in the 21st century. The Los Angeles Times described the film as "a historical record of this short-lived time and this singularly L.A. scene . . . pure to the punk ethos." Desolation Center premiered at CPH:DOX and screened at Sheffield Doc/Fest in 2018 and Slamdance festival in 2019. It has won multiple audience awards and best feature documentary nominations, was selected as "Best of Music 2019" by ARTFORUM, and was featured as a selection of the Smithsonian Year of Music. Swezey is a co-founder and publisher of the influential LA-based underground sourcebook/bookstore/press Amok Books. His book Amok Fifth Dispatch: Sourcebook of Extremes of Information in Print was nominated for the Best Nonfiction Book Title in the Firecracker Alternative Book awards. As an event curator, Swezey has also presented such wildly diverse offerings as the legendary "Nailed!" performance with the late BDSM poet Bob Flanagan and a comeback pipe organ concert by Exotica legend Korla Pandit along with influential dance clubs such as Mecca and Monsanto, and numerous readings at the Amok Bookstore with the likes of noir author John Gilmore, art writer Ralph Rugoff, British anarcho-situationist novelist Stewart Home and others. Swezey produced the rave culture documentary Better Living Through Circuitry and was VP, Development ("Ice Road Truckers"), network executive (Syfy Channel) and producer for National Geographic Channel and others.