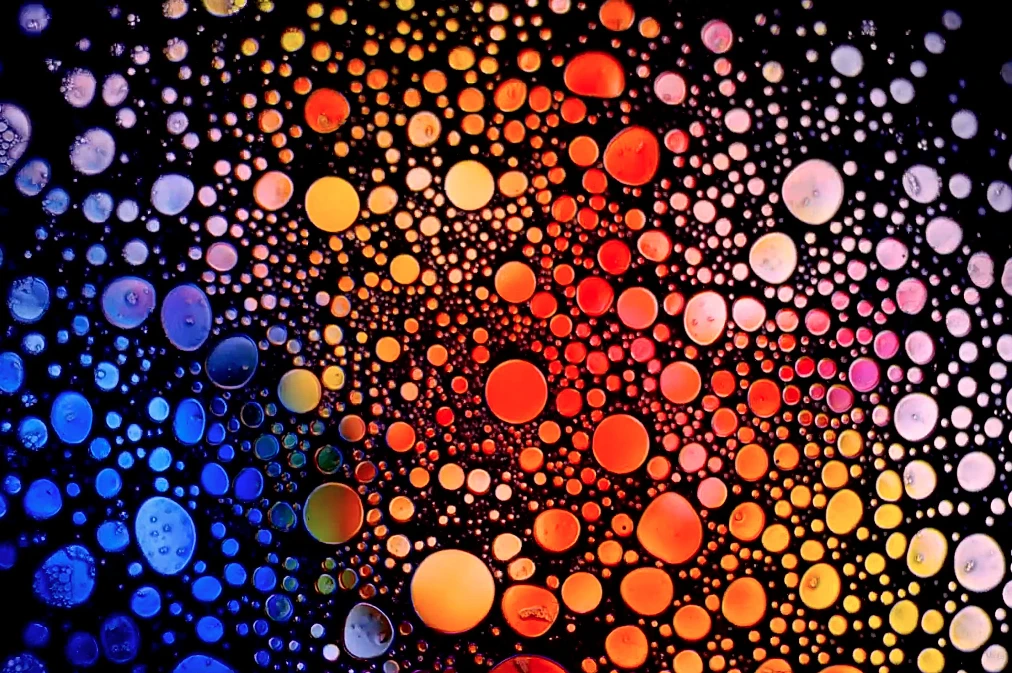 Joshua Light Show projections, courtesy Joshua White
In 1968, influential concert promoter Bill Graham paired Joshua Light Show with artist Yayoi Kusama to collaborate on four performances at the Fillmore East Theater in New York, where crowds enthusiastically observed the artist and her performers engage in self-obliteration. 
Experience an immersive environment of light and sound in the spirit of Kusama's self-obliteration performances as the Joshua Light Show transforms The Broad's Oculus Hall into a kaleidoscope of brilliant color, light and sound. Featuring musical performances by Lesley Flanigan, Miho Hatori's New Optimism, and Noveller, the show invites visitors to step away from contemporary selfie culture and experience the spirit of Kusama's self-obliteration performances.
NOTE: Tickets to this performance include timed admission into Yayoi Kusama: Infinity Mirrors. When purchasing your tickets, you will be asked to select a timeslot between 8-10 p.m. Please note that you will have access to the Joshua Light Show and performances from 8-11 p.m., and access to the special exhibition Yayoi Kusama: Infinity Mirrors at the time on your ticket.
About The Joshua Light Show
During their tenure as resident artists at the Fillmore East between 1968 and 1971, the Joshua Light Show shared billing with legendary musicians such as The Doors, The Grateful Dead, Janis Joplin, Jimi Hendrix, Chuck Berry, and Iron Butterfly. Employing a wide variety of analog image-making apparatus to achieve psychedelic, luminous projections, the Joshua Light Show have also performed at Woodstock, Carnegie Hall, Lincoln center, Tate Liverpool, Centre Pompidou, the Whitney Museum and other venues, gathering new artists and collaborators along the way, expanding upon their analog ideas and incorporating digital techniques. To further contextualize the work of Yayoi Kusama, and in the lineage of those profoundly immersive experiences of nearly five decades ago, the Joshua Light Show performs at The Broad paired with live musical performances guest curated by Brandon Stosuy. 
About Lesley Flanigan
Lesley Flanigan is an experimental electronic musician living in New York City. Inspired by the physicality of sound, she builds her own instruments using minimal electronics, microphones and speakers. Performing these instruments alongside traditional instrumentation that often includes her own voice, she creates a kind of physical electronic music that embraces both the transparency and residue of process—sculpting sound from a palette of noise and subtle imperfections. Her work has been presented at venues and festivals internationally, including Sonar (Barcelona), The Pritzker Pavilion at Millennium Park (Chicago), the Guggenheim Museum (New York), The Kitchen (New York), ISSUE Project Room (Brooklyn), The Stone (New York), TransitioMX (Mexico City), CMKY Festival (Boulder), the Roskilde Museum of Contemporary Art (Denmark) and KW Institute for Contemporary Art (Berlin). 
About Miho Hatori's New Optimism
NYC-based artist Miho Hatori is a singer/musician/visual artist, primarily known for her work as the vocalist of Cibo Matto. New Optimism is her solo project. "It all started when I heard the postmodern term New Sincerity (a movement that dreamed of stamping out hipster irony and reenergizing an apathetic youth culture.) The media was using the ethos heavily in TV commercials and movies for a while, but I wanted to do something opposite of that, and I came up with the name of NEW OPTIMISM. New Optimism shows up in dialogue. It is my philosophy, music, and vision." Musically, New Optimism is groove-oriented experimental pop music. Miho has been influenced and learned from all of her career experiences (Hip hop, Dub, Dance, Brazilian, Caribbean music). She has been featured on and collaborated with the likes of Gorillaz, Beastie Boys, Handsome Boy Modeling School and many others. On New Optimism's first EP, she has also collaborated on a track with Rostam Batmanglij from Vampire Weekend.
About Noveller
Noveller is the solo electric guitar project of Brooklyn-based composer and filmmaker Sarah Lipstate. Handling the guitar as her must, Lipstate summons a sonic palette so rich as to challenge the listener to conceive of how it's housed in a single instrument manipulated by a solitary performer. In 2014, Lipstate announced her signing with Fire Records. Fire released Noveller's latest full-length 'Fantastic Planet' in January 2015 and also re-issued Noveller's critically acclaimed albums 'No Dreams' and 'Glacial Glow' in early 2016. She's previously released records on No Fun Productions, Important Records, Weird Forest, Taiga, and her own imprint Saffron Recordings. Noveller has toured with Iggy Pop, St. Vincent, Radiolab, Xiu Xiu, the Jesus Lizard, U.S. Girls, and Aidan Baker. Lipstate has collaborated with several renowned musicians, including JG Thirlwell (Foetus, Manorexia), Carla Bozulich (Evangelista, The Geraldine Fibbers), David Wm. Sims (the Jesus Lizard, Scratch Acid), and Lee Ranaldo (Sonic Youth). She has previously performed as a member of Cold Cave, Parts & Labor, and One Umbrella. Lipstate has also participated in Rhys Chatham's Guitar Army, Ben Frost's "Music for 6 Guitars" Ensemble, and Glenn Branca's 100 guitar ensemble. 
About Guest Curator Brandon Stosuy
Brandon Stosuy is Editor in Chief at The Creative Independent. He was formerly Director of Editorial Operations at Pitchfork. He co-curates the annual Basilica Soundscape festival in Hudson, NY and the Tinnitus music series in NYC. He and the artist Matthew Barney have collaborated on a series of live events and publications. ADAC, their most recent book-length project, was published in 2013 by Dashwood. The collaborative exhibition, Rural Violence, opened in August 2015 in Troy, NY, and had editions in Long Island City, NYC in November 2015, and in Jackson Hole, Wyoming, in August 2016. Stosuy has also collaborated on exhibitions and books with the German artist Kai Althoff and the American artist Brody Condon. His anthology, Up is Up, But So is Down: New York's Downtown Literary Scene, 1974-1992, was published by NYU press in 2006. His first children's book, Music Is..., was published in 2016 and his second children's book is forthcoming in 2017. 
---