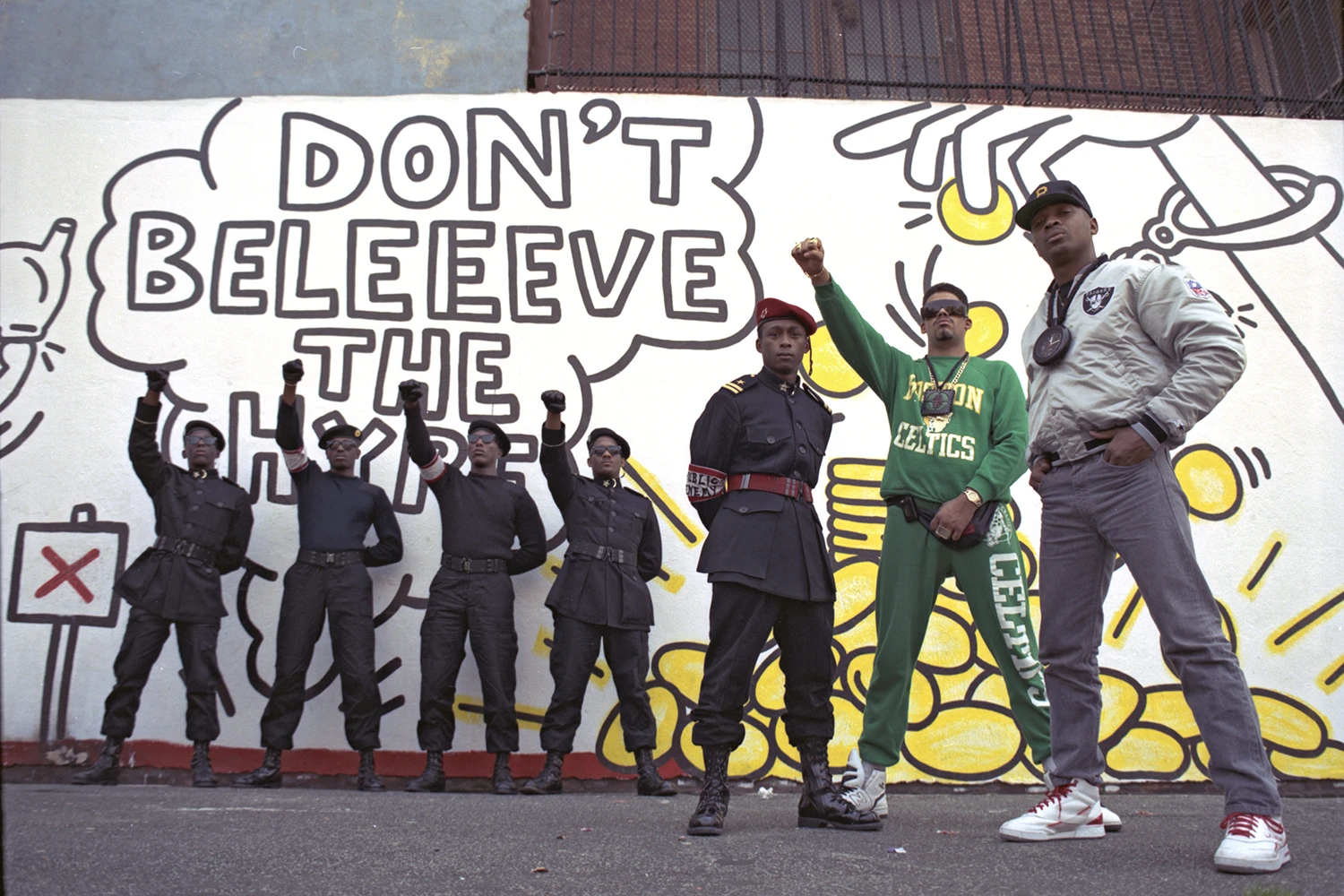 Public Enemy—Chuck D, Terminator X, and members of the hip hop group Public Enemy, 1988. Photo by Jack Mitchell/Getty Images
Summer 2023 marks the 50th anniversary of the birth of hip hop—the music, art, and style that transformed culture and politics worldwide. In this conversation among legendary artist and Public Enemy co-founder Chuck D, Keith Haring Foundation Executive Director Gil Vazquez, Lisane Basquiat, sister of the late artist Jean-Michel Basquiat, and producer, curator and President of Channel Zero Productions Lorrie Boula will discuss hip hop's global impact, including its influence on visual art and culture of 1980s New York and beyond. The conversation will take place in Zipper Hall at The Colburn School on Grand Avenue, located between two timely exhibitions: Jean-Michel Basquiat: King Pleasure at The Grand LA and Keith Haring: Art Is for Everybody, and an installation of 12 of Jean-Michel Basquiat's works, both at The Broad. Haring and Basquiat were heavily influenced by hip hop, shifting the genre's politics and street art aesthetics into the fine art and commercial art scene.
Springboarding from themes covered in the second episode of their hit four-part PBS series Fight the Power: How Hip Hop Changed the World," Chuck D and Boula, along with Basquiat and Vasquez, will explore the 1980s and hip hop as social commentary during the fraught Reagan years through the work of musical artists such as Public Enemy, KRS-One, Ice-T, and NWA as well as visual artists Keith Haring and Jean-Michel Basquiat among many others.
Co-presented by The Broad, Jean-Michel Basquiat: King Pleasure, Fight the Power: How Hip Hop Changed the World, and Universal Music Enterprise (UMe).
Generous support also provided by UMe Universal Music Enterprises
---
---
Chuck D
Rock and Roll Hall of famer, icon and hip-hop legend, Chuck D is a social activist, author, multimedia producer, digital music pioneer and visual artist. He first rose to acclaim in the 1980's with a string of critically lauded and commercially successful albums that addressed weighty issues about race, rage and inequality with a jolting combination of intelligence and eloquence never before seen.
The New York Times has named Public Enemy's music to their list of the "25 Most Significant Albums of the Last Century" and in 2005 The Library of Congress added Fear of a Black Planet to their National Recording Registry. In 2013, Public Enemy was inducted into the Rock and Roll Hall of Fame and in 2020 received a Lifetime Achievement Award at the GRAMMYs. Iconic items from the group's history are in the permanent collection of National Museum of African American History and Culture in Washington, DC.
In 2020, Chuck released the single "SOTU (STFU)" with Public Enemy and opened the 2020 BET Awards with "Fight the Power Remix 2020." From 2016-2019, Chuck released and album and toured with the Prophets of Rage with former Rage Against the Machine members Tom Morello, Tim Commerford, and Brad Wilk, Cypress Hill's B-Real and DJ Lord of Public Enemy. Chuck D is a visual artist whose work is the subject of a fine art book, "Livin' Loud," featured in several graphic novels and exhibited nationally. In 2017, he authored a best-selling book This Day In Rap and Hip Hop History.
Chuck has been a prominent member of music industry non-profit organizations MusicCares and Rock The Vote, which honored him with the Patrick Lippert Award in 1996 for his contributions to community service. He is Co-Founder and President of the Hip Hop Alliance and has served as national spokesperson for Rock The Vote, the National Urban League, the National Alliance of African American Athletes and Hip Hop Public Health. In 2022, Chuck was named UCLA's inaugural Artist-in-Residence for it's new Hip-Hop Initiative.
Chuck's production company Channel Zero partnered with BBC Studios and PBS for the docu-series, Fight the Power: How Hip Hop Changed the World, which he co-wrote and co-produced with Lorrie Boula.
Gil Vazquez
Gil Vazquez has been involved as a trustee on the board of directors of the Keith Haring Foundation as a founding member since its inception in 1990, initially as the Vice President and later as the President, Acting Director, and now as Executive Director. Gil befriended Keith in 1988 and has dedicated his life to enhancing Haring's artistic and philanthropic legacy.
Lisane Basquiat
Lisane Basquiat is Jean-Michel Basquiat's younger sister and with her sister Jeanine Basquiat has co-administered the Estate of Jean-Michel Basquiat since the passing of their father in 2013. She is also the founder of Shaping Freedom, owner of Hera Hub Carlsbad and co-owner of Hera Hub San Marcos, a female focused and gender inclusive co-working space, business accelerator, and member of the community. Her ownership of the latter two are in honor of her mother, Matilde Basquiat. She is a former corporate executive turned entrepreneur.
Lorrie Boula
Lorrie Boula is Co-Founder and President of Channel Zero Productions. She is also Chuck D's longtime producing partner. Together, they are committed to telling the stories of unique cultural icons and significant moments in time, with a focus on elevating people of color, women, and outliers across all media platforms. 
In 2023, Boula co-created and executive produced the PBS/BBC docuseries Fight The Power: How Hip Hop Changed The World, which was met with global acclaim. She is also the Executive Producer for the forthcoming multi-part audio documentary, Can You Dig It, being released on Audible Originals later this year.
Boula's film and television credits include the NFL Network Original's The Superbowl That Wasn't, The MTV docu-series Rebel Music, Bob Marley: Legacy for the Universal Music Group, MLB Network Presents and award-winning documentary shorts Manifest Hope: DC and Obey The Artist. Her production work extends into the podcast space, where she has helmed Apple's Shattered: Story of The Knicks, Spotify's Born Free: Story of The Clash and the Audible Originals Songs That Shook The Planet. She also co-authored the best-selling book This Day in Rap and Hip Hop History alongside Chuck D, published in 2017.
A 20+ year veteran of the entertainment industry, Boula is also President and Founder of Soul Kitchen Music, an artist management and consulting company. Boula was previously Vice President of Marketing at Warner Bros. Records and was a marketing and artist development executive at Interscope and Geffen Records. 
She was born and raised in the South Bronx and still remembers her first uprock.