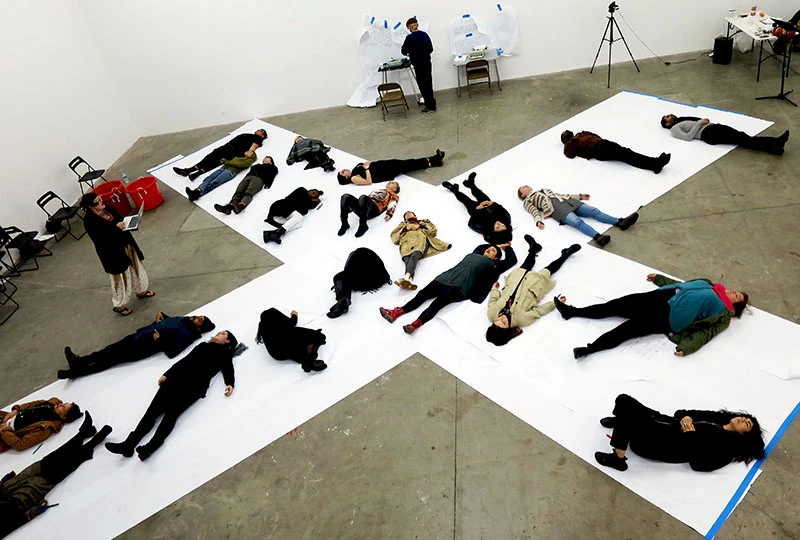 Performance
Gifts of the Spirit: Prophecy, Automatism and Discernment
Thu, Jan 25, 2018, 7:00 p.m.
Thu, Jan 25, 2018, 9:00 p.m.
"I made an extreme turning-fifty performance, which was both in line with, and against, Kusama's "Self-Obliteration" concept. Rather than the erasure of oneself, the gesture is also grand: erasing the singular emphasis and using infinity as a texture. Gifts of the Spirit takes that nugget further: expanding the 'I' of my memoir into the randomness of collectively authored text, set with the bloat of an opera." —Ron Athey
Gifts of the Spirit: Prophecy, Automatism and Discernment is Ron Athey's vision for an "automatic writing machine" brought to life in collaboration with the composer Sean Griffin as a performance/installation made up of 16 writers, six typists, a hypnotist, vocalists, and musicians. In this work, the artist "completes" his memoir ("Gifts of the Spirit") together in ecstatic communion with his collaborators. This living machine makes a tightly choreographed and scored visual spectacle bringing together writing, reading and listening into a layered performative action resulting in a collectively authored text and sound score. 
Athey has been writing his memoir since 1980 when he moved away from the Pentecostal and Spiritualist practices in which he was raised. His writing describes the experience of having been raised as a living saint within an environment of abuse, vibrating with the energy of the otherworldly, but doing so without faith. The deconsecrated cathedral of St. Vibiana provides the perfect venue for this work, which strips faith from ritual and presents the orchestration of ecstatic states as art. 
Gifts of the Spirit is co-produced by VOLUME, and has been made possible in part by a grant from the Mike Kelley Foundation for the Arts. Guest-curated for VOLUME by Jennifer Doyle. 
*Please note that tickets to this program do not include admission to the Yayoi Kusama: Infinity Mirrors special exhibition, which will be closed after January 1, 2018.*
About Ron Athey
Los Angeles-based artist Ron Athey has been working at the vanguard of performance art for 25 years. Self-taught, his work developed out of post-punk/pre-goth scenes, and begins with Premature Ejaculation (PE), an early 1980s collaboration with Rozz Williams. Their approach to performance art was informed by the club actions of Johanna Went and the formulation of Industrial Culture (the idea of psycho/neuro acoustics in sound performance). Athey's work often experiments with performing in a trance state, not unlike the Pentecostal spirit states he attained in his childhood religious experiences. In the 1990s, Athey formed a company of performers and made Torture Trilogy, a series of works that addressed the AIDS pandemic directly through memorializing and philosophical reflection. This work is characterized by the physical intensity of 1970s body-art canon (e.g. COUM Transmission, Carolee Schneeman and the Viennese Actionists). These performances toured internationally. The trilogy's final chapter, Deliverance, was an Arts Council England commission and premiered at the ICA London. In the 2000s, Athey developed genre-stretching theatrical works like Joyce and The Judas Cradle, and a series of major solo performances such as The Solar Anus (which draws its name and spirit from a Georges Bataille essay, and from the action photographs of Pierre Molinier), Sebastiane (which plays with martyrology), Self-Obliteration Solo and Incorruptible Flesh (a series of solo performance that reflect on Athey's collaborations with the late Lawrence Steger). With this new series, Gifts of the Spirit, Athey returns to his Pentecostal roots and expands his practice into performance anchored not by the artist's body, but in his spirit.
About Sean Griffin
Whether inventing a language or composing hysteric choreographic and choral methodologies used in films and installations, concert music works, film scores, operas, and devised music theater, to hundreds of numerically-conceived collages and drawings, intuitive and experimental music practices lie at the foundation of Sean Griffin's works. His polyphonic strategies emerge from over 20 years of international productions in the living arts. With the performance and design consortium he founded in Los Angeles in 2010, Opera Povera, Griffin collaboratively combines ethnographic, archival, and historical research with critical artistic inquiry and improvisation. Mixing performance with sculptural sets, inspirational discards, assembled utilitarian objects and stock sets, he has been active throughout the US, Mexico, Asia, and Europe, directing, designing, arranging, recording, and conducting. With Opera Povera, Griffin has created new works with Charles Gaines, George Lewis, Anne LeBaron, and Pauline Oliveros, and he is a longtime collaborator with Catherine Sullivan, Juliana Snapper, Aiyun Huang, and Stacy Ellen Rich. Griffin's productions, recordings, live performances, and designs have been featured at MoMA, Brooklyn Museum, REDCAT, LACMA, MAK Center at the Schindler House, Berlin's Volksbühne, Secession Vienna, EMPAC, the 56th Venice Biennial, Chicago's MCA and Trap Door Theatre, Ostrava Days, Tate Modern, Royal Academy of Arts, June In Buffalo, Huddersfield Contemporary Music Festival, Gwangju Biennial, Seoul's Festival BO:M, Taipei's Forum Music, and the 2017 Ojai Music Festival. Griffin received a Ph.D. from UCSD and has taught at CalArts, UCSD, and University of Chicago, and as Associate Professor at the University of Guanajuato, Mexico.
About VOLUME
VOLUME is a Los Angeles collective dedicated to presenting time-based work by emerging and established artists engaged in sound-based practices. Through performances, concerts, exhibitions, screenings and workshops, VOLUME fosters a critical understanding of politics and aesthetics in relation to sound and sound-based practices. 
---