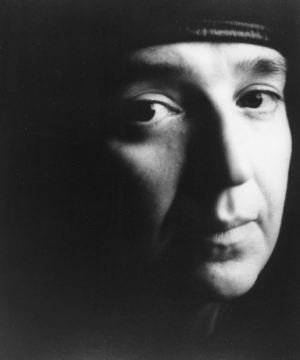 Sue Coe. 1992. Photograph by Steve Heller. Courtesy Galerie St. Etienne, New York.
Sue Coe
---
Artist Bio
Motivated by a background in illustration and a desire to bring her art to a large audience, Sue Coe is not particularly concerned with divisions between "fine art" and "low art." Often displayed on the editorial pages of newspapers as well as in galleries, Coe's work calls attention to events and situations where abuses of power occur, such as sexual violence and political repression. She employs strong images with charged emotional content as a means of getting directly to the subject at hand. As art historian and curator Marilyn Zeitlin has written: "Her work strips us first of objectivity, forcing us to take sides and dismissing contemplation of it as art and technique to focus on content and reaction."
 
The title of Crystal Night, 1984, refers to the 1938 evening in Nazi Germany when violence against Jews reached unprecedented levels, but Coe's target in this painting is also the bleak misery wrought by poverty and drug addiction in our own times. Coe weaves her contemporary and historical references together to shed light on the depth and complexity of the issues she addresses. In Crystal Night, a pietà of a mother grieving the death of a child by drugs forms a central image. A spare lightbulb suspended over the emaciated figures parallels the lightbulb in Pablo Picasso's famous elegy to the ravages of war, Guernica, 1937.
 
Let Them Eat Cake, 1986, concerns poverty and the disparity between wealth and destitution in the United States. Coe equates the decadence of the 1980s and the presidency of Ronald Reagan with the disputed but famous cluelessness of Marie Antoinette during the French Revolution. In this troubling painting, rats overrun a city at night, transients pick over garbage for food, and dogs and people consume each other for want of sustenance, while a newspaper advertises a $1000-a-plate political dinner.
---