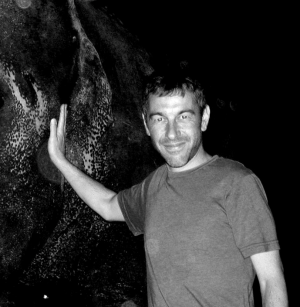 Pierre Huyghe
---
Artist Bio
"I am fascinated by this idea of reality being so unbelievable that to tell it the right way, you must tell it as a fiction." —Pierre Huyghe
 
French artist Pierre Huyghe suspends fact and fiction. His film The Third Memory, 2000, reenacted a 1972 Brooklyn bank robbery according to the memories of John Wojtowicz, one of the actual thieves. Wojtowicz had criticized the accuracy of the film Dog Day Afternoon, 1975, director Sidney Lumet's version of the robbery starring Al Pacino. Attempting to separate the supposed facts of the original crime from its historical representations, Huyghe's film uses amateur actors, rough sets, and awkwardly scripted scenes. In turn, the work purposefully deconstructs the Hollywood fiction while creating a new fiction of its own.
 
A Journey that Wasn't, 2006, records Huyghe's journey to Antarctica in search of an unknown island and a mysterious albino penguin. The story develops in Antarctica as the film cuts to footage from Huyghe's re-creation of the expedition in Central Park's Wollman Rink. No one knows whether the trip actually occurred, and Huyghe is not saying. The imagery is breathtaking, ice sheets undulating on a shifting sea, while a musical score suggests the drama and intensity of the artic terrain as the crew traverses its landscape. The film puts reality and fiction into a dialectical tension that the viewer is never able to resolve.  
---