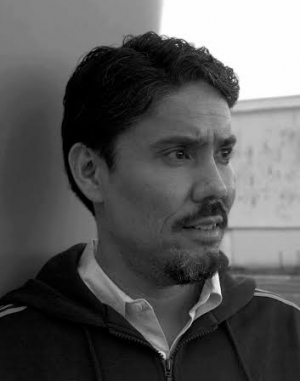 Paul Pfeiffer
---
Artist Bio
Referring to his work as "video sculptures," Paul Pfeiffer reformats footage from Hollywood films and sporting events to catch movie stars and sports heroes in moments of extreme emotion. His editing technique—digitally erasing people, objects, sounds, and subsequently context from a video or photograph—shows shaky transitions and other "mistakes" in order to communicate the physical labor involved in the work's production (the twenty-first-century equivalent of brushstrokes on canvas). Separated from the drama of their original narratives, as in a basketball game, Pfeiffer's adjustments of a video still or footage image demand different, heightened attention from the viewers. His films and photos exist as detailed images to be studied and observed. 
 
Three Studies for Figures at the Base of a Crucifixion, 2001, uses three video monitors to show different angles of a slam dunk contest. Similar to Fragment of a Crucifixion (After Francis Bacon), 1999, which won Pfeiffer the Whitney Museum's first Bucksbaum Award, this piece digitally edits a previously broadcast basketball game and references a 1944 Francis Bacon triptych. After Pfeiffer's alterations, the basketball players in the videos appear as ghostly afterimages. The crowd in the background still explodes into emotion though the object of their joy has been removed. The disjunction between what the viewer expects when they see the film and the result of Pfeiffer's edits gives the work a remarkable power.
 
Pfeiffer's photographs employ the same approach as his films. In Four Horsemen of the Apocalypse #10, 2004, a single basketball player occupies the center of the frame with a large crowd observing over his shoulder. All his competitors have been removed along with advertising logos, scoreboards, and other distractions. It is uncertain whether the player is caught in ecstasy or pain, but it is clear that he has become a sort of icon to the crowd, that he is bound in a contemporary pantheon of media-based figures of worship.  
---