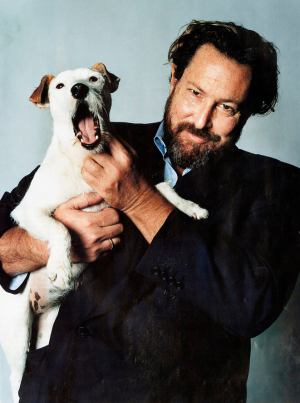 Julian Schnabel
---
Artist Bio
Julian Schnabel is known for monumental scale, both in the physical aggression of his materials and the historical reach of his themes. Schnabel rose to stardom quickly in the early 1980s and was often photographed and recorded painting in exotic environments on canvases so large they defied any sense of restraint. He often used sails or industrial tarps for painting surfaces, sometimes employing paint-soaked tablecloths to make tremendously large strokes across his images. He came to the notice of the art world as if fully formed, happy to don the role of standard bearer for 1980s excess and the return of an expressionistic swagger to painting that invoked the world of Jackson Pollock, Willem de Kooning, and Franz Kline.
At the heart of Schnabel's aesthetic, however, is the long history of European painting, often seen through the filter of religious imagery and veneration. Schnabel's portraits have the bearing and gravity of altarpieces or the mosaic celestial scenes that loom above churchgoers. His approach to devotional imagery is less polished than the refined traditions of Europe; rather, Schnabel's methods are more physical and reminiscent of folk art. Some attribute the artist's rough-hewn physicality to time spent in Mexico, moving to the bordertown of Brownsville, Texas, with his parents at the age of 13 and returning often as an adult.
Schnabel's most famous series employs hundreds of broken plates, taking the mosaic to an exaggerated level. The images in the work are pulverized and shattered by the material's very nature. The epic size of The Walk Home, 1985, is integral to understanding its elusive vision of large black forms descending upon a dense forest. The work could be a scene from Dante or a medieval tapestry, such is the immensity of the myth that Schnabel conveys.
Although Schnabel has dedicated his life to painting, never breaking from the day to day rigor of its development and extension, his career has expanded into film, architecture, and interior design. His cinematic talents have been highly praised in films such as Basquiat, Miral, and The Diving Bell and the Butterfly. The latter earned best director awards at the 2007 Cannes Film Festival and the Golden Globes, and his design collaboration with Ian Schrager on New York City's Gramercy Park Hotel has been noted for its sophistication and beauty.
---