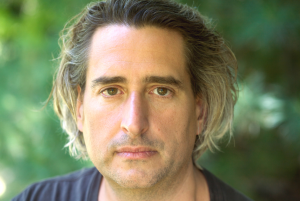 © Gregory Crewdson. Photography by Daniel Karp. Courtesy Gagosian Gallery.
Gregory Crewdson
---
Artist Bio
Gregory Crewdson's carefully staged photographs concentrate on a tension between domesticity, nature, and the unknown. The characters in his elaborate constructions act subconsciously, as if under the spell of a foreign entity. Their unusual actions suggest a mysterious narrative involving supernatural contact. Crewdson has acknowledged Steven Spielberg's film Close Encounters of the Third Kind as a primary influence. In that movie, an average American man is emotionally and psychically changed after contact with a UFO. Like the character in the film, Crewdson's subjects perform eccentric, ritual-like acts.
 
In the series Twilight, Crewdson explores the iconography of the American suburban landscape and nature, revealing psychological anxieties, fears, and longings. Domestic settings (denoted by all their traditional trappings of soap boxes, milk containers, detergent boxes, etc.) are often shown on the edge of nature, threatening to disrupt its fragile balance. These scenes of the twilight hour, when both natural and artificial lights are present, suggest a moment of metamorphosis.
 
In Untitled, 1999, from the series, Crewdson captures the transcendental calling of an apparently ordinary, suburban woman who has created a large sculpture of flowers in her garage, seemingly on autopilot. As voyeurs, we are fascinated by the extraordinary act of a person who would risk the destruction of home, family, and self for the sake of one's masterpiece. The figure's motivation to make this pile, like the motivation to create art, is depicted as all-possessing.
 
As a professor of photography at Yale University, Crewdson has been deeply influential on his students, and is a forerunner of a group of photographers that make use of carefully assembled models and staged components. These artists blend traditional documentary photography styles with fictional elements. By employing this technique, the photographer no longer passively experiences the world and then edits it, but actively creates the world and then photographs it.
---