The Building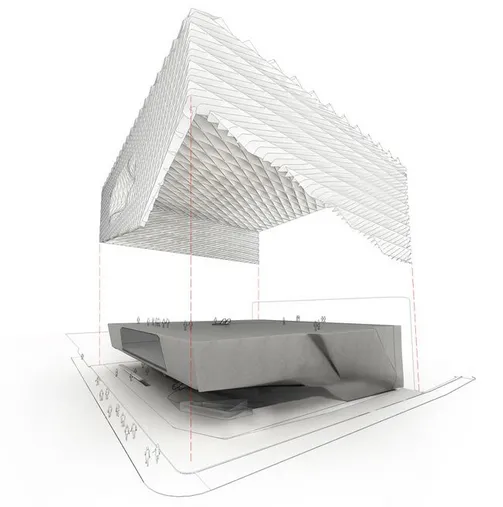 ---
Architecture
The Broad is designed by world-renowned architectural firm Diller Scofidio + Renfro in collaboration with Gensler. With its innovative "veil-and-vault" concept, the 120,000-square-foot, $140 million building features two floors of gallery space to showcase the Broad's comprehensive collection and is the headquarters of The Broad Art Foundation's worldwide lending library. 
Dubbed "the veil and the vault," the museum's design merges the two key components of the building: public exhibition space and collection storage. Rather than relegate the storage to secondary status, the "vault," plays a key role in shaping the museum experience from entry to exit. Its heavy opaque mass is always in view, hovering midway in the building. Its carved underside shapes the lobby below, while its top surface is the floor plate of the exhibition space. The vault stores the portions of the collection not  on display in the galleries or on loan, but DS+R provided viewing windows so visitors can get a sense of the intensive depth of the collection and peer right into the storage holding. The vault is enveloped on all sides by the "veil," an airy, honeycomb-like structure that spans across the block-long gallery and provides filtered natural daylight.
The East West Bank Plaza at The Broad
Directly south of the museum is a public plaza also designed by Diller Scofidio + Renfro, in collaboration with Hood Design Studio, Inc. The landscaping features 100-year-old Barouni olive trees and an open lawn, adding another parcel of critical green space to Grand Avenue.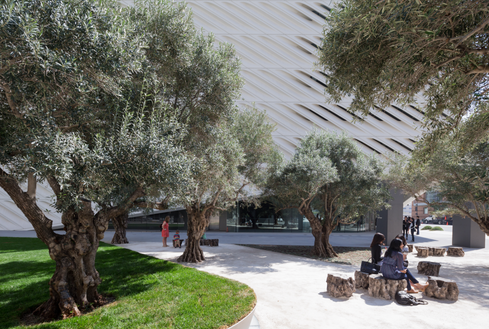 Timelapse Video
Sustainability Initiatives
The U.S. Green Building Council awarded The Broad a LEED (Leadership in Energy and Environmental Design) Gold certification for LEED New Construction in 2016. This achievement recognized The Broad's energy-saving design features and continuing commitment to sustainable practices. Designed by Diller Scofidio + Renfro in collaboration with Gensler, and built by MATT Construction, The Broad was the first major art museum in Los Angeles and one of only a handful of museums nationwide to achieve LEED Gold status. Energy-efficient elements and practices in the museum range from having 10 electric vehicle charging stations and offering employees monthly stipends to encourage the use of mass transit or to walk or bike to work, to a 35,000-square-foot top floor gallery that most days is illuminated by natural diffused light from skylights, meaning limited use of electric lighting. There are also rooftop drains that route rainwater to street-level gardens and high-efficiency plumbing fixtures. In addition, with easy walking access to residential and commercial buildings, restaurants, and other cultural amenities and close proximity to public transit and adjacency to the new Metro Regional Connector station at the corner of 2nd and Hope streets (anticipated opening: 2022), The Broad aims to be in the top tier of eco-conscious, efficient, and sustainable museums.

LEED Certification Broad Museum and Garage Scorecard